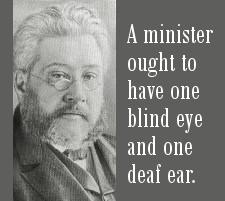 Read the series so far.
Need I say a word or two about the wisdom of never hearing what was not meant for you? The eaves-dropper is a mean person, very little if anything better than the common informer; and he who says he overheard may be considered to have heard over and above what he should have done. Jeremy Taylor wisely and justly observes,
Never listen at the door or window, for besides that it contains in it a danger and a snare, it is also invading my neighbor's privacy, and a laying that open, which he therefore encloses that it might not be open.
It is a well worn proverb that listeners seldom hear any good of themselves. Listening is a sort of larceny, but the goods stolen are never a pleasure to the thief. Information obtained by clandestine means must, in all but extreme cases, be more injury than benefit to a cause. The magistrate may judge it expedient to obtain evidence by such means, but I cannot imagine a case in which a minister should do so. Ours is a mission of grace and peace; we are not prosecutors who search out condemnatory evidence, but friends whose love would cover a multitude of offenses. The peeping eyes of Canaan, the son of Ham, shall never be in our employ; we prefer the pious delicacy of Shem and Japhet, who went backward and covered the shame which the child of evil had published with glee.
To opinions and remarks about yourself turn also as a general rule the blind eye and the deaf ear.
Public men must expect public criticism, and as the public cannot be regarded as infallible, public men may expect to be criticized in a way which is neither fair nor pleasant. To all honest and just remarks we are bound to give due measure of heed, but to the bitter verdict of prejudice, the frivolous faultfinding of men of fashion, the stupid utterances of the ignorant, and the fierce denunciations of opponents, we may very safely turn a deaf ear.
We cannot expect those to approve of us whom we condemn by our testimony against their favorite sins; their commendation would show that we had missed our mark. We naturally look to be approved by our own people, the members of our churches, and the adherents of our congregations, and when they make observations which show that they are not very great admirers, we may be tempted to discouragement if not to anger: herein lies a snare.
When I was about to leave my village charge for London, one of the old men prayed that I might be "delivered from the bleating of the sheep." For the life of me I could not imagine what he meant, but the riddle is plain now, and I have learned to offer the prayer myself. Too much consideration of what is said by our people, whether it be in praise or in depreciation, is not good for us. If we dwell on high with "that great Shepherd of the sheep" we shall care little for all the confused bleatings around us, but if we become "carnal, and walk as men," we shall have little rest if we listen to this, that, and the other which every poor sheep may bleat about us.
Perhaps it is quite true that you were uncommonly dull last Sabbath morning, but there was no need that Mrs. Clack should come and tell you that Deacon Jones thought so. It is more than probable that having been out in the country all the previous week, your preaching was very like milk and water, but there can be no necessity for your going round among the people to discover whether they noticed it or not. Is it not enough that your conscience is uneasy upon the point? Endeavor to improve for the future, but do not want to hear all that every Jack, Tom, and Mary may have to say about it.
On the other hand, you were on the high horse in your last sermon, and finished with quite a flourish of trumpets, and you feel considerable anxiety to know what impression you produced. Repress your curiosity: it will do you no good to enquire. If the people should happen to agree with your verdict, it will only feed your pitiful vanity, and if they think otherwise your fishing for their praise will injure you in their esteem. In any case it is all about yourself, and this is a poor theme to be anxious about; play the man, and do not demean yourself by seeking compliments like tittle children when dressed in new clothes, who say, "See my pretty frock."
Have you not by this time discovered that flattery is as injurious as it is pleasant? It softens the mind and makes you more sensitive to slander. In proportion as praise pleases you censure will pain you. Besides, it is a crime to be taken off from your great object of glorifying the Lord Jesus by petty considerations as to your little self, and, if there were no other reason, this ought to weigh much with you. Pride is a deadly sin, and will grow without your borrowing the parish water-cart to quicken it. Forget expressions which feed your vanity, and if you find yourself relishing the unwholesome morsels confess the sin with deep humiliation. Payson showed that he was strong in the Lord when he wrote to his mother,
You must not, certainly, my dear mother, say one word which even looks like an intimation that you think me advancing in grace. I cannot bear it. All the people here, whether friends or enemies, conspire to ruin me. Satan and my own heart, of course, will lend a hand; and if you join too, I fear all the cold water which Christ can throw upon my pride will not prevent its breaking out into a destructive flame. As certainly as anybody flatters and caresses me my heavenly Father has to whip me: and an unspeakable mercy it is that he condescends to do it. I can, it is true, easily muster a hundred reasons why I should not be proud, but pride will not mind reason, nor anything else but a good drubbing. Even at this moment I feel it tingling in my fingers' ends, and seeking to guide my pen.
Knowing something myself of those secret whippings which our good Father administers to his servants when he sees them unduly exalted, I heartily add my own solemn warnings against your pampering the flesh by listening to the praises of the kindest friends you have. They are injudicious, and you must beware of them.
A sensible friend who will unsparingly criticize you from week to week will be a far greater blessing to you than a thousand undiscriminating admirers if you have sense enough to bear his treatment, and grace enough to be thankful for it.
When I was preaching at the Surrey Gardens, an unknown censor of great ability used to send me a weekly list of my mispronunciations and other slips of speech. He never signed his name, and that was my only cause of complaint against him, for he left me in a debt which I could not acknowledge. I take this opportunity of confessing my obligations to him, for with genial temper, and an evident desire to benefit me, he marked down most relentlessly everything which he supposed me to have said incorrectly. Concerning some of these corrections he was in error himself, but for the most part he was right, and his remarks enabled me to perceive and avoid many mistakes. I looked for his weekly memoranda with much interest, and I trust I am all the better for them.
If I had repeated a sentence two or three Sundays before, he would say, "See same expression in such a sermon," mentioning number and page. He remarked on one occasion that I too often quoted the line "Nothing in my hands I bring" and, he added, "we are sufficiently informed of the vacuity of your hands." He demanded my authority for calling a man covetous; and so on. Possibly some young men might have been discouraged, if not irritated, by such severe criticisms, but they would have been very foolish, for in resenting such correction they would have been throwing away a valuable aid to progress.
No money can purchase outspoken honest judgment, and when we can get it for nothing let us utilize it to the fullest extent. The worst of it is that of those who offer their judgments few are qualified to form them, and we shall be pestered with foolish, impertinent remarks, unless we turn to them all the blind eye and the deaf ear.
3570 reads