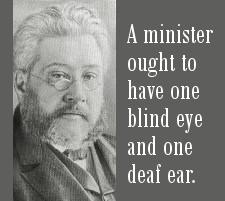 This post begins a five-part series we first ran here in 2014. The series consists of one of C.H. Spurgeon's lectures to his students. The idea came from a pastor friend contacted me with a link to the lecture and remarked that it was encouraging to know Spurgeon was dealing with all the same kinds of problems back then that pastors face regularly today. He suggested it would be good content for SharperIron, and I couldn't agree more.
Depending on what collection you look at, this is Lecture 9 in Volume 3, or possibly Chapter 22, or even Lecture 22. (I believe I also saw it as Lecture 10 in one collection.) The text is available in multiple locations on the Web (such as cblibrary.net, monergism.com and reformationtheology.com), and is apparently in the public domain.
The version we're posting here is a custom-made composite from multiple sources, all of which contain scan errors and typos. In addition to best-guess corrections of these—and some missed ones, I'm sure—our version includes several intentional changes from the original:
Major points are turned into headings.
The one footnote is moved into the text as in inline citation.
Many quotes are moved into blockquotes.
Punctuation is altered slightly here and there.
Many paragraph breaks are added to ease reading.
The lecture is broken into five parts.
If you have read Lectures to My Students before, you know it's worth frequent returns, whether you are a pastor or not. If you have not read it before, prepare to soak up some solid wisdom. — Editor
Lecture 9: The Blind Eye and the Deaf Ear
Having often said in this room that a minister ought to have one blind eye and one deaf ear, I have excited the curiosity of several brethren, who have requested an explanation; for it appears to them, as it does also to me, that the keener eyes and ears we have the better. Well, gentlemen, since the text is somewhat mysterious, you shall have the exegesis of it.
A part of my meaning is expressed in plain language by Solomon, in the book of Ecclesiastes (7:21).
Also take no heed unto all words that are spoken; lest thou hear thy servant curse thee.
The margin says, "Give not thy heart to all words that are spoken"—do not take them to heart or let them weigh with you, do not notice them, or act as if you heard them. You cannot stop people's tongues, and therefore the best thing is to stop your own ears and never mind what is spoken. There is a world of idle chit-chat abroad, and he who takes note of it will have enough to do. He will find that even those who live with him are not always singing his praises, and that when he has displeased his most faithful servants they have, in the heat of the moment, spoken fierce words which it would be better for him not to have heard.
Who has not, under temporary irritation, said that of another which he has afterwards regretted? It is the part of the generous to treat passionate words as if they had never been uttered. When a man is in an angry mood it is wise to walk away from him, and leave off strife before it be meddled with; and if we are compelled to hear hasty language, we must endeavor to obliterate it from the memory, and say with David,
But I, as a deaf man, heard not. I was as a man that heareth not, and in whose mouth are no reproofs.
Tacitus describes a wise man as saying to one that railed at him, "You are lord of your tongue, but I am also master of my ears"—you may say what you please, but I will only hear what I choose. We cannot shut our ears as we do our eyes, for we have no ear lids, and yet, as we read of him that "stoppeth his ears from hearing of blood," it is, no doubt, possible to seal the portal of the ear so that nothing contraband shall enter.
We would say of the general gossip of the village, and of the unadvised words of angry friends—do not hear them, or if you must hear them, do not lay them to heart, for you also have talked idly and angrily in your day, and would even now be in an awkward position if you were called to account for every word that you have spoken, even about your dearest friend. Thus Solomon argued as he closed the passage which we have quoted,
For oftentimes also thine own heart knoweth that thou thyself likewise hast cursed others.
In enlarging upon my text, let me say first, when you commence your ministry make up your mind to begin with a clean sheet:
Be deaf and blind to the longstanding differences which may survive in the church.
As soon as you enter upon your pastorate you may be waited upon by persons who are anxious to secure your adhesion to their side in a family quarrel or church dispute; be deaf and blind to these people, and assure them that bygones must be bygones with you and that as you have not inherited your predecessor's cupboard you do not mean to eat his cold meat. If any flagrant injustice has been done, be diligent to set it right, but if it be a mere feud, bid the quarrelsome party cease from it, and tell him once for all that you will have nothing to do with it. The answer of Gallio will almost suit you:
If it were a matter of wrong or wicked lewdness, O ye Jews, reason would that I should bear with you: but if it be a question of words and names, and vain janglings, look ye to it; for I will be no judge of such matters.
When I came to New Park-street Chapel as a young man from the country, and was chosen pastor, I was speedily interviewed by a good man who had left the church, having, as he said, been "treated shamefully." He mentioned the names of half-a-dozen persons, all prominent members of the church, who had behaved in a very unchristian manner to him—he, poor innocent sufferer, having been a model of patience and holiness. I learned his character at once from what he said about others (a mode of judging which has never misled me), and I made up my mind how to act.
I told him that the church had been in a sadly unsettled state, and that the only way out of the snarl was for every one to forget the past and begin again. He said that the lapse of years did not alter facts, and I replied that it would alter a man's view of them if in that time he had become a wiser and a better man. However, I added, that all the past had gone away with my predecessors, that he must follow them to their new spheres, and settle matter with them, for I would not touch the affair with a pair of tongs.
He waxed somewhat warm, but I allowed him to radiate until he was cool again, and we shook hands and parted. He was a good man, but constructed upon an uncomfortable principle, so that he came across the path of others in a very awkward manner at times, and if I had gone into his narrative and examined his case, there would have been no end to the strife. I am quite certain that, for my own success, and for the prosperity of the church, I took the wisest course by applying my blind eye to all disputes which dated previously to my advent.
It is the extreme of unwisdom for a young man fresh from college, or from another charge, to suffer himself to be earwigged by a clique, and to be bribed by kindness and flattery to become a partisan, and so to ruin himself with one-half of his people. Know nothing of parties and cliques, but be the pastor of all the flock, and care for all alike. Blessed are the peacemakers, and one sure way of peacemaking is to let the fire of contention alone. Neither fan it, nor stir it, nor add fuel to it, but let it go out of itself. Begin your ministry with one blind eye and one deaf ear.
2493 reads