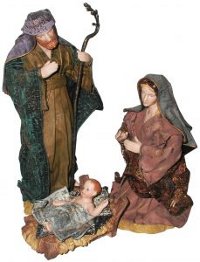 We were awakened by a call at 5:43 AM on Thursday, December 10th. It was my Sister-in-law from Cincinnati. As Kathee fumbled for the phone in the dark, I was asking myself, "Who died?" Sadly, it was my 32 year old nephew who had died suddenly and unexpectedly of an aortic aneurysm. 38 months earlier we had been in Helen Georgia at his wedding and on December 14th we went to Gainesville Georgia for his funeral. Sad event indeed! As I viewed his open coffin, I thought about the tremendous hope of the resurrection and the link between our Lord's incarnation and that hope. This is reflected in Wesley's "Hark! The Herald Angels Sing."
Hail the heav'nly Prince of Peace!
Hail the Sun of Righteousness!
Light and life to all He brings,
Ris'n with healing in His wings.
Mild He lays His glory by,
Born that man no more may die.
Born to raise the sons of earth,
Even His name speaks of that hope: "And she will bring forth a Son, and you shall call His name JESUS, for He will save His people from their sins" (Matthew 1:21). Peter expounded on the linkage between His resurrection and the believer's own future resurrection: "Blessed be the God and Father of our Lord Jesus Christ, who according to His abundant mercy has begotten us again to a living hope through the resurrection of Jesus Christ from the dead, to an inheritance incorruptible and undefiled and that does not fade away, reserved in heaven for you" (1 Peter 1:3-4).
While our Gainesville trip was a sad and unexpected one, we had several enjoyable intended trips this year also. We had a three day get-a-away to Galena, IL; a Dallas trip for my Mother's 89th birthday; and a 10 day trip to the Smokey Mountains.
I found the contrast between the many one-room log cabins in Great Smoky Mountains National Park and the Biltmore Estate in Ashville NC fascinating. In the very same era, a family of 11 would be living in a simple 16 ft x 20 ft log cabin; and just 50 miles away George Vanderbilt his wife and infant daughter lived in the largest house in the United States—all 175,000 square feet of it! We enjoyed the beauty of the Cades Cove valley of Great Smoky Mountains National Park. This is perhaps the only location in the national park system with an open Bible on display (on the pulpit of the Cades Cove Primitive Baptist Church).
We had several ministry related trips as well. I preached at the Log Chapel in Boy River, MN and Aaron Blumer's Grace Baptist Church in Boyceville, WI.
Kathee and I are now in our third year of ministering to young adults at Fourth Baptist (Plymouth, MN). This year, on Wednesday night's, we studied the book of Romans verse by verse. I found these 2 chains fascinating:
The chain of maturity in Romans 5:3-4: "We also glory in tribulations, knowing that tribulation produces perseverance; and perseverance, character; and character, hope."
The unbreakable chain of Romans 8:29-30: "For whom He foreknew, He also predestined to be conformed to the image of His Son, that He might be the firstborn among many brethren. Moreover whom He predestined, these He also called; whom He called, these He also justified; and whom He justified, these He also glorified."
James Boyce called this "a golden chain of five links."
Each link is forged in heaven. That is, each describes something God does and does not waver in doing. This is why John R. W. Stott calls them "five undeniable affirmations." The first two are concerned with God's eternal counsel or past determinations. The last two are concerned with what God has done, is doing, or will do with us. The middle term ("calling") connects the first pair and the last. These doctrines flow from eternity to eternity. As a result, there is no greater scope given to the wonderful activity of God in salvation in all the Bible.
Earlier this month, the young adult ministry transitioned into a new ABF (Adult Bible Fellowship) class ministering to both married and singles and meeting on Sunday mornings. We are studying the book of Ezekiel.
I reached the milestone of 60 in August. Kathee had a surprise birthday party for me with many relatives and friends in attendance. She flew my mother and sister up from Dallas for the event!
On the "what I do for a living" front, the merger of two major financial institutions has brought about much stress and opportunity. My newly combined work group now manages 300,000 workstations.
Outside of work, I continue to have an interest in Linux technology. This year I purchased a Linux Ubuntu netbook with a solid state drive. I'm amazed by the power and capability of such a reasonably priced computer! Additionally this year, I installed a Linux file server in the home, and a Chumby—a wireless Linux appliance.
It's been a privilege to work with Aaron and the SharperIron team. While I was somewhat apprehensive about the move to Drupal, I commend Aaron for his vision to move Sharper Iron to 3.0! The new site really looks great! I thank Aaron, the administrators, the moderation team, and the members and readership for the privilege to be the forum director at SharperIron.
850 reads