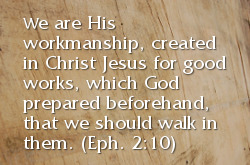 The phenomenon of "cultural Christianity" is not a new one. The label "carnal Christian" has been bandied about regularly in literature and in the blogosphere. Christians of every theological stripe know "carnal" or "cultural" Christians.
Pick whichever label you like best, or even invent your own—you know these people.
They claim repentance from sin and salvation through Christ alone. They come to church more or less regularly…sort of! They sit more or less attentively in the pews and may even tithe faithfully. They go through the motions. And yet…there is no discernible joy of Christ in their lives. There is no growth. To borrow a phrase from Paul Tripp, there is a "gospel gap" in their lives. Their Facebook pages abound with worldliness; perhaps you've even secretly hidden them from your news feed! Their children walk and talk like everybody else. There is no concept of separation, holiness or imitation of God in their lives. They are indistinguishable from normal, everyday, unsaved "good people."
These folks are legion. Some are undoubtedly saved, others are undoubtedly not. I'm not interested in debating that issue right now. What is significant is that too many Christians have little conception of who Christ is, what they were saved from and what their calling as Christians is. We'll look at what Paul had to say on this very matter.
We were once dead (Eph. 2:1-3)
Christians sometimes seem to lose sense of both (1) what they were saved from and, (2) the grace of God in performing this marvelous work. We lose focus on the gift of salvation and our attentions turn inward, to temporal matters. Paul, writing to the faithful saints at Ephesus (Eph. 2:1), emphasized the grace of God in salvation in very powerful, stark terms.
Christians were once dead in the trespasses and sins they walked in (Eph. 2:1-2). This is a spiritual death, a sinful nature we all inherited from Adam (Rom 5:12). In this sinful state, there is absolutely nothing meritorious in us that God can find pleasure in or accept as grounds for salvation.
Now in this dreadful disordered condition, are all of us brought into the world: for as the root is, such must the branches be. Accordingly we are told, "That Adam beget a son in his own likeness;" or, with the same corrupt nature which he himself had, after he had eaten the forbidden fruit. And experience as well as scripture proves, that we also are altogether born in sin and corruption; and therefore incapable, whilst in such a state, to whole communion with God. For as light cannot have communion with darkness, so God can have no communion with such polluted sons of Belial. (Whitefield)
Paul went on to describe the nature of this spiritual death, observing that we followed the "course of this world, following the prince of the power of the air, the spirit that is now at work in the sons of disobedience" (Eph. 2:2). We were completely different prior to salvation by Christ. We served a different master, as it were, and that master was Satan. We once lived as "sons of disobedience," mimicking the ways of our former master.
…carrying out the desires of the body and the mind, and were by nature children of wrath, like the rest of mankind. (Eph. 2:3)
We were by nature the children of wrath (see also John 3:36). Paul paints a very frank picture of a Christian's former state. "These verses picture the hopeless unbeliever as a part of the world system, controlled by Satan, indulging the flesh, and destined to experience God's wrath," (Constable, 28). This is what we were saved from and, moreover, it is what we deserve. God was not obligated to save anybody. He chose to.
We are transferred from the realm of Satan to the realm of God upon repentance of our sins and saving faith in Christ. We did belong to Satan but now belong to God. The chain which once bound us to sin has been broken!
Now we are alive! (Eph. 2:4-9)
God is rich in mercy because of the "great love" He has for us. Even while we were yet dead in our trespasses and sins, He made us alive together with Christ (Eph. 2:4-5). The initiative here is clearly with God, underscoring our complete inability to come to Him on our own or claim merit in any fashion. We are saved by grace, or unmerited favor (Eph. 2:5). He has given us heavenly citizenship (Eph. 2:6). This was done so that, in the coming ages, He might demonstrate the immeasurable riches of His grace and kindness in Christ Jesus (Eph. 2:7). The supreme demonstration of this grace is salvation, which is "not your own doing" (Eph. 2:8). Paul wrote that this salvation was "not a result of works, so that no one may boast," (Eph. 2:9). The entire thrust of this passage is the surpassing grace of God in salvation.
What's the point? (Eph. 2:10)
We were saved for a purpose, not to glory in our own election and while away our lives in idleness. This is the root of the issue with nominal Christians—they claim Christ but display no urgency to live for Him in any discernible way! There is no power of the Gospel in their lives. It is merely a cultural thing.
I like baseball. I like the Blackhawks. I like CSI: New York. I'm a Christian. God Bless America.
Too many Christians have lost any real sense of what it actually means to be a Christian. They have no Christian identity. How different this is from what Paul wrote:
For we are his workmanship, created in Christ Jesus for good works, which God prepared beforehand, that we should walk in them. (Eph. 2:10)
Christians who have been saved in ages past, are being saved today and will be saved tomorrow are His workmanship. This election to salvation is not a call to privilege but a choosing of service to God (Rom. 12:1-2). We were created in Christ Jesus specifically for good works. There is no way to get around this statement from Paul. A fervent desire to serve the Lord should be the practical outworking and fruit of our salvation. If we Christians can wrap our heads around this fact, then Paul's call to present ourselves as "living sacrifices" takes on a whole new significance. It should change our lives. It should compel us to serve Christ in whichever way we can, in accordance with the various talents, gifts and abilities He has seen fit to bestow upon us. Too many Christians are not fulfilling their calling but are on spiritual autopilot.
We know these people. They are our friends and neighbors. They worship together with us in church. Perhaps they were once living for the Lord, but have fallen on hard times. Maybe they were always nominal and tentative in their faith. Regardless of the circumstance, we have a duty to exhort and encourage our brothers and sisters in the faith, stirring them up to love and good works (Heb. 10:24-25). God is not pleased by lukewarm Christians (Rev. 3:16).
We all need to grasp what the "grace of God" really means, and allow the Holy Spirit to teach us to renounce ungodliness and worldly passions, and to live self-controlled, upright, and godly lives in the present age as we wait for Christ's return (Titus 2:12-13). There is no place in our lives for a complacent Christianity. Let us resolve to not allow this complacency and nominalism to characterize our own lives, and to encourage and exhort our brethren to not allow it to come to pass in theirs either.
Hail, happy saints! For your heaven is begun on earth: you have already received the first fruits of the Spirit, and are patiently waiting till that blessed change come, when your harvest shall be complete. I see and admire you, though, alas! at so great a distance from you: your life, I know, is hid with Christ in God. You have comforts, you have meat to eat, which a sinful, carnal, ridiculing world knows nothing of. Christ's yoke is not become easy to you, and his burden light. You have passed through the pangs of the new birth, and now rejoice that Christ Jesus is spiritually formed in your hearts. You know what it is to dwell in Christ, and Christ in you. Like Jacob's ladder, although your bodies are on earth, yet your souls and hearts are in heaven: and by your faith and constant recollection, like the blessed angels, you do always behold the face of your Father which is in heaven. (Whitefield)
[node:bio/tylerr body]
1389 reads