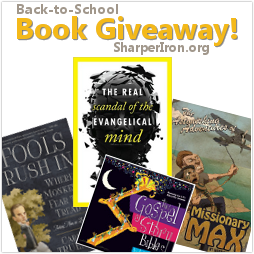 In honor of this summer's site redesign, and to promote the forum changes, SI is hosting a special book giveaway. Since it's time for students everywhere to hit the books, we thought we'd call it the 2012 "Back to School" book giveaway. Before we spell out the prizes we are giving away and how you can win them, a bit about the forum.
Why does SI have a forum?
One reason is that SharperIron began as a forum. From day one, those who had a question to pose, a topic to discuss or a controversy to explore, could start a discussion (a.k.a "thread") and invite the responses of others. That ability of users to start topics has been an important part of what makes SI unique: the content doesn't all come from the top down. Users have the opportunity to help one another, whether that takes the form of testing your arguments, requesting prayer, looking for practical tips or getting help with a puzzling passage of Scripture.
This month we're giving the forum a bit of a special emphasis by giving away some books to three randomly drawn winners. So if you've been thinking about starting a thread, it's a great time to jump in.
Starting a conversation at SI is easy. Once you've registered here, just hover over Forum in the main menu, then select Start a discussion. From there, give your topic or question (or poll) a title, choose a forum, type up your post and hit Save. "Tags" are optional, and if you're not sure which category your post fits in, just pick one. We can always move it if there's a better place. It will still be easy to find from your My SI page.
You can keep track of what's happening in a discussion by clicking Subscribe at the bottom of the first post.
The contest
The details of the giveaway are simple. You get your name added to our virtual hat for every discussion (or thread) you start this month (September). The only hitch is that your thread must have someone reply to it. This ensures it is actually a discussion that the community is interested in. Three winners will be randomly drawn from our "hat" at the end of the month.
The prizes
Now comes the fun part. What exactly can you win? Our three winners will each receive a copy of the following books.
The Real Scandal of the Evangelical Mind by Carl Trueman (compliments of Moody Press)
Fools Rush In Where Monkeys Fear to Tread: Taking Aim at Everyone by Carl Trueman (compliments of P&R Publishing)
The Gospel Story Bible: Discovering Jesus in the Old and New Testaments by Marty Machowski (compliments of New Growth Press)
The Adventures of Missionary Max (a three-part ebook) by Andrew Comings (compliments of the author)
As one who has benefited from many of the discussions in the SharperIron forum, I'm hopeful that this contest will encourage more of our readers to participate in the exchange. May open and thought-provoking discussions continue to find a place to thrive at SharperIron.org this year and for many years to come.
[node:bio/bob-hayton body]
2028 reads