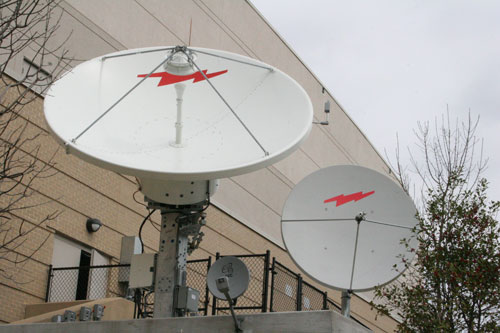 Reprinted with permission from the Baptist Bulletin, July-August 2009.
As my family and I took our seats following the final congregational song, a large screen descended from above the pulpit. Within seconds, a pastor appeared on the screen and asked us—and the 1,200 other worshipers—to open our Bibles to Ephesians 4. He would be preaching a sermon titled, "Imitating God in Our Relationships with One Another."
Knowing that the thriving midwestern church had embraced a multisite church structure, my wife and I had informed our children that they would not hear live preaching that Lord's Day morning, but their response to a preacher on a screen surprised me. At first I attributed their dismay to the fact that we are from a small church in an even smaller community. But as I dug deeper into their dismay, I discovered that their problem wasn't with the size of the church or even the use of video technology; their dismay stemmed from the fact that the announcements, prayers, Scripture reading, and congregational singing were live events, while the preaching was not. It seemed the church had unwittingly prescribed a greater importance to the parts of the service that were live. In my children's young and impressionable minds, the preaching was of lesser value because it wasn't an incarnational, in-the-flesh, event.
That Sunday morning in 2008 is my only firsthand experience with the multisite church movement, but because I love the church and am enamored with it, I had begun thinking through the theological implications of the multisite structure long before attending my first multisite church service. The purpose of this article is neither to defend nor attack the multisite church structure, but to ask some questions and offer some explanations regarding the important theological and ecclesiastical implications of the multisite church structure. Perhaps what is written here will stimulate some thoughtful discussion among the pastors and laypeople of our association.
Same name—different goals
As I set out to write this article, I was convinced that the multisite, multicampus craze was a new thing. Roger Ridley, a Baptist Church Planters missionary in Gretna, Neb., graciously corrected my faulty thinking. "While the terminology may be new," he pointed out ("multicampus" and "multisite" are recently coined terms), "the practice is not. The multisite church structure has been a model traditionally used in Baptist church planting—as an intentional way to fulfill the Great Commission."
Gretna Baptist Church has successfully employed the multisite church-planting approach on two occasions. In 2005, the Gretna church helped Peter and Mary Lou Jenks begin a Sunday evening Bible study by sending a group of its members 13 miles away to Bennington, Neb. By 2007, the group graduated from its multisite structure and became an autonomous Baptist church.
Then, in 2008, the Gretna church initiated Sunday morning services in the nearby suburb of Chalco Hills, assisted by Blane and Kelly Barfknecht, church planting missionaries who had previously mentored at the Gretna church with Pastor Ridley. The Chalco Hills church anticipates organizing as an autonomous local church by the spring of 2010.
That's one side of the multisite church structure—the church-planting side. In this church-planting model (a hybrid of the mother-daughter church-planting model employed by many GARBC churches over the past 70 years), the mother church facilitates, oversees, funds, and staffs the secondary, or daughter, church campus with the intention of planting an indigenous, autonomous local church. The two campuses are continuously and intentionally working toward that goal of becoming two distinct local churches—a distinctly Biblical goal and practice.
On the other hand, the more popular use of the multichurch structure is not intended to produce autonomous or indigenous local churches. It's not a method employed to plant new churches; it's a technique used to expand existing churches. For example, a website called The Multi-Site Church Revolution recently highlighted the aspirations of Flamingo Road Church. Flamingo Road maintains official church offices in Cooper City, Fla., yet spreads its multisite structure to seven different locations—including Lima, Peru (about 2,600 miles away). The church website refers to itself as one local church in multiple locations. Their stated goal? To grow Flamingo Road Church to 100,000 people gathering in 50 campus locations.
The multisite expansion model is the only method by which Flamingo Road Church could ever reach such lofty numbers. No single building in America (apart from four major college football stadiums) is capable of housing a church of this size, and it is much more cost-effective to build a local church through the use of the Internet and technology than through adding buildings and acquiring land. This multisite expanding structure also allows a single church and its pastoral leadership to spread its influence over a larger geographic area—even across continents.
Different purposes—different practices
Writing in 2006, the authors of The Multi-Site Church Revolution documented the movement's exponential growth, citing numerous local churches with multiplying campuses over wide geographical distances. The purpose of this "church-expanding model" (to grow a single local church) drives its practices.
If a single local church is to have more than a single location, it must be creative in its methods of addressing each of the sites as a whole and in its leadership structure. Although congregations may be separated by tens or even hundreds of miles, the church must be led by a single corporate structure—often a kind of Episcopalian or Presbyterian corporate leadership structure that makes decisions for the church as a whole and specific congregations individually. Addressing each congregation is often, though not always, accomplished through a pastor's simultaneously preaching to individual church sites via video streaming or reproduction on a large screen—as was our family's experience in the large midwestern multisite church.
On the other hand, the "church-planting multisite model" is driven by a different purpose—the birthing of an autonomous local church—which results in different practices. In church planting, the daughter church willingly places itself under the leadership and ecclesiastical structure of the mother church due to its infancy. Therefore, the teaching and preaching will most likely be live and incarnational rather than on a screen; deacons and church leaders will be developed; and both congregations will be working toward graduating the daughter church to self-supporting, autonomous status.
In most cases, it appears that both multisite structures are driven by commendable motives: to reach people with the gospel of Jesus Christ and to help a local congregation of believers in which they will learn, grow, and reproduce. With the apostle Paul we rejoice that "whether in pretense or in truth, Christ is proclaimed" (Philippians 1:18, ESV). Although we rejoice in the fact that Christ is preached, we also understand that Paul cared deeply about how the church is structured. Church structure is not as important as the purity of the gospel; nevertheless, it is an important and significant discussion that demands our attention.
So let me ask this question: Is the multisite expansion model Biblical?
---
Ken Fields is pastor of Delhi Baptist Church, Jerseyville, Ill. He blogs at http://theworldfrommywindow.blogspot.com.
11611 reads