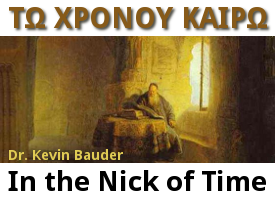 Roger Olson and I disagree about plenty of issues, but according to a recent blog post, we apparently find concord in one important topic. We are both convinced that Christians should not sing hymns that express significant error.
To be sure, Roger and I dispute both what constitutes error and how significant the error is. He is Arminian while I am Calvinistic. He is very broadly evangelical while I am pretty narrowly fundamentalistic. He believes that the gospel does not have to include hell (though he does not deny its existence), while I believe that the good news (gospel) is only as good as the bad news (laðra spella) is bad, and that the gospel is hardly news at all without a doctrine of eternal perdition behind it. These differences are more than negligible, and they definitely mean that Roger will sing some songs that I cannot, and vice versa.
Where we agree is in taking hymnody seriously. What we sing is a confession of what we believe. For us to sing what we do not believe would be to bear false witness.
Roger says that he cannot sing "Be Still My Soul" because it expresses God's sovereignty, even over evil. On the other hand, one of my former colleagues could not sing the last stanza of "Jesus, Thy Blood and Righteousness" because he is convinced of limited atonement. Personally, I relish both of these hymns, but Christian charity forbids me from pressuring a brother to affirm what he does not believe. For him to do so would be a sin, and for me to coerce him would also be a sin. I take no offense with what he cannot sing, though I may well disagree with his choice.
Thus far, I believe that Roger and I are committed to the same general practice. In my own conscience, however, I go one step further. We have not discussed this matter, but I would be surprised to discover that Roger would take this step with me.
When people talk to one another, we communicate in a variety of ways. Part of our communication occurs at the propositional and discursive level, but much of the meaning that we express is non-propositional and even non-verbal. We express meaning by vocal intonation (pitch, volume, timbre), posture, and facial expression. We also express meaning by choosing words that evoke certain responses or by arranging them in ways that establish certain resonances. We may employ figures of speech or word pictures to supply meaning that goes beyond the bare, verbal layer.
In written communication, we cannot use facial expressions or vocal intonations, but we do use most of the other devices. The more that we rely upon them, the less our writing is prosaic and the more it becomes poetic. In good poetry, we will try to deploy multiple tools of communication, stacking them upon one another so that meaning is layers deep. When it comes to poetry, the non-discursive aspects are far more important than the bare, verbal propositions.
Whatever else they are, hymns are poems set to music. In hymnody, we are dealing with poetry. Because of the densely-packed meaning, poetry is a far more powerful vehicle of communication than mere discourse. That power may be amplified further by the addition of music. Good poetry goes beyond prose in its ability to express meaning, and good hymnody goes beyond mere text.
The problem is that it is possible for implied meaning to contradict the plain, verbal meaning of an utterance. A simple example is the husband who tells his wife, "That's my favorite dinner," but who means exactly the opposite. The reversal of meaning does not occur at the verbal, discursive level, but it is nevertheless real. The real meaning of the utterance is "That is a dinner that I do not like." By using the device of irony, however, the husband underlines his dislike.
How does the wife know whether to take the statement in an ironic or a straightforward sense? She has to make a judgment. Her judgment will be informed by all sorts of factors, many of which are subjective, but each of which is real. At the end of the day, one understanding of the statement is right and the other is wrong, and the wife who loves rightly has the duty to judge wisely which it is.
What I am suggesting is that it is possible to falsify the propositional meaning of an utterance (whether spoken or written) by the way we say it. If that is the case, then the power of poetry and music to enforce or contradict a verbal message must be taken very seriously. It must be taken especially seriously when our intention is the right expression of Christian truth, such that it both registers in our minds and shapes our affections.
It is possible to express bad doctrine at the verbal level. It is also possible to express bad doctrine at the poetical or the musical level. In the first case, we utter a straightforward falsehood. In the second case, we contradict a truth less obviously, though perhaps more emphatically, by the way we express it. Our judgments about poetry and music may (and will) be more subjective, but that does not mean that they are necessarily untrue. Nor can they be avoided.
So what should we do when we become convinced that a particular hymn subverts right doctrine in the way that it expresses the doctrine? My answer is that we are obligated to do the same thing we would do if the hymn expressed obviously false doctrine at the discursive level. We do not sing it.
Of course, cognitive bargaining is always possible. We can tell ourselves, "I'll sing as if I mean this rather than that." Where genuine ambiguities exist, this kind of bargaining may be permissible (as when we confess "one baptism for the remission of sins," though we may disagree with some interpretations of the phrase). I think, however, that the only safe course is to confess—and sing—only what we are confident is pleasing to God. Let every man be fully persuaded in his own mind.
Therefore, when our brethren judge a hymn to subvert sound doctrine through its musical or poetical communication, we must not pressure or coerce them to sing. For them to confess what they do not believe would be a sin. For us to pressure them to sing what they do not believe would also be a sin.
On the other hand, what should be our attitude toward our brothers who sing when we cannot? We can rejoice in the mercy of our God, mercy that forbears much that is impure in the lives and worship of both us and them. Acknowledging such mercy does not bar us from making appeals and offering gentle exhortations. Still, whenever believers live in community, they find that they are forced to tolerate what they regard as evils within the community. Tolerating a (perceived) evil in another is not the same thing as practicing evil. If we have not a category for tolerable evils, then we shall not be able to live in community at all.
Musicks Empire
Andrew Marvell (1621-1678)
   i
First was the World as one great Cymbal made,
Where Jarring Windes to infant Nature plaid.
All Musick was a solitary sound,
To hollow Rocks and murm'ring Fountains bound.
    ii
Jubal first made the wilder Notes agree;
And Jubal tun'd Musicks Jubilee:
He call'd the Ecchoes from their sullen Cell,
And built the Organs City where they dwell.
    iii
Each sought a consort in that lovely place;
And Virgin Trebles wed the manly Base.
From whence the Progeny of numbers new
Into harmonious Colonies withdrew.
    iv
Some to the Lute, some to the Viol went,
And others chose the Cornet eloquent.
These practising the Wind, and those the Wire,
To sing Mens Triumphs, or in Heavens quire.
    v
Then Musick, the Mosaique of the Air,
Did of all these a Solemn noise prepare:
With which She gain'd the Empire of the Ear,
Including all between the Earth and Sphear.
    vi
Victorious sounds! yet here your Homage do
Unto a gentler Conqueror than you;
Who though He flies the Musick of his praise,
Would with you Heavens Hallelujahs raise.
 
[node:bio/kevin-t-bauder body]
5927 reads