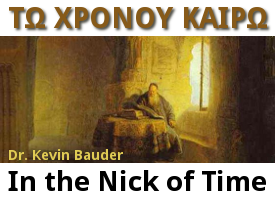 In their attempt to know and understand the universe, humans must pay attention to a bewildering variety of considerations. First, they must notice objects and events. Then they must grasp the connections between the objects and events. Furthermore, they must perceive how objects and events are connected, not merely to material reality, but also to moral reality. Finally, they must take account of the presence and character of personal reality.
The genius of modernism—especially in its more empirical permutations—was the insistence that reality could be known by assembling facts. It was supposed that an observer could accumulate fact after fact, eventually noticing patterns that allowed informed guesses as to the connections between facts. Given enough time, enough observers, and enough good guesses, moderns thought that they could unlock the secrets of the universe.
G. K. Chesterton spoke for the opposition. In his short story, "The Tremendous Adventures of Major Brown," pre-modernity and modernity are typified by two brothers, Basil and Rupert Grant. Rupert fancies himself a detective and, at one point in the story, is convinced that his facts have yielded the truth. Basil, however, is convinced of the opposite. The exchange between them follows.
'It's a matter of fact,' cried [Rupert] in an agony of reasonableness.

'Facts,' murmured Basil, like one mentioning some strange, far-off animals, 'how facts obscure the truth. I may be silly—in fact, I'm off my head—but I never could believe in that man—what's his name, in those capital stories?‑‑Sherlock Holmes. Every detail points to something, certainly; but generally to the wrong thing. Facts point in all directions, it seems to me, like the thousands of twigs on a tree. It's only the life of the tree that has unity and goes up—only the green blood that springs, like a fountain, at the stars.'

'But what the deuce else can the letter be but criminal?'

'We have eternity to stretch our legs in,' replied the mystic. 'It can be an infinity of things. I haven't seen any of them—I've only seen the letter. I look at that, and say it's not criminal.'

'Then what's the origin of it?'

'I haven't the vaguest idea.'

'Then why don't you accept the ordinary explanation?'

Basil continued for a little to glare at the coals, and seemed collecting his thoughts in a humble and even painful way. Then he said:

'Suppose you went out into the moonlight. Suppose you passed through silent, silvery streets and squares until you came into an open and deserted space, set with a few monuments, and you beheld one dressed as a ballet girl dancing in the argent glimmer. And suppose you looked, and saw it was a man disguised. And suppose you looked again, and saw it was Lord Kitchener. What would you think?'

He paused a moment, and went on:

'You could not adopt the ordinary explanation. The ordinary explanation of putting on singular clothes is that you look nice in them; you would not think that Lord Kitchener dressed up like a ballet girl out of ordinary personal vanity. You would think it much more likely that he inherited a dancing madness from a great grandmother; or had been hypnotised at a séance; or threatened by a secret society with death if he refused the ordeal. With Baden-Powell, say, it might be a bet—but not with Kitchener. I should know all that, because in my public days I knew him quite well. So I know that letter quite well, and criminals quite well. It's not a criminal's letter. It's all atmospheres.' And he closed his eyes and passed his hand over his forehead.
Chesterton was revisiting a distinction that virtually every thinker before the modern era understood: the difference between facts and truth. He understood that facts do not yield truth until they are rightly interpreted, and that a fascination with supposedly brute facts can actually get in the way of grasping truth. He also understood that the right interpretation of facts occurs within a context of personal considerations and commitments (this is roughly what Polanyi called personal knowledge, but Chesterton sees it as the definition of mysticism). Because these commitments are personal, they are also subjective, and because they are subjective, they can skew the interpretation of facts. Nevertheless, the right interpretation of facts depends, not upon divesting oneself of all personal commitments, but upon making the right commitments.
How that occurs deserves a separate discussion. For the moment, it is sufficient to note that no knowledge of facts is possible without interpretation, and that all interpretation is value-laden. In other words, all genuine knowledge—all knowledge of truth—involves and depends upon commitments that cannot themselves be justified by detached and neutral appeals to facts.
Incidentally, this dynamic is even at work in the scientific method. Scientists value and employ their method in order to minimize personal bias so that their claims to knowledge will rest upon facts rather than prejudices. The personal commitment to scientific method, however, represents a prejudice that cannot be justified by any direct appeal to the facts. To put it another way, the empirical method cannot be defended empirically, but only on non-empirical grounds.
To summarize, in order to register in consciousness, facts must be interpreted. They must be construed, not as things in themselves, but as things that point beyond themselves. In other words, they require a context. To alter the context is to change the significance of the fact. Indeed, it is to change the fact itself.
Of course, facts can be stripped of context or placed in contexts that deprive them of meaning. When that happens, they become factoids—bits of useless information. Factoids represent the trivialization of reality. People have discovered that they can take such factoids and reclothe them with an alternative context that forces them to point in the wrong directions. When that occurs, facts are being used to point away from truth and to deceive observers. In other words, facts can be used to tell lies.
Chesterton's story sets up the classical contrast between facts and truth. Before proceeding with the discussion, it is worth asking what we mean when we talk about truth. If truth is not equal to fact, and if it is more even than an accumulation of facts, then what is it? Answering that question could consume volumes, and it should certainly occupy at least one short essay.
from Choruses from 'The Rock'
T. S. Eliot (1888-1965)
When the Stranger says: "What is the meaning of this city?
Do you huddle close together because you love each other?"
What will you answer? "We all dwell together
To make money from each other"? or "This is a community"?
Oh my soul, be prepared for the coming of the Stranger.
Be prepared for him who knows how to ask questions.
There is one who remembers the way to your door:
Life you may evade, but Death you shall not.
You shall not deny the Stranger.
They constantly try to escape
From the darkness outside and within
By dreaming of systems so perfect that no one will need to be good.
But the man that is shall shadow
The man that pretends to be.
T. S. Eliot: Collected Poems, 1909-1962. Orlando: Harcourt, 1991. 145ff.
[node:bio/kevin-t-bauder body]
1729 reads