The Right Way to Think About the Law (Galatians 3:7-14)
Image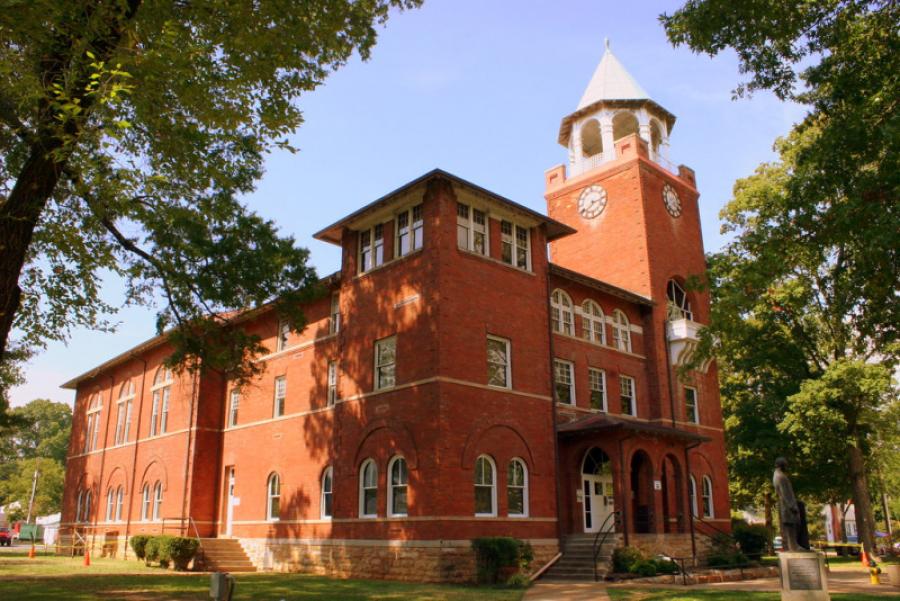 This is part of a commentary series through the Book of Galatians. It began with Galatians 3:1-6. This series will progress until the book is finished, then circle back and cover ch. 1-2.
Here, we begin the most difficult portion of Paul's letter—the relationship of the Mosaic Law to saving faith. Before we begin, I'll restate some principles from the first article that will help you understand the position this commentary takes. Here they are:
The Mosaic Law is not a vehicle for salvation, and it was never intended to be one.
The Law was given to teach God's people (a) how to worship Him rightly, which includes instructions about forgiveness of sins (moral cleanness) and ritual uncleanness, (b) to have a written moral code that is fairly comprehensive, but not exhaustive, and (c) to live as brothers and sisters in a particular society for a particular time.
The Law is a tool for holy living, a guardian to keep people in a holy "holding pattern" while the plane circled the airport, waiting for Jesus' first advent so it could "land."
Some flavors of pop dispensationalism have done incalculable damage by confusing Christians about the relationship between the Mosaic Law and the Gospel.
Now, to the Scriptures!
Children of Abraham (Galatians 3:7-9)
Understand, then, that those who have faith are children of Abraham. Scripture foresaw that God would justify the Gentiles by faith, and announced the gospel in advance to Abraham: "All nations will be blessed through you."

Galatians 3:7-8
Who is a child of Abraham? Well, it certainly isn't about biology. About genetics. About who your parents are. John the Baptist understood that (Mt 3:7-10). No, it isn't about race or ethnicity—it's about common faith in Jesus. If you have Abraham's faith, then you're one of his children. Easy. Simple.
In fact, Scripture foresaw that the "child of God" concept wasn't really an ethnic thing at all. God announced the Gospel to Abraham in advance when He announced that "all nations will be blessed through you," (cf. Gen. 12:3; 18:18; 22:18).
This is extraordinary. The false teachers skulking around the area are Judaizers—folks who push the rules-based legalism we noted, before. The apogee of their "faith" is to be as Jewish as possible which, in their warped understanding, means to follow the rules and traditions of the elders very strictly (cf. Phil 3:4-6). Thus, you violate the Sabbath if you put spices into a pot, but all is well if you add spices to food served on a dish![1]
Not so, says Paul. Your pedigree before God has nothing to do with this. It only has to do with whether your relationship with God is based on faith and trust in God's promise, and love—just like Abraham's.
So those who rely on faith are blessed along with Abraham, the man of faith.

Galatians 3:9
Paul is making a conclusion based on what he's just said. It could be translated as something like, "this means, then, that those who rely on faith are blessed with Abraham." If you want to be one of Abraham's children, then follow his lead and rely on faith!
Choose Your Path! Galatians 3:10-14
Now, we get down to the hard part. Remember that question about which I said you must have an opinion? Let's ask ourselves again:
Did God intend the Mosaic Law to be a way of salvation?
The answer is no. Never.
This means that, however difficult Paul may be to follow from here on out, he cannot be agreeing with the false teachers that the Mosaic Law was a vehicle for salvation. Never. It isn't an option. God doesn't change the terms of salvation. It's always been by faith.
So, remember this question and the right answer, because here we go …
For all who rely on the works of the law are under a curse, as it is written: "Cursed is everyone who does not continue to do everything written in the Book of the Law."

Galatians 3:10, quoting Deuteronomy 27:26
If the Mosaic Law was never about salvation, then Paul is not seriously suggesting the Mosaic Law means this. He can't be. Rather, his point relies on you understanding everything he just wrote, in vv. 7-9.
Salvation is by faith—always has been.
Abraham had faith and was counted righteous.
That's how you become one of Abraham's children—faith in the promise.
The "for" at the beginning of the sentence is explanatory. It's translated a bit stiffly, as if Paul is a Victorian gentleman—and he ain't one. It could be rendered as something like, "so, this is what I'm saying—everyone who relies on the works of the law …"
He means, "look, if you wanna go that route and try to earn your salvation, then have at it—here's a quote from Moses that you can chew on!" He accurately quotes the text of Deuteronomy 27:26, but must be deliberately subverting the meaning. Moses didn't preach salvation by works. When he asked the people to swear that promise in Deuteronomy 27:26 (along with a bunch of others), he presupposed that everyone understood that love was the driving force behind relationship with God (Deut 6:4-5; 10:12-16). I'm saying Paul misapplied Deuteronomy 27:26 the same way the Judaizers were doing. Paul is saying, "if you want to go that way, have fun trying to accomplish this …"
So, the "curse" Paul mentions isn't the Mosaic Law as it really was. Instead, the "curse" is the impossible burden of trying to adopt the Judaizer's perverted understanding of the Mosaic Law. Some Christians imagine Old Covenant life as an oppressive burden, a millstone dragging the believers to a watery grave … until Christ came! How absurd. They believe this because they take Paul literally in vv. 10-12—they believe he's describing the Mosaic Law as it really was. They're wrong.
As I mentioned, Paul adopts the Judaizer's arguments to show how bankrupt they are. Read Psalm 119 and see if the writer is being crushed by the law! "Open my eyes that I may see wonderful things in your law," (Ps 119:18). He isn't! He loves God and loves His word (including the Mosaic Law). The Law is only a millstone if you think it's a vehicle for salvation. But, it ain't one, so it ain't a millstone.
I'm comfortable suggesting this, because Paul then sweeps this silly idea of "earning my salvation by merit" aside.
Clearly no one who relies on the law is justified before God, because "the righteous will live by faith."

Galatians 3:11, quoting Habakkuk 2:4
The law can't make you righteous. Paul quotes Habakkuk 2:4, which indeed says that "the righteous will live by faith." So, when he quotes Moses from Deuteronomy 27:26, he can't really be saying Moses meant it that way. Paul just adopts the arguments from the Judaizers, or from similar sources floating about in the 1st century interwebs, and suggests they have fun trying to do the impossible. He now continues in that vein:
The law is not based on faith; on the contrary, it says, "The person who does these things will live by them."

Galatians 3:12, quoting Leviticus 18:5
This accurate quote from Leviticus is ripe for misunderstanding. Again, he rightly quotes the text but suggests the wrong meaning. When Paul says "the law is not based on faith," he assumes the perverted form of their argument. The "law" he mentions here is the wrong understanding of the Mosaic law, not that law as it really is. "You wanna have eternal life?" he asks. "Then, make sure you do everything in the law—just like it says. Have at it, boys and girls!"
Remember our magic question—did God intend the Mosaic Law to be a way of salvation? He did not. So, whatever Paul is saying, he cannot be suggesting the Mosaic Law has anything to do with salvation. This magic question is the key to understanding Paul's argument. Some Christians fail to ask it, and so their explanations of this passage make little sense.
Christ redeemed us from the curse of the law by becoming a curse for us, for it is written: "Cursed is everyone who is hung on a pole."

Galatians 3:13, quoting Deuteronomy 21:23
I think we're making a mistake if we think "curse of the law" is the Mosaic Law. The Law isn't a curse. It isn't a bad thing. It isn't a burden, because it has nothing to do with salvation. The Mosaic Law is simply a vehicle for holy living, while God's people remained in a holding pattern waiting for Christ. We've always obeyed from the heart because He's already rescued us—not the other way around. "Give me understanding, so that I may keep your laws and obey it with all my heart … I reach out for your commands, which I love, that I may meditate on your decrees," (Ps 119:34, 48). The man who wrote this didn't think he was "under a curse."
So, to return to our verse (Gal 3:13), from what "curse" did Christ redeem us, then?
I think it's the curse of the capital punishment waiting for every one of us, because (in our natural state) we've rejected God. That's what Deuteronomy 21:23 is about—a person guilty of a capital offense is to be hanged on a pole. We've each committed the "capital offense" of rejecting God, so we're under that death sentence, but Christ has come to free us from that. After all, we can't free ourselves—we can't be good enough (cf. Gal 2:21).
So, rather than try and dig our way (i.e. "earning" salvation by merit) out of a situation from which there is no escape, we should rely on Jesus. He became a curse for us. He suffered for our capital crimes by being hanged on a pole. The word "redeem" has lost its original force, in English. It means something like "buying back from slavery." We can't bribe our way out of our mess, so Jesus gave Himself to buy us out of Satan's clutches.
So, Paul isn't making a negative assessment of the Mosaic Law at all. The "curse" here isn't even about the Mosaic Law. But, if we think Paul is talking about that, then I ask this—are we really to suppose that God "cursed" His people from Sinai to Pentecost with a system whose design was to crush their souls? Is that the "average Christian life" vibe you get from Psalm 119? Is that what a circumcision of the heart is all about (cf. Deut 10:16)? Was the average Israelite like poor Pilgrim, struggling with that loathsome burden on his back?
No! Paul's not even talking about the Mosaic Law. He's just suggesting another way, a better way, the true way—"because if we become righteous through the Law, then Christ died for no purpose," (Gal 2:21, CEB). You can (1) go the Judaizer's route and try to earn your way into the kingdom, or (2) you can rejoice and trust that Christ has already redeemed us from our death sentence for rebellion ("the curse of the law").
He redeemed us in order that the blessing given to Abraham might come to the Gentiles through Christ Jesus, so that by faith we might receive the promise of the Spirit.

Galatians 3:14
Why did Christ buy us back from slavery? So that Christ could be the channel for the blessings to Abraham to flow to the rest of the world. We receive the promise of the Holy Spirit by faith. Always have. Always will.
---
1 Shabbat 3:5, in Mishnah.