Image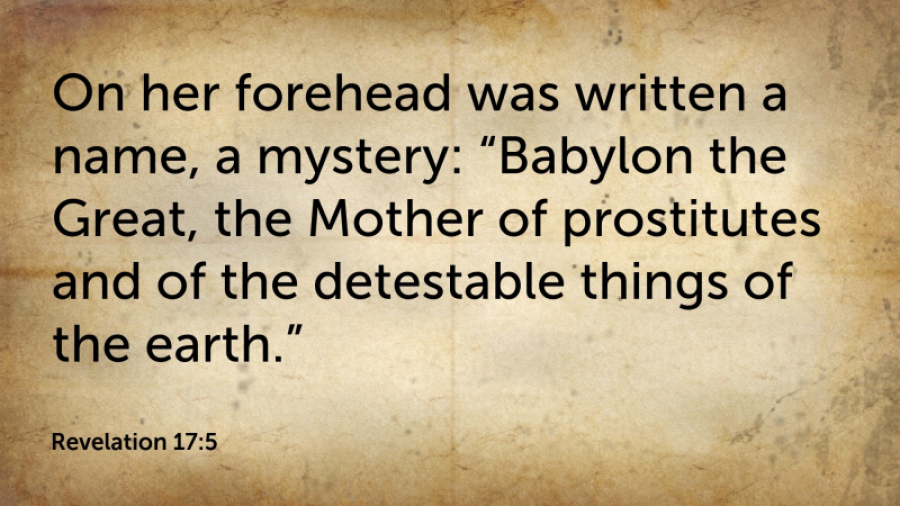 I just read Revelation 12-18 this afternoon, and the identity of the woman in Revelation 17-18 suddenly makes so much more sense in light of the West's complete moral collapse. Bostock v. Clayton County is the final domino in a chain that has made me now fully realize the scope of the task for faithful pastors in the 21st century.
To read people argue, in confident legal prose, that discrimination "because of … sex" and discrimination "because of … sexual orientation" are analgous is astonishing, in a deceptive way. You get so caught up in parsing the intent of the actors and considering the legal arguments that you forget just how morally bankrupt this discussion even is. There is no longer even a pretense of a foundation to anchor morality and ethics in the public square. As I wrote in my discussion of the Obergefell decision, once a culture dynamites its objective foundation for values all that's left to anchor us to morality is inertia.
Well, the inertia has indeed toppled the crumbling edifice with Bostock. The decision isn't so awful, in and of itself. It's awful because it signals that sanity has fallen. Once and for all, it has gone.
I knew this before, but I didn't know it before.
The Church no longer has any common point of cultural contact left with the world. When the Church speaks the mystery of the faith to outsiders, it now speaks a foreign and hateful language. This means the Church's job is not simply to explain the Christian faith to the world. It is that, but it's more than that.
The Church's task, more than ever, is now to explain and interpret reality to the world. God's reality. This will take educated, well-read ministers who understand history in a deep and meaningful way.
Not in a social media meme kinda way.
Not in a "I watch Tucker on Fox, and he's right!" kinda way.
Not in a "Watch Ben Shapiro

DESTROY

the libs" kinda way.
I mean real history. Real engagement with big ideas and big thinkers. A real sense of human history, and mistakes of the past. We'll need pastors who understand culture. Who pay attention to what's happening in the world and can interpret it for the Church and for the world. I'm actually thinking a graduate degree in liberal studies/humanities may be more important than a PhD.
Os Guinness has written that the West is a "cut-flower" civilization, in the sense that it's like a withering flower ripped from the Christian worldview, slowly dying in a vase on the countertop.
No longer.
Now, the West is a dead flower civilization. Now, the Church must be the institution that stands in the gap, shakes it head sadly, and patiently and winsomely explains the facts of reality to a very confused world.
Carl Trueman wrote a few days ago:
If Christians do not understand the wider context, then they will continue to underestimate the true depth of the cultural problem, be perplexed at the speed of apparent change, and be disturbed by new developments. And that will make it very hard to navigate this world as both good citizens and good stewards of the gospel.
Who is equal to this task? My goodness, who can be equal to this task? When I read the transcript of oral arguments from Bostock, I feel overwhelmed. What tortured combination of forces have combined to produce the kind of moral confusion and rebellion against God that we see in those pages? It's too much. No one person is equipped to interpret this kind of madness for the Church.
I am more well-read than many pastors. That may be hubris, but I suspect not. I am overwhelmed by the task. I feel unequal to it. There's so much!
The woman in Revelation 17-18 represents man in community apart from God. Like a chameleon, she's taken many different forms over the years. But, she is organized society without God. In the West, she's secular humanism. But, I know even as I write this that it's not quite right. It's a religion of sorts, but one I have trouble getting my arms around. It seems to combine a narcissism unique to this digital age, abysmal ignorance of just about everything, a "God as divine butler" theology among professing Christians, critical race theory, intersectionality, and hatred of God … all combined into one toxic casserole. I don't know what to call it.
This is why I feel overwhelmed. I almost wish I were not so bookish, so I'd be content with memes on social media and wouldn't appreciate the depth of the challenges that lay ahead. I do know, however, that the Lord destroys the woman in Revelation 18, and returns triumphantly in the next chapter. That's nice!
May God help the Church in the 21st century in the West; especially its elders. Especially me.