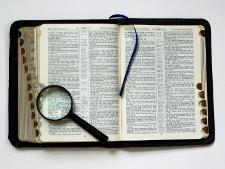 Last month, I introduced the concept of expository preaching, an issue which can no longer be restricted to discussions between preachers, or reserved for Seminaries and Bible College classrooms. Today, exposition has become an identity marker by which to evaluate churches. In his book, Nine Marks of a Healthy Church, Mark Dever lists expositional preaching as mark number one. Dever believes it is the most important characteristic of a spiritually healthy church, the foundation upon which the other eight marks are built.
Thousands of Christians are now measuring churches by the yardstick of an expository pulpit. These Christians will not accept topical preaching as regular fare, and will search until they find a church that values exposition. This topic should interest all serious believers, but first we need to understand the basic terminology.
The simplest way to define exposition is explanation. Its goal is to explain the Word of God. Webster's dictionary defines exposition as "detailed explanation, setting forth of facts." Exposition is the detailed explanation of a portion of Scripture, a "text." The text for a particular sermon may be chosen in various ways, but the goal of exposition is to enable people to understand accurately what God has spoken.
Consecutive Exposition
Expository preaching can be divided into various categories. Sometimes consecutive exposition is used, at other times, random exposition may be employed. Consecutive exposition occurs when the preacher works through a sizeable portion, often an entire book of the Bible, taking consecutive texts each week until he has completed the section. Our church utilizes this approach on Sunday mornings almost exclusively. Presently we are preaching through 1 Corinthians. We began on the first Sunday in January, 2018, and are nearing the end of chapter eleven in October, 2018. Before that it was Joel, to which we devoted four weeks, and prior to that, Ecclesiastes, which required about five months. If someone should ask, "Why did you preach that this morning"? The answer is simply, "Because it was next." No one can legitimately complain that they were personally targeted.
Random Exposition
Sometimes preachers employ random exposition, which is no less expository. The same definition of detailed explanation applies, but the texts are not consecutive. This method will be more commonly used by one who does not occupy the same pulpit every week. He may not be a Senior Pastor, or he may pursue an itinerate ministry, preaching to a different congregation each week. Preparation and delivery will be much the same, but the text is randomly chosen. If someone should ask, "Why did you preach that today?" the preacher says, "Because I thought it met a need at this time."
Topical Exposition
It is also possible to assign the term topical exposition to some sermons. Although topical is usually the opposite of expository, if the topic is drawn from several related texts, and each main point is actually a brief exposition of one of the related texts, then the topical sermon can be accurately characterized as expositional. A series of short expositions related by a common theme constitutes genuine exposition.
Study
One of the strongest characteristics of exposition is that the text drives the message, not the other way around. Once the text is chosen, it is thoroughly studied before sermon construction begins. Only after he understands the originally intended meaning can the preacher organize a sermon.
Exegesis, the study of the text, comes before exposition, the explanation of the text. Exegesis means "to show the way, to lead or guide out." The Greek prefix ex indicates the goal of drawing out of the text what God put in. The preacher's first task is to understand what God intended by these words, so that he can accurately explain God's message. This involves a careful study of the text, context, original languages, syntax, grammar, as well as customs and culture of the time and place in which this text was written.
Serious study requires significant time. Mature congregations recognize this, and encourage their pastors to study by supporting him financially, so that he can make preaching his main job, and by protecting him from unnecessary demands and distractions, so that he can study effectively. I prefer mornings for study, with afternoons devoted to other tasks. In my preparation, I devote three full mornings to nothing but the study of the text, utilizing more than a dozen carefully selected commentaries and other sources, generating as many as twenty pages of handwritten notes. I call this spade work, and I go through dozens of yellow writing pads each year.
Sermon-Building
Once the text has been thoroughly digested, the work of sermon construction begins. What is the main theme of this text? That becomes the subject of the sermon. The topic has not been chosen by the preacher deciding what he thinks might be helpful to his congregation, but it grows out of the text. What is the message God has for His people in this text? What are the main divisions of this text? That determines the main points of the sermon.
A sermon may have two, three, four, five or more points, depending upon the main divisions of the text. The preacher doesn't say, "I think I'd like this sermon to have three main points. That's a nice manageable number." He says, "The text contains two main divisions, so that is how I must organize my sermon this week." What do I need to explain about this text? That becomes the contents of the sermon. Everything grows out of the text. The text provides the theme, shapes the outline, and supplies the contents.
Only after all of this has been determined will the preacher add material, such as illustrations, applications, cross references, title, introduction, etc. Since his mind has been saturated with the text before constructing his sermon, even these auxiliary items are largely shaped by the text. Although it is impossible to remove every human opinion from a sermon, by marinating his mind in Scripture, the preacher minimizes human opinion, and maximizes divine revelation. Exposition is biblically saturated preaching. As a general rule, my own sermons usually require thirteen to fifteen hours in preparation from start to finish. Exegesis generally utilizes about half the time, with homiletics, application, and other elements taking up the other half.
Topical Preaching
Topical preaching is usually shaped more by the preacher's thoughts than by the Bible. Preparation begins when the preacher selects a subject that strikes him as being useful. Next he considers what he would like to say, constructing his main points to reflect his thoughts about the chosen subject. Somewhere along the way he may select a "text" to use as a springboard to launch into his subject, and he may well support his main points with various "proof-texts" intended to relate his sermon to the Bible. This approach can be biblical, if the preacher is knowledgeable in Scripture, and allows the Bible to shape his deliberations. It is not that topical preaching is never biblical. Sometimes it is, sometimes it is not. It is not that topical preaching never involves serious study and preparation. Sometimes it does; sometimes it does not. But exposition requires a stronger commitment to Scripture. It trains and restrains the preacher in a way that topical preaching cannot.
Additionally, expositional preaching begins with exegesis, the study of a Scripture passage, and an outline gradually emerges. Topical preaching does the opposite. It usually begins with an outline, after which the Bible is studied with a view to support and validate the outline. Topical and expository preaching usually begin at opposite ends of the sermon.
Topical preaching can be biblical, and it can be used by God to speak to men, but it can also too easily become personal opinion, unguided by God's Word. Topical preaching allows more pulpit abuse than exposition, although because we still possess the remnants of our fallen nature, expositional preaching can also be abused. Nevertheless, more foolishness has come from topical preaching than expository. No wonder many serious Christians today are satisfied with nothing but the expository preaching of God's Word.
---
G. N. Barkman received his BA and MA from BJU and later founded Beacon Baptist Church in Burlington, NC where has pastored since 1973. In addition, Pastor Barkman airs the Beacon Broadcast on twenty radio stations. He and his wife, Marti, have been blessed with four daughters and nine grandchildren.
465 reads
3497 reads