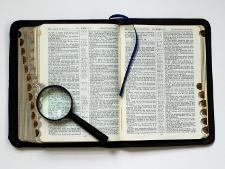 Last month, I introduced the concept of expository preaching, an issue which can no longer be restricted to discussions between preachers, or reserved for Seminaries and Bible College classrooms. Today, exposition has become an identity marker by which to evaluate churches. In his book, Nine Marks of a Healthy Church, Mark Dever lists expositional preaching as mark number one. Dever believes it is the most important characteristic of a spiritually healthy church, the foundation upon which the other eight marks are built.
Thousands of Christians are now measuring churches by the yardstick of an expository pulpit. These Christians will not accept topical preaching as regular fare, and will search until they find a church that values exposition. This topic should interest all serious believers, but first we need to understand the basic terminology.
The simplest way to define exposition is explanation. Its goal is to explain the Word of God. Webster's dictionary defines exposition as "detailed explanation, setting forth of facts." Exposition is the detailed explanation of a portion of Scripture, a "text." The text for a particular sermon may be chosen in various ways, but the goal of exposition is to enable people to understand accurately what God has spoken.
6241 reads