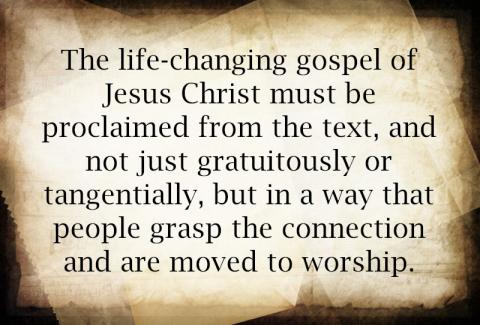 Reposted from The Cripplegate
Part 1
Here's a glimpse into the sausage factory of expository preaching. A while back my commitment to consecutive exposition was acutely tested. I tackled the chapter every seminoid dreads from the day he graduates, namely Leviticus 15 (you know, the heart-warming one about emissions and discharges of various bodily fluids). The challenges of preaching this sticky wicket are manifold.
First, the preacher himself needs to understand why there is legislation on bodily leakiness in the Bible.
Second, he needs to publicly read and explain the text without blushing or evoking any unsolicited giggles from the congregation.
Third, the life-changing gospel of Jesus Christ must be proclaimed from the text, and not just gratuitously or tangentially, but in a way that people grasp the connection and are moved to worship. And finally, application for today needs to be drawn from the Mosaic Law, which is fulfilled in Christ and no longer binding on Church-age believers.
No sweat.
972 reads