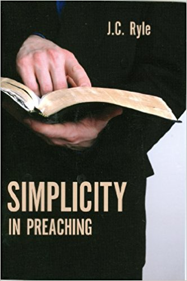 J.C. Ryle continues dispensing some advice for preachers:1
The fourth hint I will give is this: If you wish to preach simply—use a DIRECT style. What do I mean by this? I mean the practice and custom of saying "I" and "you."

When a man takes up this style of preaching, he is often told that he is conceited and egotistical. The result is that many preachers are never direct—and always think it very humble and modest and becoming to say "we." But I remember good Bishop Villiers saying that "we" was a word kings and corporations should use, and they alone—but that parish clergymen should always talk of "I" and "you." I endorse that saying with all my heart.

I declare I never can understand what the famous pulpit "we" means. Does the preacher who all through his sermon keeps saying "we" mean himself and the bishop? or himself and the Church? or himself and the congregation? or himself and the early Fathers? or himself and the Reformers? or himself and all the wise men in the world? or, after all, does he only mean myself, plain "John Smith" or "Thomas Jones"?

If he only means himself, what earthly reason can he give for using the plural number, and not saying simply and plainly "I"? When he visits his parishioners, or sits by a sick-bed, or catechises his school, or orders bread at the baker's, or meat at the butcher's—he does not say "we," but "I." Why, then, I should like to know, can he not say "I" in the pulpit?

What right has he, as a modest man, to speak for anyone but himself? Why not stand up on Sunday and say, "Reading in the Word of God, I have found a text containing such things as these, and I come to set them before you"?

Many people, I am sure, do not understand what the preacher's "we" means. The expression leaves them in a kind of fog. If you say, "I, the pastor of the parish, come here to talk of something that concerns your soul, something you should believe, something you should do"—you are at any rate understood. But if you begin to talk in the vague plural number of what" we" ought to do, many of your hearers do not know what you are driving at, and whether you are speaking to yourself or them.

I charge and entreat my younger brethren in the ministry not to forget this point. Do try to be as direct as possible. Never mind what people say of you. In this particular do not imitate Chalmers, or Melville, or certain other living pulpit celebrities. Never say "we" when you mean "I."

The more you get into the habit of talking plainly to the people, in the first person singular, as old Bishop Latimer did—the simpler will your sermon be, and the more easily understood. The glory of Whitefield's sermons is their directness. But unhappily they were so badly reported, that we cannot now appreciate them.
Notes
1  J.C. Ryle, Simplicity in Preaching: A Few Short Hints on a Great Subject (London, UK: William, Hunt and Co., 1882), 29-33.
4436 reads