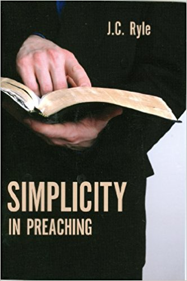 Preachers should use simple words. J.C. Ryle explains why:1
The second hint I would give is this—Try to use in all your sermons, as far as you can—simple WORDS. In saying this, however, I must explain myself. When I talk of simple words, I do not mean words of only one syllable, or words which are purely Saxon. I cannot in this matter agree with Archbishop Whately. I think he goes too far in his recommendation of Saxon, though there is much truth in what he says about it. I rather prefer the saying of that wise old heathen Cicero, when he said, that orators should try to use words which are "in daily common use" among the people.

Whether the words are Saxon or not—or of two or three syllables. It does not matter so long as they are words commonly used and understood by the people. Only, whatever you do, beware of what the poor shrewdly call "dictionary" words, that is, of words which are abstract, or scientific, or pedantic, or complicated, or vague, or very long. They may seem very fine, and sound very grand, but they are rarely of any use. The most powerful and forcible words, as a rule, are very short.

Let me say one word more to confirm what I have stated about that common fallacy of the desirableness of always using Saxon English. I would remind you that a vast number of words of other than Saxon origin are used by writers of notorious simplicity. Take, for instance, the famous work of John Bunyan, and look at the very title of it—The Pilgrim's Progress. Neither of the leading words in that title is Saxon. Would he have improved matters if he had called it "The Wayfarer's Walk"?

In saying this I admit freely that words of French and Latin origin are generally inferior to Saxon; and, as a rule, I would say—use strong pure Saxon words—if you can. All I mean to say is, that you must not think it a matter of course that words cannot be good and simple if they are not of Saxon origin. In any case, beware of long words.

Dr. Gee, in his excellent book, 'Our Sermons', very ably points out the uselessness of using long words and expressions not in common use. For example, he says, "Talk of happiness rather than of felicity; talk of almighty rather than omnipotent; forbidden rather than proscribed; hateful rather than noxious; afterwards rather than subsequently; call out and draw forth instead of evoke and educe."

We all need to be pulled up sharply on these points. It is very well to use fine words at Oxford and Cambridge, before classical hearers, and in preaching before educated audiences. But depend upon it, when you preach to ordinary congregations, the sooner you throw overboard this sort of English, and use plain common words, the better. One thing, at all events, is quite certain, without simple words you will never attain simplicity in preaching.
Notes
1 J.C. Ryle, Simplicity in Preaching: A Few Short Hints on a Great Subject (London, UK: William, Hunt and Co., 1882), 22-26.
1191 reads