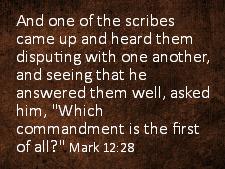 Getting the Law Wrong?
The entire book of Galatians is consumed with the problem of what to do with the Old Covenant law. What does "following the law" have to do with personal salvation through repentance and faith in Jesus Christ?
A large party of Jewish Christians, most of them likely from Jerusalem and former Pharisees, believed you had to follow the Old Covenant law and repent and believe in Christ (Acts 15:1-5). Luke, in a very understated fashion, observes "Paul and Barnabas had no small discussion and debate with them." The Apostle has little time for this kind of terrible error. He calls this teaching "a different Gospel," (Gal 1:6). He speaks of the Galatians "deserting Him who called you," (Gal 1:5). He said this is a perversion of the Gospel of Christ (Gal 1:7).
Did these Pharisees actually understand the message of the Old Covenant scriptures? Why did God's people follow the law, anyway?
This article has one simple purpose - to explain what the real impetus was for following God's law, both then and now. In Galatians, Paul was not arguing against the Old Covenant. He was arguing against the twisted, warped version of the Old Covenant the scribes and Pharisees had been pushing for so long.
If we don't get this point, we'll never understand the Old Covenant, we'll never understand the book of Galatians and we'll never understand a good bit of the Gospels, either.
Why do people follow God's law, both then and now? We do it because we love God, and we want to serve Him with our lives. It has always been that way, and it will always be that way
Jesus and the Greatest Commandment (Mark 12:28-34)
And one of the scribes came up and heard them disputing with one another, and seeing that he answered them well, asked him, "Which commandment is the first of all?" (Mark 12:28)
This goes to show you that stereotypes aren't always accurate - a scribe is the one who asks this question. The context which prompted the question is Jesus' dispute with the Sadducees about the validity of the resurrection (Mk 12:18-27). This man is a Pharisee.1 He's somebody who is very concerned with the letter of the law. So, naturally, he wants to know what the greatest commandment is - so he can follow it!2
Jesus answered, "The first is, 'Hear, O Israel: The Lord our God, the Lord is one; and you shall love the Lord your God with all your heart, and with all your soul, and with all your mind, and with all your strength.' The second is this, 'You shall love your neighbor as yourself.' There is no other commandment greater than these" (Mk 12:28-31)
Here is the content of Jesus' answer, from Deuteronomy 6:4-5.3 Consider what it tells us about why God's people should obey His law.
Our God is the Lord.
God is your master. He is in complete charge of your life, your soul, your blessings, your cursings, your destiny. If you're a Christian, God created you as a new person in Christ "for good works, which God prepared beforehand, that we should walk in them," (Eph 2:10). You were saved in order to serve the Lord, and work for Him.
God is your Lord! If He saved you, then you are now a willing and enthusiastic slave for righteousness.4 This is the foundation for Jesus' answer.
The Lord is One
There is only One legitimate Lord you can serve - everything else is a pagan counterfeit. He is the God of the Hebrew Bible and the Christian Scriptures. He is the God of the First Covenant and the God of the New Covenant
You will love God with all your heart, soul, mind, and strength
You must love God with everything you have, with every fiber of your being! These terms are not synonymous (we could look at each of them individually), but together they express a simple concept - a complete, all-encompassing love for God!5 Anything done for a reason other than this is counterfeit, and God is not pleased by it.
You will love your neighbor just as you love yourself
Who is your neighbor? In the context of Leviticus 19:18 (which Jesus quoted from), your neighbor is a covenant brother and sister - including a believing Gentile (cf. Lev 19:34). In short, Jesus is talking about "brotherly love," (cf. 1 Jn 4:20). You should love and value your Christian brothers and sisters just as much as you love and value yourself.
All of the Old Covenant law can be summed up in these two commands (cf. Mt 22:40). God is your Lord, therefore you exist to serve Him. Your Lord is One, therefore any other worship is idolatry. So, you must love God with everything you have. This is the only appropriate motivation for service.
You serve God because He saved you from yourself, knowing who you are, what you have done, what you are doing now, and what you will do in the future.
Because you're so grateful and love Him so much, you'll want to serve Him with your life.
And because all this is true, you also love your covenant brothers and sisters - because, together, you're each part of God's family.
Jesus refers to these two commandments as one singular commandment6 because, together, they sum up the entire teaching purpose of the law.7 They're inseparable. If you love God, then you'll love God's children, because they're your brothers and sisters.
And the scribe said to him, "You are right, Teacher; you have truly said that he is one, and there is no other but he; and to love him with all the heart, and with all the understanding, and with all the strength, and to love one's neighbor as oneself, is much more than all whole burnt offerings and sacrifices" (Mk 12:32-33)
Why does the scribe have such insight? Isn't he supposed to be a legalistic hypocrite!? This is why we must always remember that we can't read the Bible like it's cardboard. This is the story of real people, with real minds of their own, who act like real people would actually act. It's always dangerous to over-generalize about people; it's true today and it was true then.
Most of the scribes were legalists like the Pharisees, but not all of them were! This scribe seems to be genuinely sincere.8 It is likely God was drawing this man to saving faith. I like to think he repented and believed one day. After all, some of the Pharisees did believe (e.g. Nicodemus, Acts 15:5).
And when Jesus saw that he answered wisely, he said to him, "You are not far from the kingdom of God." And after that no one dared to ask him any question (Mk 12:34; cf. Mt 22:34-40)
This is Jesus' inspired statement about why God's people should obey God's law; especially the Old Covenant law. You obey God's law because you love Him, and want to serve Him. Real salvation produces real fruit. That fruit is whole-hearted love for God, which proves itself by action.
More next week …
23810 reads