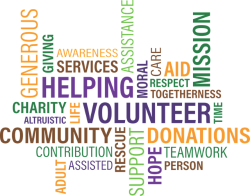 The first thing I want to say about volunteerism and "giving back" is that I don't believe in such things as an "unfair advantage" or "luck." If you as parents work hard to feed, clothe, and shelter your children; you love and nurture them, pushing them to be responsible, caring members of society; you spend time, energy and money to ensure they have a solid education so they can succeed in life—then you are a normal family.
What isn't and shouldn't be accepted as normal is neglectful, violent, or substance-abusing parents. Children aren't "lucky" because their parents don't beat them or there's actually nutritious food in the fridge. This attitude makes neglect and abuse the norm, and it implies that inhabiting a loving home is some kind of magical "only if you are fortunate" thing.
We understand that all good things come from God, but many good things are a natural consequence of prudent behavior—sowing and reaping works just as well for the unregenerate as for those who are redeemed. The eternal reaping comes later, but that's not what I'm talking about here.
What I'm getting at is: if your family is in a place where you can help others, you should. Period. And it is especially important for children to learn compassion and to be contributing members of society, even at a very early age.
Which leads me to a problem I experienced as a Christian parent. I regularly heard teaching and preaching about child rearing where children were taught good behavior only in the context of being "a good Christian" Because of my own experiences in a Christian home and school, where I was a "good Christian" and yet still unsaved, this approach went against what I believe about imparting virtues and values to children.
I think we should make it clear to our kids that the good we do is not and never shall be a "Golden Ticket" into Heaven. I'm just enough of an existentialist to believe we can develop character and a moral compass by making good decisions and caring unselfishly about the well-being of others. Our love for God and Godly things, and an awareness of eternal values comes after a supernatural heart change—but that doesn't negate the need for children to learn compassion and sacrifice.
Christian parents often focus on sheltering their children from worldly influences—which is a good thing, until that sheltering removes them so far from society that their only notion of ministry and giving is putting some coins in a collection plate or giving a gospel tract to the waitress at Bob Evans. This simply isn't acceptable if we truly want to bring children up "in the nurture and admonition of the Lord" (Ephesians 6:4).
Of course, volunteering should start within your circle of family and church. It may be difficult to discover the needs of those in your congregation, but you can gather lots of information with a little attention, interaction, and discernment.
So let's get to the reasons why everyone, especially children, should volunteer for a cause or ministry that benefits those in need:
To make a difference.
Everything you do for others makes a difference. The butterfly effect of showing kindness, helping someone change their circumstances, or relieving suffering, even for a little while, is a valuable lesson for children and a touch of grace in the life of someone who desperately needs it. If God watches over sparrows, surely we should be teaching our children to make a difference when and where they can.
And there's nothing wrong with making our communities a nicer place to live. If we want to raise our children in a society where people are willing to invest in improving the health and well-being of others, then we need to invest in our communities beyond Thursday night visitation. Looking around for ways to help your neighbors, especially if there are elderly and disabled folks nearby, is an exercise with a huge return on investment for a kid's character.
To learn about the world.
Volunteering offers a wealth of opportunities for children (and adults) to explore their abilities and talents, maybe discovering some they were not aware of. Children can learn future job skills, not the least of which are teamwork and a work ethic.
Children can also learn about how charitable agencies and organizations work; how the founders were inspired to fill a need, how they obtain funding, what the IRC 501(c)(3) designation means, and why others want to volunteer for a particular cause.
Volunteerism can take you and your children to places off your regularly beaten path. It's a great opportunity for kids to learn more about what is outside of their comfort zone, with you as parent guiding their experiences and perceptions.
It serves as a warning kids may heed more than lectures from mom and dad. They will be seeing the consequences of the decisions people have made, as well as how quickly and easily circumstances can change.
To learn about the specific needs in your community.
Many Christians live in a rather homogeneous world. We are busy with family and work and church, seeing the same people day in and day out. However, learning about cultural and ethnic diversity is important, and regardless of our differences, we are still united by our human experience. Grief and joy feel the same no matter what your socio-economic or ethnic background. Our differences should not spark antagonism, and it's part of the maturing process to seek to understand rather than ignore, dismiss, or intimidate.
Children can learn how to deal with cultural and ethnic differences as volunteers, seeing people as souls instead of skin color or number of material possessions. Again, families who volunteer together make this a shared experience and parents can act as guides for their children.
It's the responsible thing to do.
We all want safe, friendly neighborhoods. But this doesn't happen without some involvement in that community, and we can all contribute to making our neighborhoods more peaceful and welcoming places:
Improving the cleanliness and order of your community's appearance, which, in theory,* contributes to making it safer as well.
Supporting education encourages others to educate themselves, offering them the opportunity to change their circumstances. Tutoring, or giving free reading, music, and art lessons is a "teach a man to fish" form of volunteerism.
Relieving suffering when and where you can is the humane thing to do, and it may surprise you just how much suffering is taking place right around the corner from where you live. Opportunities to give abound, from food pantries to making blankets and hats to blood donation.
Compassion and kindness are contagious, and we should never underestimate the influence volunteering can have on others, motivating them to volunteer as well.
It's part of being a healthy, well-rounded person.
Volunteering helps develop characteristics such as empathy, humility, teamwork, and self esteem. Many volunteer opportunities help children develop a work ethic, and nothing beats the feeling of camaraderie when you team up with others for something truly important.
Children need to learn that sometimes people fall on hard times because of things beyond their control—physical or mental illness, natural disaster, accidents, technological advances or an economic downturn resulting in the loss of a job, etc. In other words, it could happen to anyone, even you. It rains on the just and the unjust, right? Children need to know that faulty stereotypes of the poor and disabled as being 'other' and somehow deserving of their difficulties are wrong, especially in light of many Scriptural examples showing otherwise.
It's OK to teach kids that it feels good to do good, and being a caring, unselfish person is its own reward. This is a tough nut to chew, because if "there is none that doeth good" (Romans 3:12), how can one call charitable giving of any kind a good thing? However, you can't wait until a child accepts Christ to teach them to be 'a good person'. Raising a sociopath is probably not going to bring them closer to Christ. So encourage your kids to learn the pleasure of giving. Biblical teaching and the Holy Spirit will do the rest.
Learn about commitment and citizenship.
I'm not one for forcing kids to commit to things like music lessons or sports. They can try it, and if it's not their thing, I'm fine with them trying something else. However, volunteering should be a serious commitment, and not a hobby. Kids can learn about obligation and sacrifice by giving their time, money, and energy to a cause beyond their own self interest.
It's also good to learn how to build relationship skills with people who are outside of your circle of friends and family. Many of the people you will meet—other volunteers as well as those you help—share the same goals and interests you have. Kids can be inspired by the example of others, especially with the dearth of healthy role models in today's celebrity-obsessed society. Children may also find themselves humbled by the courage and endurance in the people they are helping.
There are many ways families can volunteer and include their children. And just in case you are thinking it—I'm aware that churches were once the agencies through which the needs of the community were addressed. But since that is no longer the case (generally speaking), here are some suggestions:
Nursing homes: Many churches have a nursing home ministry, and kids should be getting involved. They can bring residents little gifts like quilts, pictures, and books, or sit and listen to their stories. Kids can also read books and sing to them. Put on your schedule to regularly send cards and flowers.
Project Linus: Make blankets for children who are seriously ill or have experienced a trauma, like a house fire.
Hats: There are several kinds of "Hats of Hope" organizations. Some make winter hats for the homeless, while others make soft knitted hats for cancer patients.
Habitat for Humanity: I think everyone has heard of Habitat for Humanity. It's a great way for older kids to learn carpentry skills and teamwork.
Food pantries: Local food pantries need donations, but they also need people to load and unload supplies and organize their inventory.
Children's hospitals: Most children's hospitals allow teens to volunteer in a variety of ways. Look online for a 'wish list' of items that are accepted as donations, such as blankets, activity bags, and craft supplies.
Service animals: Many service animal agencies have volunteer programs, from visiting to play with the puppies to being involved in socializing and training.
Blood donation: Healthy teens and adults can give blood, especially during the summer months when demand is high and the supply is low.
I didn't know at the time the impact volunteering would have on my kids, but now I can see the results of their awareness of the world around them, and the people in it who need help. I hereby offer some parenting lessons I learned by accident for your consideration.
3201 reads