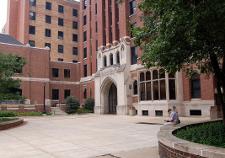 Folks have asked me what I thought about the changes going on at my alma mater, Moody Bible Institute. It took me quite a while to process my response, so here it is.
I am very proud to have graduated from the Moody Bible Institute. In recent months, the school has been rocked with a change in administration. Unlike many requested resignations, the president of Moody did not resign because of moral or financial scandal.
Although even alumni don't have a full picture, it seems that the resignation of the president and several other higher-ups was more about leadership style, communication (or lack thereof), and circumventing accepted procedures and standards. To put it simply, these matters needed to be addressed, but were a far cry from the scandals that typically rock churches and institutions.
Most folks, when viewing these things from the outside, do not have the advantage of understanding the big picture over a long period of time. Since I graduated from Moody in 1979 (and Marylu with a Masters of Religious Studies, a one year course for college grads, in 1980)—and since our son graduated from Moody in 2011—I have the advantage of knowing how Moody used to be in contrast to how it is now. I also have the advantage of knowing how today's young Christian adults differ from yesteryear's.
Moody has always had some professors that could be labeled "fundamentalist," while others could be labeled "new evangelical." The majority is probably in between the two, what might be called "old evangelical."
We might define fundamentalists as militant separatists. We could define the new evangelicals as bent on infiltration and impressing the world with their excellence, even sometimes at the expense of doctrine. Old evangelicals are the best of both worlds: they will battle for the doctrinal fundamentals while avoiding the mentality of guilt by association or hyper-separatism.
Since Moody has mostly been an "old evangelical" enterprise, it has been centered to draw students from all three of these perspectives. Its inner city Chicago location (and ministry) draws (politically left) new evangelicals; its biblical and doctrinal reputation draws some fundamentalists but especially old evangelicals. Since all of these movements have shifted left, it should be no surprise that Moody is trying to figure out where it stands.
Moody takes a fine doctrinal stand, by and large. A couple of their professors, while claiming to believe in biblical inerrancy, may have wandered beyond the boundaries. To address this, Moody has taken some steps to adjust their course to the right, such as requiring all professors to affirm the Chicago Statement on Inerrancy on an annual basis.
Gender restrictions are a constant challenge. When I was a student back in the 1970's, this was as much a problem as it is today. One of the professor's wives wrote a book arguing for women pastors, abusing the straightforward interpretation of 1 Timothy 2:11-15. The professor voiced his agreement with his wife and taught that view, contrary to the Institute's stance. After a number of years and some outside pressure, he was eventually released.
Moody has made some compromises when it comes to gender restrictions (allowing women into pastoral courses, for example), but these are relatively moderate concessions. This official statement from Moody makes the point:
Moody distinguishes between ministry function and church office. While upholding the necessity of mutual respect and affirmation as those subject to the Word of God, Moody understands that the biblical office of elder/pastor in the early church was gender specific. Therefore, it maintains that it is consistent with that understanding of Scripture that those church offices should be limited to the male gender.(www.moodybible.org/beliefs/gender-roles)
I don't agree with the way Moody pushes things like celebrating Lent (or other practices, that, while ancient in origin, are not taught in Scripture). But, then again, few people would agree with everything such a large ministry does.
Moody has never been a Baptist college, although it attracts many Baptist students (most students come from Non-denominational churches, or groups like the Evangelical Free Church, Christian and Missionary Alliance, etc.). As a result, some fundamental groups have made it a pastime to criticize Moody—and this has been going on for at least half a century if not longer.
Moody has never attempted to match a Baptist rubric. But, because Moody has been such a large Bible Institute and wielded so much influence—and because so many Moody students have become respected pastors, missionaries, and evangelists—some leaders (perhaps pushing their young people to attend a denominational school) have been nothing less than jealous of the Institute, in my opinion.
Like society at large, Moody students no longer hail from "Leave It to Beaver" families. More students struggle with the same kinds of problems common in our society. Today's Moody students are different from the students of my era because people today are different from the people of my era.
Back when I was a student, some former students (after graduation) decided they were gay and participated in a gay organization called "Evangelicals Concerned."
There were (a very few—maybe two couples I knew of) students who "had to get married." And, over time, a few students left the evangelical faith, experienced broken marriages, or are not walking with the Lord. What amazes me, however, is the many who have stayed the course, reared godly families, and are still serving the Lord literally all over the world.
Moody students themselves are unique. Moody students are drawn to the institute primarily because they want to do ministry. They do not often sit around and play video games—they are involved in local churches, outreaches, and ministries. Students who have attended several different institutions single this factor out as one of Moody's distinctives.
It is foolish to turn a blind eye to the problems and issues Moody struggles with, and alumni and supporters must be vigilant and apply pressure when needed. God has blessed Moody despite its problems. It has a long history of taking a step to the left and then another to the right.
Moody has its problems. It always has and always will. But to pretend that the past was utopia and that all its imperfections are new is a bit much. For at least half a century, fundamentalists have always found Moody too compromised and new evangelicals have always found it too conservative. The sky is not falling, but it wasn't up higher in the past, either.
So, where is Moody Bible Institute headed? I don't know. No one knows the future. My hope and prayer is that Moody makes its corrections and stays on its historical track.
9792 reads