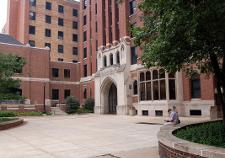 Folks have asked me what I thought about the changes going on at my alma mater, Moody Bible Institute. It took me quite a while to process my response, so here it is.
I am very proud to have graduated from the Moody Bible Institute. In recent months, the school has been rocked with a change in administration. Unlike many requested resignations, the president of Moody did not resign because of moral or financial scandal.
Although even alumni don't have a full picture, it seems that the resignation of the president and several other higher-ups was more about leadership style, communication (or lack thereof), and circumventing accepted procedures and standards. To put it simply, these matters needed to be addressed, but were a far cry from the scandals that typically rock churches and institutions.
Most folks, when viewing these things from the outside, do not have the advantage of understanding the big picture over a long period of time. Since I graduated from Moody in 1979 (and Marylu with a Masters of Religious Studies, a one year course for college grads, in 1980)—and since our son graduated from Moody in 2011—I have the advantage of knowing how Moody used to be in contrast to how it is now. I also have the advantage of knowing how today's young Christian adults differ from yesteryear's.
Moody has always had some professors that could be labeled "fundamentalist," while others could be labeled "new evangelical." The majority is probably in between the two, what might be called "old evangelical."
4797 reads