What's Really Brewing at the Tea Parties?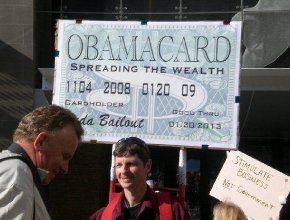 I rushed out of the house on a Monday morning at 9:30, heading to the Nutter Center to pick up some tickets for the Freedom Rally sponsored by the Dayton Tea Party. I figured if I left any later I'd have to stand in a very long line. But when I pulled into the parking lot, I saw two other cars there- WHIO Channel 7 News, and a couple walking up to the ticket booth. Very anti-climactic. The reporter began setting up his camera while I chatted with a lady who was from the UK, and had seen firsthand the downside of the kind of health care system being proposed by the current administration.
A few minutes later, cars began pulling in, one after the other. Soon there were over 50 people in line, laughing and talking, excited about what we were all there to do. The reporter started interviewing people here and there, and the consensus was that our elected officials were ignoring a huge block of American citizens who did not want bailouts for large corporations, tax increases, or any sort of federalized health care.
While many felt that our health care system had some problems that needed resolving, they all agreed that government intervention and control was not the way to go. I heard the FairTax mentioned several times. Since I was second in line when the box office opened, I quickly obtained our tickets and drove away, noting that people were still pouring into the parking lot. I felt encouraged by what I'd seen. These were people who knew what they were talking about, who weren't planted by the Great Right Wing Conspiracy and who were not hostile. Rather, they were ordinary Joe Sixpacks and Suzy Homemakers who had found a way to combine their voice with others in order to be noticed by those serving in our representative Republic.
Origins
The origins of the Tea Party movement are somewhat hard to define, but my research suggests it probably began when Graham Makohoniuk at the Market Ticker Forums and some folks at FedUpUSA suggested mailing tea bags to their members of Congress in January of 2009 to protest the The Emergency Economic Stabilization Act of 2008, H.R. 1424 proposed and passed by the Bush Administration. But then there was the Rant Heard 'Round the World—Rick Santelli on the floor of the Chicago Market Exchange in which he accused President Obama of "promoting bad behavior" with the mortgage bailouts and encouraged a Chicago Tea Party in July.
In the months that followed, what began as small groups of people getting together here and there to voice their opposition to runaway federal spending has grown into an "official" political movement. Crowds of 150-200 in public parks have become major events held in civic centers filled to capacity and covered by national news outlets. Local politicians and businessmen were the headliners in early days, but now we see Senators and well-known conservative pundits from television and talk radio standing at the mike.
Experiences
My husband and I have attended several Town Hall Meetings and Tea Parties in the Dayton/Cincinnati area of Ohio, and it's been an incredible experience. The attendees are a variety of working class Americans from every political ideology. We met Democrats, Republicans, Independents, and Libertarians. There were senior citizens, teenagers and college students, moms pushing strollers, dads with their children riding on their shoulders, and workers from every vocation imaginable. Many had never attended any sort of political gathering before, much less a protest. We even met a few who had voted for President Obama and were disappointed by his proposed bailouts and stimulus packages. People carried signs that read "$11 Trillion and climbing—Now that's a lot of change," "Can We Bankrupt The Country? YES WE CAN," and "Armed and Dangerous … WITH MY VOTE." My husband attended with his own form of protest—The Obamacard. Quite a few attendees were supporters of the FairTax and passed out information about their alternative to the IRS.
Our experiences are not a measure of every Tea Party or Town Hall meeting, but they are a complete contradiction to media portrayals of a "Republican political machine," "scary mobs" and "violent racists." Despite the palatable sense of frustration and anger, attendees were still peaceful and displayed good humor. The prevalent attitude was indignation at being ignored and overrun by government, and a feeling that they've had enough of what they believe is taxation without representation. A typical "angry moment" would be the response at the Voice of America Tea Party, when Republican Mike Turner was responding to questions from the crowd, which we witnessed personally. The people around me were shouting, "No more spending!" and "Answer the question!" I was a bit surprised, since Mike Turner is "one of us," but the folks weren't interested in being pacified with pat answers, and they were offended that we should even consider the notion of "the money is going somewhere—why not grab some for ourselves here in Ohio?" Come to think of it, it wasn't any more violent than the average Baptist Camp Meeting. I think I even said "Amen" a few times.
The Huffington Post has a slideshow of the most "shocking" signs carried at Tea Party Protests across the country. I tend to agree with those who feel that the Tea Party attendees and organizers are being misrepresented in the mainstream media. There is no evidence that these gatherings have incited hatred or involved violence. Andrew Breitbart addressed the recent accusations by Rep. Andre Carson of "divisive and reprehensible language" that he says he heard from Tea Party protesters:
When I offered a reward of $100,000 to be donated to the United Negro College Fund if anyone produced video and audio evidence that this occurred, I was accused of a publicity stunt (because everyone knows that the best way to get publicity in America is to accuse a civil rights icon of lying about racism). Rep. Carson himself suggested that my challenge was "a veiled attempt to justify actions that are simply unjustifiable." Get it? He calls protesters racist and if you ask him to prove it, you're a racist, too.
Needless to say, no one has claimed the $100,000.
Future
The organizers of the original Tea Party movement have expressed no intention of trying to create another political party, but there are states that have already formed and are nominating Tea Party candidates. There is some concern that the "Tea Party" is being co-opted by people who have not been a part of the movement until now—that these individuals are banking on the reputation and popularity of this grass roots movement to gain their own political footing. And it seems that there is little in America that doesn't become another product to be marketed to consumers. When my husband and I became involved, our intent was to influence the debate by working with our present two-party system, and to encourage every day Americans to become aware of the issues and speak out about what they believe is best for the country.
The fact that the Tea Party has grown to such proportions has had repercussions. What were once loosely organized gatherings of relatively small crowds now take place in arenas with tight security, major headliners, booths selling T-shirts and other political novelties—and with entertainment such as a rapper performing "Abe Lincoln and The Babes."
Concerns
Should a Christian be part of a political rally or protest? My husband and I have acted according to our conscience within the bounds of what our government allows and even encourages—free speech, the balance of power that a representative Republic provides, and the accountability of elected officials to their constituencies. Some folks aren't comfortable being involved in politics, but as with anything else, we have to monitor our priorities. I believe it is possible for politics to have a place in our lives along with any other hobbies, interests, or activities.
Personally, I still believe in what the Tea Party is doing to bring attention to economic conservatism. It has made inroads because it has given everyday Americans, the "silent majority," an opportunity to be heard as a group in a way that they've not been heard before. Politicians are taking notice, but in my opinion, the more they try to downplay these gatherings and the issues involved, the more they provoke this voting block to make some major changes come November.
---
Susan Raber is the wife of Ken Raber (23 years), a mother of four, and has been homeschooling since 1992. She and her family are currently members of Charity Baptist Church in Kettering, OH. Susan also moderates and helps process membership applications here at SharperIron.