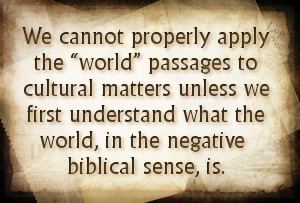 You don't hear much preaching against worldliness these days. Having grown up hearing negative references to "the world," "worldly" and "worldliness" on a fairly regular basis, the absence seems odd to me sometimes. On the other hand, where worldliness is still a frequented topic, the term seems unclear, disconnected from biblical intent—or both. Whatever happened to worldliness?
More than one phenomenon is occurring.
First, we have a problem of omission. In some cases, this is due to nothing more than uncertainty by pastors and teachers as to how to handle the subject effectively. But sadly, in many ministries, the neglect is due to philosophies of ministry that embrace worldliness as the number one way to "reach people" and achieve "relevance." What has happened to worldliness in these cases is that—as a pulpit and classroom topic—it has been shelved.
Second, in some ministries, the terms "worldly" and "worldliness" occur rarely from the pulpit simply because they occur rarely in Scripture. Though references to "world" abound in the Bible, "worldly" occurs only twice in the KJV (Titus 2:12 KJV, Heb. 9:1 KJV). The 1984 NIV uses it ten times (Luke 16:9 NIV; Luke 16:11 NIV; 1 Cor. 3:1 NIV, 1 Cor. 3:3 NIV; 2 Cor. 1:12 NIV, 2 Cor. 1:17 NIV; 2 Cor. 5:16 NIV, 2 Cor. 7:10 NIV; Titus 2:12 NIV). Still, the term "worldliness" does not occur in the Bible at all. So, what has happened to worldliness in these ministries is that it is being handled biblically using different language.
Third, in more traditionally fundamentalist ministries, we have another problem: obscurity. A thing is obscured when it's only partially visible, when it lacks clarity—and it may lack clarity despite the fact that we refer to it quite frequently. What has happened to worldliness in this case is that it has been confusingly distorted either by inconsistent use (equivocation) or by consistent misuse (often in the form of an assumed, though faulty, definition).
PTC, Culture and "the world"
A week or so ago I attended (and this time, participated in) the second, bienniel Preserving the Truth conference in Troy Michigan. The focus this time around was "Christ and Culture." Since the conference organizers (and most attendees, I'm pretty sure) are traditional fundamentalists, attention to "culture" meant there would be a good bit of attention to "the world" and the idea of worldliness.
Personally, I applaud that. Though fundamentalism has always had some missing links in its thought about culture and the world, we can hardly do worse in this day an age than to ignore the topic completely. It's a huge battlefront—and will be an even larger one in the future as Christian sexual ethics in particular become more and more incomprehensible (or "hateful" in some cases) to the average American.
But in addition to giving thoughtful attention to a vital subject, the plenary conference speakers made several timely and important obserations. A few worth noting:
Christians must cultivate (no pun intended) awareness of the ways our culture influences us. Way too much oblivious absorption is going on.
By default, believers should view cultural norms and trends with suspicion.
Christians must approach cultural questions with a humble, yielded, "living sacrifice" attitude (in contrast to a "my rights," a.k.a. "my liberty," emphasis).
The affections in that sense are indeed integral to handling the old "what about believers who don't see the harm and how do we help them?" problem.
Similarly, we do "need to get past an act ethic to a virtue ethic" (Paul Hartog's phrase, if my notes are accurate. The idea is that we need to see values as the key—and understand how things that are good in themselves become bad because they are part of a messed up set of values.)
The "world" passages truly are extremely important for ordering our relationship to culture.
Whatever it is, we're agin' it!
But these strong points were accompanied by the long-standing problem of definition. We cannot properly apply the "world" passages to cultural matters unless we first understand what the world, in the negative biblical sense, is. And even then, we're only half way there. Once the intent of Scripture is clear to us, we must have an equally clear understanding of the life choices we're facing. To hitch up the trailer, you have to align both the powered vehicle and the trailer then successfully join them. And the right sort of hitch combination is required. So we have to understand the Word and the culture before we can apply the Word to the culture.
Arguably, confusion about the meaning of "world" and "worldliness" has hindered both sides of that application process. Too often, "the world" is, in the minds of leaders, synonymous with an unexamined set of no-no's. And then, in the more muddled cases, both the no-no's and the idea of "the world" become part of an impenetrable bit of circular reasoning: Why is cultural trend A wrong? Because it's obviously "of the world." How do we know it's "of the world"? Because it's obviously wrong.
Many who grew up hearing this sort of case against certain musical styles or entertainment venues or clothing trends came to the conclusion that the whole question of worldliness ought to be dismissed as nothing more than some traditionalists' method of imposing their stodgy tastes on everyone.
But that's a tragic mistake.
In cultures, things such as fashions, musical styles, language, etc., have both meaning and influence. More importantly, the NT is full of warnings about our relationship to "the world."
In my view, the road back to taking worldliness seriously—and also to getting it right—starts with understanding and teaching what "the world" means in the New Testament and doing so in a way that is persuasive, memorable and handy. It's a tall order, because the topic is complex—not easily reducible to soundbytes. But it's work well worth pursuing.
(Tomorrow or Friday, we'll post an article by Les Lofquist that includes such a study of "the world." In the mean time, if you have a few minutes, take in Dave Doran's January 11 video or Kevin Bauder's excellent audio series—if you can find it. We're still looking for a link. An article series of my own is available here at SI, though I tend to see it now as a slightly clumsy first effort.)
[node:bio/aaron-blumer body]
9295 reads