Were the Novatians Early Baptists? Cyprian on Church Discipline
Image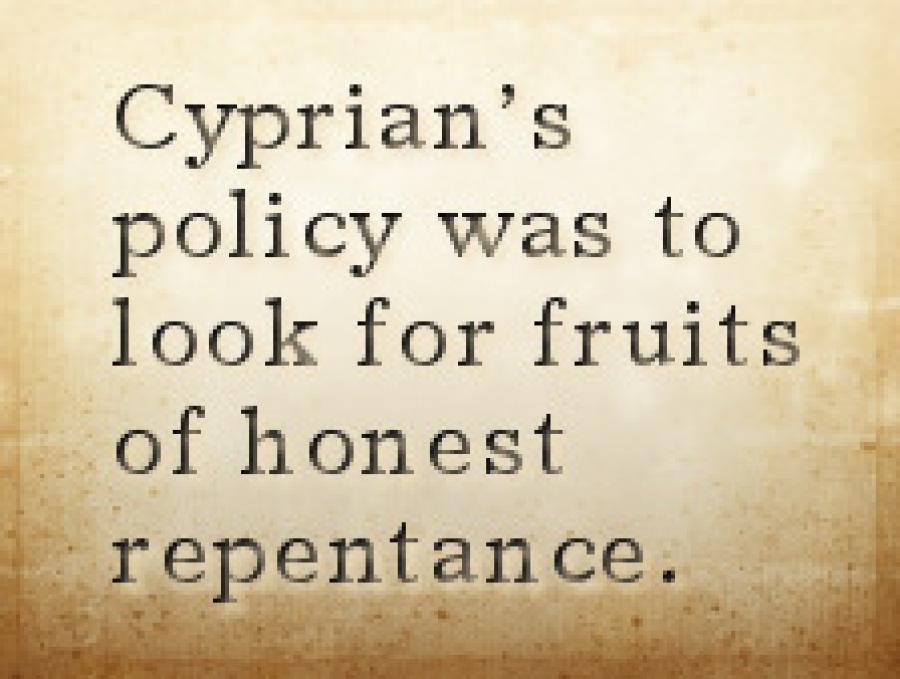 (Read the series so far.)
Most Baptists would not disagree with Cyprian on church discipline if they would only read what he wrote. But Ernest Pickering's characterization is representative of what most Baptists believe about this issue: "Basically, [Novatian] and his followers were contending for a stricter view of the requirements for church membership than was generally accepted in his day."1 Thus, Novatian is a crusading separatist; Cyprian is a lax compromiser. The truth, however, is that Novatian was a schismatic exclusivist.
Cyprian on church discipline
Cyprian was not lax. He believed that the truly repentant ought to be re-admitted into fellowship, and that the un-repentant should be excluded. When some of the lapsed presumptuously demanded to be re-admitted to the church, Cyprian condemned this "seditious practice" and charged that the clergy who permitted it were "frightened and subdued" men who "were of little avail to resist them, either by vigour of mind or by strength of faith."2 Instead, Cyprian advocated a moderate, sensible policy:
[W]e balanced the decision with wholesome moderation, so that neither should hope of communion and peace be wholly denied to the lapsed, lest they should fail still more through desperation, and, because the Church was closed to them, should, like the world, live as heathens; nor yet, on the other hand, should the censure of the Gospel be relaxed, so that they might rashly rush to communion, but that repentance should be long protracted, and the paternal clemency be sorrowfully besought, and the cases, and the wishes, and the necessities of individuals be examined into.3
A priest must be able to discern false confessions from real ones.4 Cyprian actually believed the lapsed were being re-admitted too readily! Those who allowed the unrepentant to return to fellowship were actually harming them.5
Returning from the altars of the devil, they draw near to the holy place of the Lord, with hands filthy and reeking with smell, still almost breathing of the plague-bearing idol-meats; and even with jaws still exhaling their crime, and reeking with the fatal contact, they intrude on the body of the Lord.6
Cyprian held that pastors who re-admitted the lapsed rashly ought to be shunned.7 He fumed at these men: "Why do they hinder those who ought to weep continually and to entreat their Lord, from the sorrowing of repentance, and pretend to receive them to communion?"8 Folks who are truly unrepentant are easy to spot, Cyprian argued—just look at their fruit!9 These people receive no forgiveness for their denial of Christ.10 Cyprian's policy was to look for fruits of honest repentance; for example, he recommended accepting some lapsed people back into fellowship who had been repentant for three whole years.
[W]e think it may be sufficient for entreating the mercy of the Lord, that for three years continually and sorrowfully, as you write, they have lamented with excessive penitential mourning.11
If a priest unwittingly admitted a false repentant person, Cyprian was content to let the Lord sort it all out:
Moreover, we do not prejudge when the Lord is to be the judge; save that if He shall find the repentance of the sinners full and sound, He will then ratify what shall have been here determined by us. If, however, any one should delude us with the pretence of repentance, God, who is not mocked, and who looks into man's heart, will judge of those things which we have imperfectly looked into, and the Lord will amend the sentence of His servants.12
The following words from Cyprian should destroy the false idea that the man was lax about re-admitting the lapsed:
To a deep wound let there not be wanting a long and careful treatment; let not the repentance be less than the sin. Think you that the Lord can be quickly appeased, whom with faithless words you have denied, to whom you have rather preferred your worldly estate, whose temple you have violated with a sacrilegious contact? Think you that He will easily have mercy upon you whom you have declared not to be your God? You must pray more eagerly and entreat; you must spend the day in grief; wear out nights in watchings and weepings; occupy all your time in wailful lamentations; lying stretched on the ground, you must cling close to the ashes, be surrounded with sackcloth and filth; after losing the raiment of Christ, you must be willing now to have no clothing; after the devil's meat, you must prefer fasting; be earnest in righteous works, whereby sins may be purged; frequently apply yourself to almsgiving, whereby souls are freed from death.13
All in all, Cyprian advocated a sensible, strict and practical approach to the lapsed. He was not lax at all. Historians who claim otherwise have simply have not read his writings.14
Notes