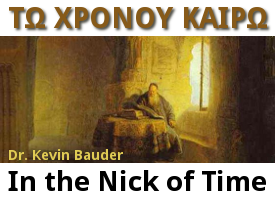 When answering theological questions, one of the thorniest problems that we face is deciding what counts as evidence. To be sure, we affirm the absolute authority and sufficiency of the Scriptures and, in the case of questions about the church, the finality of the New Testament in all matters of faith and order. Simply believing in the Bible's authority and sufficiency, however, does not tell us how the text ought to be brought to bear upon our questions.
One very common way of using the Bible is to look for examples of the kind of thing that we are asking about. These examples are then treated as permanently binding. Theological literature abounds with references to the examples or even the "uniform pattern" of Scripture.
The argument is a weak one. Scripture contains examples of all sorts of things, some good and some bad. The mere fact that someone did something is no indication that God wants that thing to be done by others at another time. Even when the example is viewed positively in the text, it may be an isolated instance. One would not appeal to Abraham's treatment of Isaac in Genesis 22 as a universal pattern for relationships between fathers and sons.
An "is" never constitutes an "ought." Sound theological method draws a sharp distinction between historical narrative and didactic requirement.
This distinction does not render the examples of Scripture irrelevant. When the Bible communicates a didactic principle, then we may legitimately observe the examples in the text to see how the principle looks in practice. By studying the examples we may also discover something about the rewards of obedience or the consequences of disobedience. By themselves, however, the examples of Scripture are not binding. Historical narrative always needs to be interpreted and applied by didactic discourse.
Even a "uniform pattern" is not binding by itself. The churches of the New Testament adopted many patterns, not as a matter of faith and order, but simply as a matter of their cultural location. Congregations uniformly read the New Testament documents in Greek. They always met in rented or borrowed facilities, never erecting their own buildings. They expected the men of the church to wear garments other than trousers, and the garments were always made from natural fibers.
No serious theologian would take these patterns as binding today. When we consider these examples, we begin to see just how weak the appeal to the "uniform pattern" of the Scriptures or of the New Testament is. Unless it is illustrating some principle that has been clearly articulated in a didactic passage, the uniform pattern is not binding at all.
When we do theology, good answers depend upon good method. Three measurements will help us to judge the strength of the evidence for any particular theological proposal.
First, we must rely upon biblical teachings rather than examples. In other words, we look for didactic texts rather than historical narratives. Our evidence should aim to be normative rather than descriptive (we should base our theology on ought statements rather than is statements).
Second, we must support our theology from clear passages rather than obscure ones. Of course, we may debate which passages are really clearest. Too often we assume that a passage is clear if it supports our preconceived notions, but it is obscure if it appears to contradict them. A better way of understanding clarity is this: a clear passage is one that permits only one likely interpretation, while an obscure passage might permit two or more plausible interpretations. When evaluating evidence, we must grant decisive weight to the former kind of passage rather than the latter.
Third, we must look for evidence that aims to address the question we are asking rather than evidence that is marginal or tangential. It is poor practice to base our theology upon passages that merely address our question incidentally. Rather, we should locate the passages that aim to deal with the topic in which we are interested.
The strongest theological proposals are built upon biblical evidence that meets all three of these criteria. The passages to which we appeal should be didactic rather than historical. They should display a single, clear interpretation rather than a multiplicity of possible interpretations. They should aim to address the topic in which we are interested. To the degree that our evidence meets these criteria, our proposal will be stronger and better supported. As we begin to depart from these criteria, however, the support for our theology grows weaker by degrees.
We may still draw theological conclusions based upon weak evidence. Sometimes we will be forced to do just that, because Scripture will offer no evidence that meets all three criteria. Conclusions based upon weaker evidence, however, are less probable and ought to be expressed more hesitantly.
The theological task is not simply a matter of gathering the evidence that supports our conclusions. Theology should not begin with a conclusion; it should begin with a question. When we do theology, we are responsible to gather all of the evidence that helps us to answer our question. All of the evidence should be evaluated and compared before we reach any conclusion. Once we are able to draw a conclusion, it should be weighted according to the strength of the evidence.
For virtually every theological proposal, the evidence will fall into two classes. Some of the evidence will support and explain the conclusion. Other evidence will have to be explained—or even explained away—by the conclusion. It is very rare for all of the evidence to point in a single direction and to support a single conclusion in an obvious way. Experienced theologians are accustomed to this phenomenon, and it teaches them to hold their conclusions with a measure of humility.
One of the least ethical ways of doing theology is to point out only that evidence that seems to fit our conclusion or to contradict our opponent's, while ignoring or even suppressing the evidence that seems to fit our opponent's position or to contradict ours. Simple honesty demands that we be forthcoming with all of the evidence. It also places upon us the obligation to show how and why we weigh the evidence as we do.
Theology is not a matter of listing proof texts. It is a matter of comparing and weighing evidence. The theological task involves measuring, and measuring requires an accurate scale. This discussion has articulated criteria that function as three beams on the theological balance. Skillfully employed, these criteria go far toward giving us the correct weight of the biblical evidence.
I Will Arise
Christina Rossetti (1830-1894)
Weary and weak,—accept my weariness;
          Weary and weak and downcast in my soul,
With hope growing less and less,
     And with the goal
Distant and dim,—accept my sore distress.
I thought to reach the goal so long ago,
     At outset of the race I dreamed of rest,
Not knowing what now I know
     Of breathless haste,
     Of long-drawn straining effort across the waste.
One only thing I knew, Thy love of me;
     One only thing I know, Thy sacred same
Love of me full and free,
     A craving flame
Of selfless love of me which burns in Thee.
How can I think of thee, and yet grow chill;
     Of Thee, and yet grow cold and nigh to death?
Re-energize my will,
     Rebuild my faith;
     I will arise and run, Thou giving me breath.
I will arise, repenting and in pain;
     I will arise, and smite upon my breast
And turn to Thee again;
     Thou choosest best,
Lead me along the road Thou makest plain.
Lead me a little way, and carry me
     A little way, and listen to my sighs,
And store my tears with Thee,
     And deign replies
     To feeble prayers;—O Lord, I will arise.
[node:bio/kevin-t-bauder body]
5128 reads