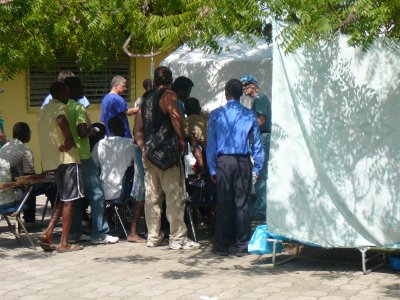 Ten days after the earthquake shook Haiti I was offered a once-in-a-lifetime opportunity to join a shock and trauma team that had access into Haiti through indigenous and wealthy benefactors. The team consisted of three orthopedic surgeons, an ER doctor, a pediatrician, and several nurses. We worked under the auspices of a respected Haitian surgeon who is one of the pillars of the Leogane society. Though this was not a Christian team, I was offered a role as "chaplain" because of my knowledge of the French language and the need for translation service. A "door of utterance" was opened for me to minister to both Haitians and Americans in the city of Leogane, one of the most dramatically affected cities near the epicenter of the January 12 quake. Over the next few weeks I will share with SI readers snippets from my journal containing my observations and opinions about the situation in Haiti.
Read Part 1.
Day Three (January 24)
Glad I have a tent. I almost left it, but it provides the only tiny private spot I'll probably have for the next two weeks. It's pitched on a slope that is quite rocky and I have a hunch that I'll become quite familiar with the particular rocks under my tent, negotiating with them for a comfortable sleeping position, me doing all the compromising no matter how contorted my body may end up being to adjust to their inflexible intransigence. Reminds me of a lot of mid-level bureaucrats.
It's Sunday, the Lord's Day, and we were awakened at 4:30 this morning by a congregation that is meeting just outside the fence. I didn't recognize any of the tunes except for one old Gospel song, "Nothing But the Blood of Jesus." I missed going to church today, but we are too new to the area to even know what is going on so the morning was leisurely spent getting settled in and preparing for a reconnaissance trip with Dr. Charles.
Five members of our team reconnoitered the suburban area of Port-au-Prince and went to a large Adventist hospital to see if there was potential work for us there. Every major relief organization was there as well as military units and thousands of people. It was sheer chaos. They have only one operating room, and the mid-level bureaucrats were being just like my beloved rocks under my tent imposing all kinds of idiotic constraints and policies that slow down aid rather than facilitate it. There were numerous teams of medics, nurses, doctors, and surgeons waiting in frustration outside the hospital, wanting desperately to be useful. I told several of them to just ignore the big boys and forget any hope of trying to have long, productive days with them and to branch out on their own. It didn't take us long to realize that our little makeshift hospital with three ORs was just as productive as what they have going there despite the fancy Red Cross and UN tents and computer check-ins and blah, blah, blah.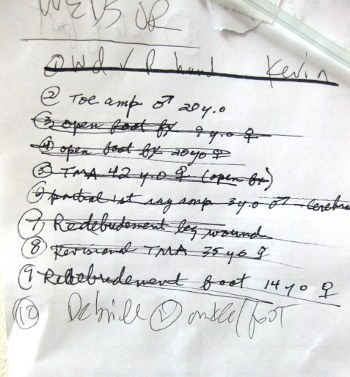 The trip itself was productive just for the sake of reassurance, but also because one rare non-territorial, get-the-big-picture individual at the hospital gave us some much-needed anesthesia that we secreted away so that we could do more surgeries at our place. It's silly how some organizations get territorial. There was another field camp that we stopped at right at the gate of the UN Army Base, housed by a Sri Lanken Battalion where American volunteers, Cuban doctors, and Argentine doctors were laboring to help wounded people. They were not orthopedic surgeons, so they were just immobilizing the injuries and desperately hoping for some place to send them. When they found out we could do surgery, they gladly started sending patients our way and, better, gave us a much-needed, very valuable autoclave. That team of doctors was dirty, sweaty, and exhausted, but they were some rare, get-the-big-picture people; and like most get-the-big-picture people, they were actually out in the field where you can smell the flesh of rotting wounds.
That particular camp had an impact on me. They had field tents set up and some very seriously wounded people, and very sick people were crammed dangerously close together just to escape the burning sun. When we stepped in, they were moaning and crying; the humidity was so stifling and the smell so pungent that it was almost overwhelming. I felt that I could almost literally reach out into the air and touch the oppressive suffering. Mark and Shane examined the patients to see which ones we could help, and then we loaded them up in truck and went back to base.
Being transported by truck has got to be incredibly painful for these injured. It is painful enough for a healthy body, the roads are so bad in some places. But people who have broken bones that have not been treated for over a week feel every jostle. One hears a lot of crying and moaning and sometimes screams. But it is not attention-grabbing screaming of people consumed with their own pain. It's just the natural instinct of a human body that is trying to cope with something excruciatingly agonizing.
Yesterday a little girl was carried in who had a horribly broken leg. She had been lying on that mat since the earthquake on January 12 and had one position for her leg that she could hold without pain. She lay in our clinic for four hours every now and then being moved as the sun pushed away the shade that was covering her. She was ten years old and just about the same size as my daughter. Every fiber in my body wanted to scream out to the whole world to make her the number one priority and get her fixed as soon as possible, and I couldn't help but fight the tears as I bent down to talk to her. Yet she waited. She didn't know it, but I was praying for her and I cannot possibly explain the sad contentment I felt when I walked by her later to see her in a deep sleep. I don't know what became of her. We were not set up enough to do surgery on her so she ended up getting transported to a hospital ship.
One older man that we picked up at the camp near the UN base had two broken legs and was in excruciating pain. The docs said that his left leg had infected and would have to be amputated. After they x-rayed it I overheard the nurse from the school here translating the doctor. The translation was far more optimistic than what was really said so I stepped in to make sure the man understood the gravity of his wound. I was heartbroken when he said, "I am the only one left in my family that can walk to get food. What will I do without a leg?" I told him that the doctor wanted him to know that an infection could kill him, but they would try to save the leg per his desire. [Later the next day the docs did a surgical cleaning, but were still very pessimistic.] These surgeons are great and I think all the first world medical people are academically dead-on with their prognoses, but it is often easy to forget that even a crutch is hard to find, a rare commodity. A country that is already rigorously demanding on the healthy is almost impossible to live in for the crippled. Thankfully, despite the pressure of time and a correct diagnosis, they gave the man the dignity of trying their best to save his leg. [Two days later they had to amputate.]
There will be countless thousands of crippled in Haiti after January 12, 2010.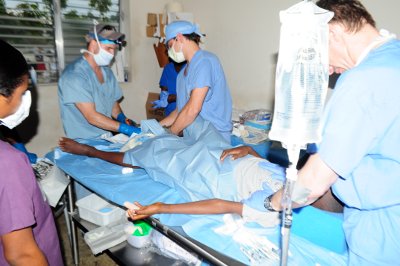 Ran into a motorized US Marine Patrol. One of them was Haitian-American. Vincent was his name, and he grasped my hand and with real emotion said, "Thank you for coming to help my people." I wish I were doing something to deserve that, but I take it to be gratitude for everyone who has come.
Tonight was a bit somber with a bitter reminder of another category of earthquake victims that we probably don't think about and that we never hear of on the news—the sick ones who cannot get attention soon enough because of the urgency of trauma victims. At least that is my personal, unprofessional and medically ignorant opinion.
A seventeen-year-old boy named Cliff and his mother came to the clinic because of stomach cramps. With long lines and mostly orthopedic surgeons, without laboratory or other means to detect what kind of problem he may have, paying close attention to him was delayed for a few hours because of the combination of so many things and for the obvious reason that he had walked in. He walked in, but would be carried out. In a body bag.
It was pretty late this evening when I walked by the surgery room to see the anesthesiologist quietly pumping the oxygen into Cliff who was not waking up after his surgery. He was by himself; the surgery was over. They had opened him up, found something similar to what may have been appendicitis and did everything that was in their power to help him. He wouldn't wake up though. I kept the anesthesiologist company for awhile getting to know each other in the dimly lit OR with the sound of the steady puff-puff of some kind of life support being blown into him. Then I left him to go find the boy's anxious mother. Turns out that Cliff is the baby of five and his mom is a widow. It also turns out that the mother is grieving the deaths of two of her sons who perished in the earthquake. And when we met for the first time she would be facing the imminent loss of a third son in fewer than two weeks.
The medical people here would do anything within their power and resources to keep Cliff alive in any case, but the knowledge that Cliff's mother was already wracked with sorrow at the unexpected deaths of two of her sons intensified their efforts. The woman could understand French and when I asked her if I could pray with her she responded eagerly in the affirmative. I ask every time because it is not certain that people want prayer and the mother of the seventeen-year-old girl who died the night we arrived flatly turned me down. She was so much in pain that she may have been feeling anger toward God. I don't take it personally when that happens and usually just reassure them of my sympathy for them. Cliff's mother was different.
As soon as I put my arm around her shoulders, she collapsed to the ground, holding me tightly. I had to kneel to keep my balance and to keep my face close to hers so that she could hear my prayer. At that point we had every reason to hope that Cliff would make it, but it was nonetheless fading. I had broken the news to her. What one prays at a time like that is something that only the Spirit of God can give because one feels that even his own sincere words sound so hollow unless he's sobbing as the mother is doing.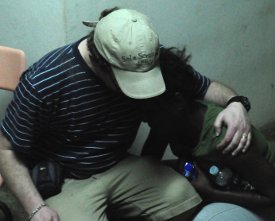 Sobbing I could not do. It wouldn't have been the right thing to do, but my heart was wailing with her and I think she could tell it by the words that I said to God in her presence. And by the way I hugged her.
Some time after my prayer she said that she wanted to go home. The local interns were dogmatic that she should not return because they were persuaded that we would never see her again and that we would be left with the awkward and complicated responsibility of disposing of the body. Almost everyone tended to agree with them, but I told them I thought that she would come back because I could tell she was a real mother and because she was clearly insulted when one of the interns insisted that she or some family member had to come back the next day no matter what. The doctors and nurses all know bodies far better than I do, but I have a pretty good grasp on knowing people. That's what I do for a living. But even I entertained doubts. As she was leaving she said that she was going to go kill herself. I walked with her out to the edge of the compound and prayed with her again and pleaded with her that he could not forfeit her own life without seeking for the hope that cannot die which only God can give. She promised me she would live through the night and slipped into the darkness.
The young nurses here are an amazing group of Haitian students. (Remember, we are set up in a nursing school.) Perhaps the last two accounts where I have mentioned them might put them in a disparaging light, but that would be unfair to them and an inaccurate reading of my own thoughts and heart. I think almost everyone has forgotten that these nurses have lost homes and family too (one showed me his destroyed home), yet as first, second, and third year students they have worked literally non-stop since the earthquake, performing heroic deeds before professional help arrived and doggedly trailing the foreign experts, taking every opportunity to learn what they can while they are here. One of the nurses amputated a hand just before we came. They are all are experiencing so much personal pain and have seen their nation suffer so much suffering that they are loath to give the patients more bad news (i.e., too optimistically translating the doctor's negative prognosis) and they have seen too many people completely collapse into despair, unwilling and unable to even know what to do with another dead body (i.e., their expectation that the mother was leaving us with the difficult task of disposing of the body of her son). So I hope that my readers understand that I am highly impressed by these amazing young people and am actually worried for them because of the stress that they are under. They are the cream of Haiti's youth and I expect that they will go on to do a lot of great things for this country if God gives grace. [I have just been asked to consider going back down with some Christian counselors to minister specifically to the nurses. A short trip in March is being contemplated.]
Back to Cliff. I was in my tent and getting ready to call it a night when Carolyn came to get me, telling me that the surgeons had called for me to come pray over Cliff. Because I believe that the Bible is quite clear that it is appointed unto man "once to die and after that the judgment" (Hebrews 9), like all Protestant pastors since the Reformation I don't pray for the souls of the deceased, but even mainline Protestants don't seem to know that fact, vital Christianity being something totally unknown to them. However, when I walked into the surgery room Cliff was still alive. The docs (none of them from my team) said that there was nothing more that they could do and invited me to pray. I put my hand on Cliff's shoulders and asked one more time that God would heal him and thanked God for the dedication of the team around the table there, and reiterated the truths of the Gospel once again. Eyes were moist when I was done and one PA (physician's assistant) was openly crying. I was not in the room when Cliff died. It was later in the night and I give full credit to the team of doctors that tirelessly fought for his life and used a limited supply of oxygen even when hope had been lost. We don't know what he died of because we have no lab.
When I went to bed that night I prayed that God would have the mother come back or that she would at least send someone on her behalf. I longed for the Haitian nurses, young as they are and having seen so much, to NOT have their cynicism about human nature affirmed by a mother not returning to her son even though she had left him unconscious, but alive, on the surgery table.
God would hear my prayer and set me up for another unforgettable experience in this fellowship with Haitian suffering.
---
Bob Bixby is the pastor of Morning Star Baptist Church (Rockford, IL), of which Global Grace is a ministry. He and his wife, Jennie, ministered for ten years in France and Belgium as Baptist missionaries. God has blessed Bob and Jennie with two children.
1837 reads