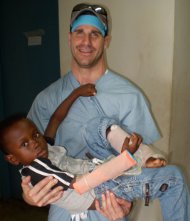 Ten days after the earthquake shook Haiti I was offered a once-in-a-lifetime opportunity to join a shock and trauma team that had access into Haiti through indigenous and wealthy benefactors. The team consisted of three orthopedic surgeons, an ER doctor, a pediatrician, and several nurses. We worked under the auspices of a respected Haitian surgeon who is one of the pillars of the Leogane society. Though this was not a Christian team, I was offered a role as "chaplain" because of my knowledge of the French language and the need for translation service. A "door of utterance" was opened for me to minister to both Haitians and Americans in the city of Leogane, one of the most dramatically affected cities near the epicenter of the January 12 quake. Over the next few weeks I will share with SI readers snippets from my journal containing my observations and opinions about the situation in Haiti.
Day One (January 22)
Entering into Haiti was a surreal experience. Our forty-five-minute charter flight from the Dominican Republic was extended to about two hours because the Port-au-Prince airport that normally handles about nine flights a day (so I am told) is now trying to handle two hundred flights a day. It was deep into the night when we approached. No one spoke; everyone was lost in thought as we gazed out the window of our twin engine plane. Looking down on the city of a couple million souls, one could see very few lights. A black hole of suffering, I thought. And that was before we got here.
When we finally landed, we were parked in a field in the far corner of the airport among a hodgepodge of planes and helicopters of various sizes. We stepped out into the still, dark night with the incessant roar of planes landing and taking off. There was a US military base about two hundred yards off flooded with generated perimeters lights. A car drove us to the terminal. We had our passports stamped at a desk that had been dragged near the door, no questions asked. They figure you are coming to help or you are an idiot. And an idiot who would come at a time like this would have to be a harmless idiot, so why bother to do any questioning.
It was weirdly quiet in the terminal. The main lobby of the terminal had huge cracks in it, and chunks of wall had fallen. It clearly was not a safe place to loiter, and thus the haunting vacuity of the place. It was totally different outside. Chaos awaited outside.
As we snaked our way through a corridor to the outside, I saw security unlocking the cuffs of a man, and by the time we were outside several men were cuffed and released. Must be some sort of crowd control, I thought, to handcuff a rabble-rouser for a few minutes then let him go. US Marines guarded the perimeter of a fenced off area for newcomers to look for their transportation. A crowd of people was there—especially because there had been an earthquake (aftershock of 6 something Richter) that day—again—so they clamored to the airport, one of the Marines said. As we made our way to the bus the crowd surged our way like a wave, and as quickly as it started, stopped. It was aborted by tough Marines who stepped toward them and basically intimidated them into submission to watch a small group of fourteen Americans and Haitians get on a chartered bus.
The bus trip was long—very long—accentuated by the fact that the streets were dark, the roads very rough, and the rubble of destroyed buildings agonizingly monotonous. The trip is apparently forty-five minutes in normal conditions, but it seemed to take almost another two hours.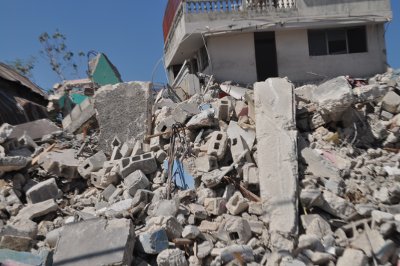 I cannot describe what I have seen and smelled tonight. It was as if we were driving through a war zone. This quake was huge. Destruction is everywhere. But it is worse than a war zone. Most wars are at least somewhat expected. Pictures of the WWII bombings of the German city of Dresden came to my mind as I looked out the bus window. But the difference is that the Germans had the benefit of knowing they were in a war, and having air sirens, and having a chance to evacuate. They also had the advantage of knowing they had provoked the enemy. These poor people got hit with a terror unmatched by bombing and within seconds—literally!—lost their homes and friends. (Later I would see one young dad bring his daughter for treatment by our surgeons, her legs broken. Apparently the mother had perished in the quake. Mark did the surgery, and as she was waking up in the recovery room, I was escorting the young man to a waiting area outside when the little girl started to wake up and cry out for her daddy. None of us could be so formal as to keep that dad from the recovery room.)
Anyway, these people were not at war. They were just going about business as usual when a terror unparalleled in their history struck. As we rumbled through the streets we kicked up dust on hundreds of makeshift dwellings and beds. Many people had their beds in the median, as far away from the walls as they could be. It occurred to me that it takes a traumatic crisis to change one's thinking about walls: I still cannot avoid thinking of walls as protection—these people cannot avoid thinking of them as death traps. (Later one old man who had two broken legs was in the x-ray room when a tremor so small I didn't feel it vibrated his cot. He was so terrified he was trying to get out of his cot. I happened to be there and, having not felt a thing, reassured him that he was okay. Poor guy. He lost a lot in the quake and will probably sleep close to the door from now on, assuming he even gets a house again.)
Day Two (January 23)
Slept inside last night, most of us. We were exhausted, it was dark, and I think most of us couldn't care less that there was a remote possibility of an earthquake shaking our building down.
We hadn't been here long last night when a Haitian nurse told us of a young girl who was dying. John (an ER doctor) went over to see her, but there was another team of doctors already here that we were unaware of. I'm not sure what her problem was, because I'm not a doctor, but it wasn't long before word came back that she had died. We sprawled all over the large concrete room which we found out later was the room the Japanese Disaster Relief team used for x-ray and tried to sleep that first night, having just been reminded that we came to a place of death.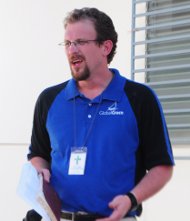 I began the day by explaining to a grieving mother that her dead daughter would not be taken home by us and, to add insult to injury, I had to tell her that she couldn't keep the body bag. It lay inelegantly against the outside wall, just far enough away to not inconvenience anyone by making them having to step over it. I think Mark (the only one that slept outside last night) had an unusual welcome when he stepped out of his tent to find a body bag right by. Because I am a pastor and because I speak French, I was asked to accompany the woman and the body to its destination and return with the "valuable" bag. The team from the Midwest that arrived a couple days prior to us was fearful that we would run out of bags. Thankfully, compassionate reason kicked in (for everyone here is compassionate—it's just that no one knew who had the authority to distribute bags) and it was decided that the bag could stay with the body. I say "body." It was the seventeen-year-old little girl of a daddy and mommy. At least that was what the daddy and mommy told me. Welcome to Haiti.
Our team should be called Team Ad Hoc Compassion. Few know many more than one or two of our fourteen member team; none knows everyone. And we are ad hoc compared to the Japanese Disaster Relief team camped to our left and the groups camped to our right. But relief on a large scale can only be attained by individual relief, one person at a time. Our team is comprised of intelligent people who know how to make their impact felt today even though we didn't receive any of our supplies (which came by bus) until too late to be of any use to us today.
The relief team from the Midwest is part of a large NGO (non-government organization) and they are working the same compound, a nursing school, where we have been asked to serve. They have not been here long, only a few days at most before us. I told Jack, a surgeon from Maine and part of the Midwest team, that my experience in these disaster areas is that the first ones on site earn veteran status. This was certainly true at Katrina when our little outfit from Global Grace was there before FEMA and Red Cross. We got treated as "experts"! Jack chuckled and said, "Yeah, we just got here and we act like we own the place." That's true. There is some ego that always comes along in the supplies on relief trips, but I'm quite impressed with our team's ability to humbly find a role even though the operating rooms being used by others were actually prepared for our guys.
The pharmacist on our team is a devout Christian (I do not know what religious affiliation, if any, the others have yet) who shares the same theology as I do. We both cherish the old Bible doctrine that the greatest American theologian of all time (Jonathan Edwards, circa 1700s) called "the most noble of all the doctrines": the absolute sovereignty of God. Our plan is to have a time of prayer and fellowship each night. This is particularly special for me because I am fully persuaded that God above is not wringing His hands reacting to what happens on earth, but is a loving and just God who has a purpose for all of this even though we finite humans may not understand it at the time. To pray each night with someone who in his heart worships God with that consciously held conviction about the character of God is of inestimable value to my soul.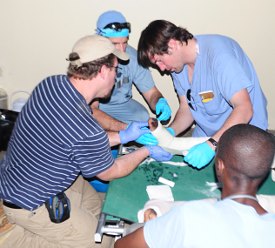 My interaction with the Haitians has been mostly positive. Most understand me, but many do not. French is primarily the language of the educated and, sadly, there are many who have not been educated. Earthquakes, unlike hurricanes, are indiscriminate. The rich and the poor suffer similarly. Hurricanes in third world countries primarily devastate the small shanties of the poor, but often the larger homes suffer mildly by comparison. The population in this town of Leogane is in shock. You see it in their faces. The fear is not gone even though we are ten days away from the first major quake. I'm told that the aftershock count is into the fifties.
I think that this team has great potential. Numerous amputations today, and the equipment is basic. I saw a hacksaw and wood file being used to amputate a leg, first to cut through the bone and then to file it. I'm learning more and more about this entrepreneurial trauma team as we go along. In some ways, my role is going to pick up as time goes by because my focus is primarily on supporting indigenous relief efforts and that starts by gradually making contacts. I don't know the first thing about medicine so there is very little that I can do to help the clinic. I've carried stretchers, chased down drugs and bandages, translated, and am discovering a role as a scavenger (i.e. calling the states for crutches, making connections, etc.). I have also helped in casting. Should I ever break a leg, I can now put my own cast on. Though I want to do pastoral work, the bulk of my labor today is medical emergency. It's a war zone. The injuries are unspeakably horrific and the odor of death still lingers in the streets. Rubber tires are burned to combat the smell of rotting flesh, and others invent their own individual efforts to fight the smell by stuffing orange peel or toothpaste in their nostrils. Our surgical masks are very practical, and when I drove through town I wore one. Everyone who could get one did.
---
Bob Bixby is the pastor of Morning Star Baptist Church (Rockford, IL), of which Global Grace is a ministry. He and his wife, Jennie, ministered for ten years in France and Belgium as Baptist missionaries. God has blessed Bob and Jennie with two children.
1880 reads