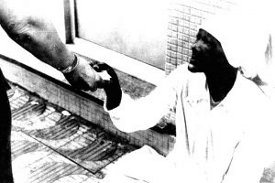 If the cultural indicators are to be believed, the plight of world's poor has become a topic of great interest in the west and America in particular. Advertising by non-profits abounds, rivaled only by the conspicuous relief efforts of major corporations. Even our fashion trends reveal a fascination with poverty.1 Wealthy celebrities and middle income Americans alike pay extra money for clothes that appear to already be worn out. Young pastors sport bed-head hairdos2 and preach in outfits carefully engineered to look like they've been slept in for a couple of days. Faux poverty is in.
So do we Americans want to relieve poverty or just imitate it? One thing is clear: we do not really understand it, and evangelicals seem to be about as confused as the general population. Efforts to help can only go so far if we're unclear about poverty's true nature and causes, so we need a deeper understanding.
Part 1 of this series focused on the question, What is poverty? That essay stopped well short of fully answering its title question but emphasized the importance of distinguishing between relative poverty and absolute poverty. Here we'll focus on another question. But since this question is so intertwined with the first, we'll chip away a bit more at the "what" along with the "why."
Why, then, are the poor poor? Or, more precisely, what causes the poor to be poor?3
A biblical survey
Scripture reveals a great deal about the causes of poverty. A brief survey is possible here. I'll group the causes of poverty under three headings, disaster, oppression and character, then draw some concluding observations.
1. Disaster
In Scripture, disasters of one sort or another often give rise to a lack of basic resources needful for living and thriving (absolute poverty)—or movement toward this kind of lack.
The disasters take many forms. In the context of the Babylonian invasion of Judah, Jeremiah laments that "those slain by the sword are better off than those who die of hunger; for these pine away, stricken for lack of the fruits of the field" (NKJV, Lam. 4:9). Because of drought, the widow of Zarephath tells Elijah, "I do not have bread, only a handful of flour in a bin, and a little oil in a jar; and see, I am gathering a couple of sticks that I may go in and prepare it for myself and my son, that we may eat it, and die" (1 Kings 17:12). Within the span of a few days, Job loses his possessions, family and health (Job 1:17-22, 2:7-8).
In these few examples we find the disasters of enemy invasion, bad weather and disease. In 2 Kings 7:3-4, four lepers are dying of disease and starvation outside Samaria while their countrymen are simultaneously starving to death inside the city due to a siege by the Arameans. Hard times!
The NT provides examples as well. The gospels feature many who are impoverished by disease or injury. In Acts 11:28-29 famine strikes the Roman world, and the church in Judea is especially hard-hit.
Poverty also develops from familial disaster. In those days, you needed a good bit of muscle to make your living, so the loss of the husband and father often left families with the inability to thrive and barely the means to survive. This kind of disaster was so common that the term "poor" is often synonymous with "widows and orphans (the fatherless)."
Woe to those who decree unrighteous decrees, Who write misfortune, Which they have prescribed 2 To rob the needy of justice, And to take what is right from the poor of My people, That widows may be their prey, And that they may rob the fatherless. (Isa. 10:1–2)
2. Oppression
In Scripture, those who fall into poverty from disaster are often kept there by oppression. With the loss of property and means came a loss of power and ability to defend your property. So the Bible often links the concept of poverty with the concept of powerlessness.
As with disaster-driven poverty, the oppression that leads to—or prolongs—poverty takes a variety of forms in Scripture. Government oppression is common (from kings, princes, wealthy land-owners, etc.). The oppression that arises from crime or general lack of rule of law is perhaps even more common.
Therefore, because you tread down the poor And take grain taxes from him, Though you have built houses of hewn stone, Yet you shall not dwell in them; You have planted pleasant vineyards, But you shall not drink wine from them. (Amos 5:11)

Hear this, you who swallow up the needy, And make the poor of the land fail, 5 Saying: "When will the New Moon be past, That we may sell grain? And the Sabbath, That we may trade wheat? Making the ephah small and the shekel large, Falsifying the scales by deceit…" 8 Shall the land not tremble for this, And everyone mourn who dwells in it? (Amos 8:4–8)

Do not rob the poor because he is poor, Nor oppress the afflicted at the gate (Prov. 22:22)

All my bones shall say, "Lord, who is like You, Delivering the poor from him who is too strong for him, Yes, the poor and the needy from him who plunders him?" (Psa. 35:10)

The wicked have drawn the sword And have bent their bow, To cast down the poor and needy, To slay those who are of upright conduct. (Psa. 37:14)

Much food is in the fallow ground of the poor, And for lack of justice there is waste. (Prov. 13:23)
This last passage seems to describe a scenario in which lack of law and order has allowed thugs to raid the property of others and get away with it. As a result, honest men found themselves wondering why they should bother to grow a crop at all. The scenario bears a striking resemblance to the chronic poverty of much of today's Africa and South America.
3. Character
In Scripture, the poor are not always victims. Sometimes they are the cause of their own loss of opportunity and property. Poor planning, vice, indulgence, dishonesty, laziness and multi-generational dysfunction all play major roles. Though some evangelicals are a bit dismissive of the Proverbs' teaching on poverty, it's unwise to overlook what these verses reveal about human nature and its results—both in ancient times and today.
Poverty and shame will come to him who disdains correction, But he who regards a rebuke will be honored. (Prov. 13:18)

The plans of the diligent lead surely to plenty, But those of everyone who is hasty, surely to poverty. (Prov. 21:5)

For the drunkard and the glutton will come to poverty, And drowsiness will clothe a man with rags. (Prov. 23:21)

A man with an evil eye hastens after riches, And does not consider that poverty will come upon him. (Prov. 28:22)

In all labor there is profit, But idle chatter leads only to poverty. (Prov. 14:23)

He who has a slack hand becomes poor, But the hand of the diligent makes rich. (Prov. 10:4)

He who tills his land will have plenty of bread, But he who follows frivolity will have poverty enough! (Prov. 28:19)
Some observations
Let's consider three questions to relate this survey to the issues we're facing.
How does this information shape our theology of poverty?
A goal of this series is to clarify a theology of poverty that both flows from what Scripture reveals about the problem and also provides a framework for understanding individual texts. The survey above touches on a few important pieces of that puzzle.
All three of the major causes of poverty have a strong relationship to sin and the Fall. We have disasters because the creation groans under the curse (Rom. 8:20-22) and because God judges peoples who have filled up the measure of their iniquity (Gen.15:16). We have the character-based causes of poverty because of the Fall as well.
Oppression is especially weighty theologically. One preliminary observation: who "the poor" are in Scripture depends on whether a given reference occurs in the context of an Israel that is mostly covenant-obedient or in the context of an Israel deep in God's disfavor and experiencing His judgment.4 In the first case the nation enjoys the prosperity of the covenant, and "the poor" tend to be victims (short term) of disaster or "victims" (longer term) of their own ungodly character. So poverty does not correlate with godliness.
On the other hand, when the nation is deep in disobedience, law and order (built into the covenant) collapses, and in this lawless environment only the unscrupulous are able to retain power and wealth. The result is that decent, God-fearing people are increasingly oppressed and poor, and the upper class consists increasingly of idolaters, adulterers and criminals.
Poverty and wealth are symptomatic of different things in different contexts and nobody is truly helped if we apply texts randomly to profoundly different modern situations.
How do these passages relate to absolute vs. relative poverty?
If we look at relative poverty as a place along the road to absolute poverty, the biblical causes of the absolute apply just as well to the relative. But relative poverty is often not an intermediary step in a process of decline. As a culture, we tend to define relative poverty and disapprove of it on the basis of deeper beliefs about equality, material wealth and greed. So we'll have more biblical data to consider when we examine those beliefs.
What do these passages suggest about solutions to the poverty problem?
These passages reveal that direct transfers of wealth are always short-term solutions, at best. Transfers from haves to have-nots are most helpful to individual victims of disaster in the context of thriving societies. We help them get back on their feet in a place where being on their feet is worth something (assuming they actually want to be on their feet). Wealth transfer works much better in Katrina scenarios than in Haiti earthquake scenarios.5
Where poverty (absolute) is a social malaise encompassing large communities and spanning generations, funneling money in may actually strengthen oppressors and more deeply entrench pan-generational character problems. Though money and essential supplies can facilitate disaster relief very effectively for a while, they do not produce the changes necessary to turn a Haiti into a Louisiana.
(To be continued.)
Notes
[node:bio/aaron-blumer body]
4369 reads