Thinking Biblically about Poverty, Part 1: What is Poverty?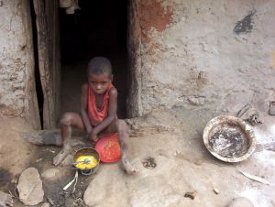 Why are the poor poor?
It seems few are asking this question anymore—just when we need most to be asking it, just when interest in helping the poor has apparently reached an all time high.
I don't recall ever hearing and seeing so many radio and TV ads for charitable causes, donation displays at retailers' cash registers, or businesses prominently displaying how they're helping the needy (or how they're saving the world from environmental catastrophe—or both).
Evangelicals seem to be giving poverty more attention as well—in increasingly passionate terms and from quarters not historically known for that emphasis. Witness this observation from Southern Baptist, David Platt:
Meanwhile, the poor man is outside our gate. And he is hungry…. We certainly wouldn't ignore our kids while we sang songs and entertained ourselves, but we are content with ignoring other parents' kids. Many of them are our spiritual brothers and sisters in developing nations. They are suffering from malnutrition, deformed bodies and brains, and preventable diseases. At most, we are throwing our scraps to them while we indulge in our pleasures here….
This is not what the people of God do. Regardless of what we say or sing or study on Sunday morning, rich people who neglect the poor are not the people of God. (Radical: Taking Back Your Faith from the American Dream, p.115)
Unexamined assumptions
Sadly, much of our society's rhetoric (and evangelical rhetoric as well) reflects unexamined assumptions. Many assume that as long as someone does not have, it's wrong for anyone to have (or at least wrong for them to keep what they have). A close cousin to that assumption is the idea that one person's having prevents another from having—have-nots are created by haves who have too much. These assumptions lead, in turn, to the Big One—a granddaddy assumption about how to help the have-nots: help must involve the haves parting with some, or a whole lot, of what they have. The problem of poverty is solved by transferring wealth. It's common knowledge.
But Christians know common knowledge is often wrong. Our responsibility—before acting in response to a social problem—is to thoughtfully consider its causes. So why are the poor, poor? When we understand this, we are ready to ask how we can help.
Pondering the question of what causes poverty leads quickly to a problem, though. People do not consistently mean the same thing when they use terms like "poverty" and "the poor." So if we're going to think clearly about why the poor are poor, we're going to have to arrive first at some clarity about what "poverty" is.
Poverty in the Bible
The OT has nearly a dozen words that are translated "poor." The NT adds about another half dozen. Clearly poverty is all over the Bible. It's a prominently featured human problem. It's also a theologically loaded problem. Covenant blessings and curses are expressed in terms of abundance and destitution. Faithfulness is frequently connected with poverty and powerlessness while injustice and evil are often associated with the rich.
Giving proper weight to the contexts of these passages is a vital (yet often neglected) step in developing a biblical theology of poverty—as is properly relating the passages to one another. Look for some of that work in future installments in this series.
As for the key Hebrew and Greek terms, they vary in emphasis and connotation from affliction and humility to want, neediness, lowliness and lack of good quality to bad conditions, misery and powerlessness.
What the key words all have in common is the simple concept of lack. Something important is missing—occasionally something bad such as greed or pride but usually something needed and helpful.
Relative poverty
Consider an American family I'm well acquainted with. Let's call them the Cleavers, a family of four. According to the 2010 Dept. of Health and Human Services Poverty Guidelines, the Cleavers' income was above the "poverty line" in 2010, but not by much. After factoring in some tax advantages and fringe benefits, they were still below the average individual income for the year. So are the Cleavers poor?
It depends. In the US, "poverty" is measured by completely relative standards. Statistics like how much the average household spent on select goods and services in a given year (Consumer Price Index) are compared to average levels of income, and the government declares what it considers to be a normal standard of living. If you're below it, you're "poor."
But the Cleaver family has two cars, a two-story house (rented), air conditioning, health insurance, a computer, a TV and a dog. Nobody goes hungry unless he just doesn't like what's on the table. Nobody is cold in the winter unless he leaves the house in a hurry and forgets his coat. They don't have cable TV, but they do have high speed Internet and a couple of cell phones.
All the same, they are too poor to have much tax liability (if any) most years, and they receive money back from the IRS each year in the form of Earned Income Credit—a subsidy that is supposed to be for the working poor.
The point here is that whenever people look around and see that others have things they themselves can't afford, they feel poor. That perceived poverty—along with various indexes based on averages—is relative poverty. Given how many in the world have only one set of clothes (badly worn), no healthcare at all, barely a meal a day, unsafe water, no access to education worthy of the name and nothing resembling decent sanitation, it's worse than ridiculous to call the Cleavers (or any family with even half their income) "poor."
Nonetheless, they are poorer than the average American family. This is "relative poverty."
Absolute poverty
Jay W. Richards offers a helpful explanation of absolute poverty—in contrast to relative poverty—in Money, Greed and God. Speaking of those classified as poor by the U.S. Census Bureau, he writes:
Compared with the American upper class, these Americans are poor. But that's still relative poverty: it's defined by comparison with others rather than on an absolute scale. On the other hand, if someone's starving to death or freezing to death from exposure because they can't afford shelter, they're suffering absolute poverty. (p.88)
Richards applauds increased attention to absolute poverty in recent years by organizations such as World Vision and the U.N. Millennium Campaign and cites heart-rending statistics, including these:
Six hundred million children live in absolute poverty.
Eight hundred million people go to bed hungry every day.
Every year more than 10 million children die of hunger and preventable diseases; that's over thirty thousand per day, or one every three seconds.
Every year nearly 11 million children die before their fifth birthday. (pp. 88-89)
What poverty is
What do we mean by "poverty," then? Sadly, it's pretty routine for public officials and religious leaders to use absolute-poverty statistics to argue for relative poverty relief—without giving hearers (or readers) the barest hint that they've switched categories. Compounding the problem, discussions regarding how to help the poor often mix and match these categories as well. But where you have two fundamentally different sets of conditions, you probably have different causes and, therefore, different solutions. Helping relatively poor Americans obtain reliable transportation or better food is not the same thing as helping a starving family in Cambodia obtain a bowl of rice.
Christians who care about the suffering of the poor should care enough to do the brain work of clearly identifying what problem they are setting out to solve (or at least mitigate) as well as the work of identifying its true causes. And when we're on the receiving end of "help the poor" rhetoric, we should rigorously question what sort of problem we're really hearing about.
Aaron Blumer, SharperIron's second publisher, is a Michigan native and graduate of Bob Jones University (Greenville, SC) and Central Baptist Theological Seminary (Plymouth, MN). He and his family live in a small town in western Wisconsin, not far from where he pastored Grace Baptist Church for thirteen years. He is employed in customer service for UnitedHealth Group and teaches high school rhetoric (and sometimes logic and government) at Baldwin Christian School.