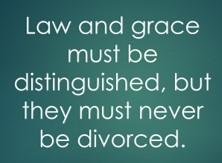 On "Theology Thursday," we feature short excerpts on various areas of systematic theology, from a wide variety of colorful (and drab) characters and institutions. We hope these short readings are a stimulus for personal reflection, a challenge to theological complacency, and an impetus for apologetic zeal "to encourage you to contend earnestly for the faith that was once for all entrusted to the saints," (Jude 3).
From Samuel Waldron and Richard Barcellos, A Reformed Baptist Manifesto: The New Covenant Constitution of the Church (Palmdale, CA: RBAP 2004), 41-47 (excerpts).
The first and central practical implication to be drawn from all that has been said this: We learn the delusion and danger of divorcing law and grace. Law and grace must be distinguished, but they must never be divorced.
Not a few in the history of the church have been guilty of divorcing law and grace and setting them at odds with one another. But in the last century and a half in Britain and America not a little of the blame for this problem must be laid at the feet of Classic Dispensationalism. It is a necessary and very logical outworking of that system. As we noticed in chapter one, it divides Israel and the Church and thus sunders the Old and New Testament. Thus, it is no surprise that many Classic Dispensationalists divorce law and grace … The divorcing of law and grace is a frontal assault on the very terms of the New Covenant. In light of this, several practical warnings are appropriate for us to consider.
Beware of Divorcing Law and Grace in Conversion
Grace is perverted when it is set over against, or made the opposite of obedience to commands. Faith both rests in Christ and works through love. Though faith does not justify through its obedience to God's law, it is a kind of obedience and leads to obedience (Rom 1:5; Gal 5:6).
When it is taught that men may be saved without confessing and submitting to Christ as Lord, that is a dangerous divorcing of law and grace in conversation. Sad to say, such teaching is not uncommon among many Evangelicals … With such teaching so prevalent, it is no wonder we hear over and over again in Evangelical testimony meetings, "I received Jesus as my Savior first, and then several years later, I received Him as my Lord."
Those who think this way have divorced grace and faith from having anything to do with practical submission to the laws of Christ, the Lord. They will even tell you that to insist on such submission for salvation is legalism and even heresy. Such teaching is a twisting of Scripture and a turning of the grace of God into license for sin. It is clearly Antinomian.
Beware of Divorcing Law and Grace in the Regulations of Your Life
This happens when men refuse to govern their lives by anything in the Old Testament law. This refusal is often justified by a false understanding of Paul's assertion that we are not under law, but under grace (Rom 6:14). Such a divorce of law and grace manifests ignorance of two vital and basic Gospel distinctions.
First, we are not under the law as a way of justification, but as a rule of life (Rom 10:4). Second, we are not under the Ceremonial and Judicial Law as a rule of life, but only under the Moral Law (Jer 31:33; Rom 13:8-10; Eph 6:1-4; Jas 2:8-11).
The tragic thing about the neglect of the Moral Law as revealed in the Old Testament and the Gospels is that the mass of biblical teaching on right conduct is found in those parts of the Bible. No wonder the lives of so many Christians manifest so much folly, sin, and misery when modern teachers have so mutilated God's instruction manual for the Christian life.
Avoid Confusing Law and Gospel
Those who fall into the trap of exalting law over grace often fall into another very serious error – confusing law and gospel. This happens when the Christian begins to live as if his obedience to God's law is the ground of his acceptance with God. This, in effect, turns the law into another gospel and it is a practical repudiation of the work of Christ. It dishonors Christ, is a practical denial of justification by faith alone in Christ alone, cripples the soul and destroys assurance.
In our zeal to uphold the law of God, we must never allow obedience to it to become our basis for initial or subsequent acceptance with God. the Lord accepts us in His beloved Son based on what He did for us and not on what we do for Him.
If God's law has been written on our heart, we will be humble. We will walk in a manner that properly balances law and grace. And when we don't, we will go to the God of the law and the God of all grace for pardon and help in our time of need.    
11080 reads