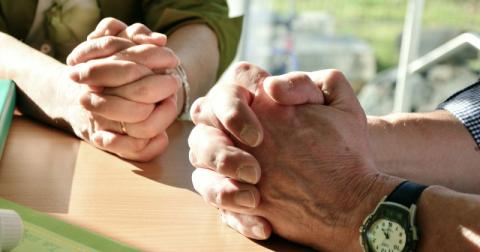 Many Christians struggle to pray. How do you pray without it turning into a laundry list of needs? There are all sorts of good models out there. I'd like to recommend one that's easy, and probably more helpful than anything you'll ever do. If you follow it, you'll never run out of things to pray, and the Holy Spirit will help you grow.
What is it? Simple. You pray through a passage of scripture. Any passage of scripture. That's why you'll never run out of things to pray, because God's Word always has more to teach us. After all, God's word is the Spirit's sword to wage war against the fiery darts of the evil one (Eph 6:16-17).
How do you pray through a passage of scripture? Easy. You use a four-step process:1
Instruction. What does the passage teach you? Recount to God what you feel the passage is telling you, and ask Him to give you insight into what the text means.
Thanksgiving. Thank God for something in your life, especially if it's related to the passage.
Confession of sin. Confess and admit your sin as you ponder what God tells you from the passage.
Prayer. Pray to God and ask him for the strength and perseverance to do what the passage says, and thank Him for His love and patience.
What does it look like? Consider Romans 5:1-5:
Therefore, since we have been justified by faith, we have peace with God through our Lord Jesus Christ. Through him we have also obtained access by faith into this grace in which we stand, and we rejoice in hope of the glory of God. Not only that, but we rejoice in our sufferings, knowing that suffering produces endurance, and endurance produces character, and character produces hope, and hope does not put us to shame, because God's love has been poured into our hearts through the Holy Spirit who has been given to us.
Here's what it could look like:
Instruction. "God, you have made me righteous because of my faith in your Son. You've given me peace; the only peace that matters. No matter what happens in my life, I know I'll always have peace with you because of my faith in Jesus Christ, your only Son. I know I can endure all things, and that endurance produces better character and more steadfast hope. I know you poured your special love into my heart through your Spirit, whom you gave to me because you love me!"
Thanksgiving. Lord, thank you for my life, for my salvation, for my peace.
Confession of Sin. God, please forgive me for not letting this peace transform my life as it should have, today. I admit I've been petty and shallow in my habits and thoughts this week, especially to ****. I admit I've thought more about myself than the peace you've given me.
Prayer. God, give me joy because of the peace you've given me. Give me joy even in my trials and sufferings, because I know you only want me to have better character, and to keep my eyes fixed on that better hope. Please never let me forget your love you poured into my heart by your Holy Spirit.
Luther also recommends praying through the Apostle's Creed and the 10 Commandments. I have tried his suggestion with the Apostle's Creed, and have been blessed by it.
So, that's it. Happy praying.
Notes
1 This method is from Martin Luther, A Simple Way to Pray, trans. Matthew Harrison (1535; reprint, St. Louis: Concordia, 2012).
1055 reads