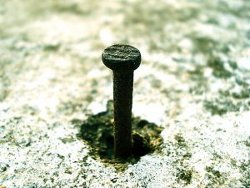 Two years after my whitewater rafting accident, my physical therapist dropped a bombshell in the form of a simple question: "Stephanie, have your doctors ever talked to you about MS?"
Little did he or I realize that less than a year later, my supposedly accident-related symptoms would take a dive, and suddenly all my doctors would be talking to me about multiple sclerosis.
Today, nearly nine years after my accident, I'm drafting this post in a Starbucks far from home. This morning I met with a neuromuscular specialist at the Cleveland Clinic. Again, MS was discussed—but only in passing. It's been ruled out too many times to be a serious possibility anymore. The doctor and I talked about the pain, weakness, numbness, and other symptoms that have plagued me the last several years. Despite tests and treatments at some of the best facilities in the country, to date there's been no firm diagnosis.
The doctor and I discussed my physical quality of life—how it has waxed and waned over the years, and how I try to live as normal a life as possible. But a subject we didn't broach is something actually much more pertinent to how I keep going day by day: my inner, spiritual quality of life. It, too, has changed a lot since my accident: a waxing and waning faith, a growing and healing that no physician could ever attempt, a deeper experience of the person and character of God—all rooted in a deeper understanding of the gospel.
Encountering the gospel all over again
A year or two before my accident, someone offered me his frank opinion of my church: "All they ever preach is the gospel. They don't preach anything practical." Later, I happened to mention that criticism to my pastor. I'll never forget his response: his bushy eyebrows drew tightly together, and his eyes flashed as he said, "Stephanie, the gospel is the most practical thing I could ever preach."
I remember thinking, "I'm sure he's probably right, but I don't really understand that." As thickheaded as I am, perhaps God knew it would take a whitewater rafting accident and years of aftermath to slowly help me understand what my pastor meant.
When my doctors began warning me that I would never run again and that pain would always be a part of my life, I was only in my mid-20s. I had read about and known many people who had been in accidents and lived with chronic conditions, but I'd never dreamed that would be me. I was filled with thoughts like, "Why me?" "How could God do this to me?" and "People my age deserve to be able to do whatever they want."
I remember one morning, as I was lying in bed reading my Bible, I was struck with the reality of what people my age deserve—what I deserve: Hell.
That gracious awakening was just what I needed—a call to remember who I am, who God is, and all I have that I don't deserve. I often mark that day as the beginning of my journey towards understanding of the practicality of the gospel.
The marriage of the gospel and suffering
Romans 8:28 has become a Christian platitude, often misunderstood and misused. But the more I've looked at this verse and other verses about suffering, the more I've discovered that all of them are based on gospel theology, and many of them sit smack in the middle of expositions of the gospel. While many of these verses stand on their own as beautiful promises and reassurances, when they're understood in light of the gospel, they take on a whole new depth and meaning.
Over the last number of years, Romans 8 has come to be my favorite chapter in all of Scripture. I know I'm not alone here; this chapter is often considered the crown jewel of Paul's expositions of the gospel. But have you ever noticed in this chapter how Paul marries gospel theology to suffering?
In Romans 8:15-17, Paul expounds the doctrine of adoption, but his point isn't about how our adoption makes us feel warm and fuzzy, loved and accepted. Instead, his point is that understanding our adoption gives us the ability to suffer well. In verse 17, he shows suffering as a natural outgrowth of adoption: "If children, heirs also…if indeed we suffer with [Christ]" (NASB). All in the same breath, he links our adoption, our suffering, and the sufferings of Christ.
In verses 18 and following, Paul launches into a discussion of the fall (the impetus of the gospel story) and the broken and fallen world that we inhabit (the middle of the gospel story), while always keeping in view the glory that awaits (the culmination of the gospel). He talks about how "knowing"—understanding the fall and the culmination of the gospel—gives us hope in our suffering.
Only after building that gospel foundation does Paul pen Romans 8:28: "And we know that all things work together for good to those who love God, to those who are the called according to His purpose." And who are those who love God? What is His purpose? The answers are all found in the next couple of verses that outline great chain of gospel theology: those who love God are those who were foreloved, predestined, and called by Him, those who were and are being sanctified, those who are justified, and those who will be glorified.
So, how does the suffering side of "all things" work "for good"? What is that good? What is the purpose we've been called to? It's our sanctification. But it's more than that. Paul is careful to point out in verse 29 that sanctification's ultimate purpose isn't all about us. All of the gospel, all of our suffering, all of our sanctification is for the ultimate purpose "that He might be the firstborn among many brethren." It's all about the glory of Christ—the One who suffered for us.
And Paul doesn't end there. You can almost feel his rhetorical fervor building in verses 31 and following as he asks his audience in light of the gospel, how will they respond to life? He asks them what event of life could possibly separate them from the love of God as shown in the gospel? And then he lists out many different forms of suffering (most of which, according to II Corinthians 11:23-28 Paul has undergone himself), and he concludes that no matter what suffering we face, the love of God in Christ (i.e., the gospel he has just expounded) is our stability. In short, Paul is saying that knowing, believing, and resting in the gospel is the key to suffering well.
In his book The Reason for God, Tim Keller takes an honest look at the question of how a good God could allow suffering. He astutely points to the crisis point of the gospel story—the cross—and notes that God himself took on human suffering to redeem us. Keller says, "If we embrace the Christian teaching that Jesus is God and that he went to the Cross, then we have deep consolation and strength to face the brutal realities of life on earth. We can know that God is truly Immanuel—God with us—even in our worst sufferings" (p. 31).
The divorce of the gospel and practicality
I fear that many Christians have relegated the gospel to tract distribution, evangelistic services, and "salvation messages." In our self-dependence and self-righteousness, we tend to desire "practical," topical preaching that includes lists of dos and don'ts, rather than expositions of gospel theology. However, if we exist on a verse-for-the-day, surface approach to Scripture, what will anchor us when the sea of life churns?
Fundamentalism by definition is all about defending the gospel. Unfortunately, however, I've often found that many who grew up in fundamental, Bible-believing churches can't explain much at all about adoption, foreknowledge, predestination, calling, justification, sanctification, or glorification. But that theological chain from Romans 8 is the gospel. If we don't understand these concepts, how can we possibly defend the gospel, much less live in light of it?
I see a glimmer of hope among a small but strong group of (mostly) young fundamentalist preachers who are striving to live in light of the gospel and to expound its glories and practicalities. I'm also encouraged to see some fundamentalist laymen thirsting for a deeper knowledge of the gospel. I'm hopeful when I see forums like Sharper Iron, where fundamentalists are discussing issues such as what the gospel is and how to rightly defend it. I hope that this recent wave of "gospel lingo" is not just a fad, but that it's the beginning of a revival at the heart level—a revival that will impact individuals, churches, and American Christianity more broadly. But any revival of gospel truth must start with individuals—with you and with me.
The here and now…and the glory that awaits
I know I still have a lot to learn. I've only begun to skim the depths of the gospel and understand just how practical it really is. But when waves of physical suffering come, when doctors are grim or uncertain, and when life is just plain hard, the only way to face it well is to think gospel theology. I have to purposefully remind myself that suffering is part of living in a broken and fallen world, that I'm headed to a far better place, that I have a Savior who has suffered more than I ever will and who walks beside me, that I am being sanctified, and that it's not all about me—it's all about the glory of Christ.
I'm certainly not masochistic. You'll often find me praying for relief. And I fully realize that my story pales in comparison to that of countless others. I'm also quite aware that the effects of the curse take many forms—including depths of heartache and anguish that no physician or medicine could ever address. However, it's only in the truths of the gospel that there is true hope, peace, and even joy.
I often long for Heaven—where tears and suffering will be forever gone, where there will be no more need for doctors, and where I'll be embraced by nail-pierced hands. But until then, grasping the great truths of the gospel is essential to walking well through the here and now. And in the hereafter, even when all our suffering is gone, I'm convinced we'll still be marveling at the glory and practicality of the gospel.
[node:bio/steph-l body]
4289 reads