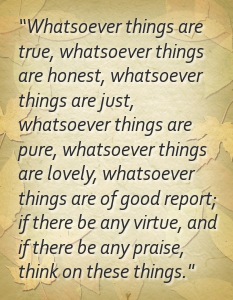 Since the Psalms call us to praise our God all day, every day (e.g., Psalm 34:1, 71:14), an act of praise should hardly be an "interlude." But the focus of this post is a departure from what normally appears in these pages. Hopefully we'll be able to do this more often. Heart and mind are intertwined and the work of thinking can only be enhanced by the work of intentional worship. Enjoy Kim Noble's song of thankfulness. —Ed.
A Song of Thankfulness to King Jesus Based on Philippians 4:8
Jesus Christ, to Him, be praised!
A song of thankfulness, I raise,
For in the pages of Holy script,
I find a comprehensive list,
A portrait of our mighty King,
All praise and glory do I sing.
Truth, is what I'm thankful for,
This first word shows our Savior-Lord,
Will never falter, never fail
His words and deeds are faithful still,
Warmed by every promised word,
Election, by His grace, secured.
So my heart sings, to Him I bow,
My lips, I sing my honor, laud,
I give no other deference,
No higher praise, no preference,
Than to this royal, fairest King,
of noblest, highest, purest breed.
And so the list accelerates,
The next word shows His righteous state.
Conforming to His Father's plan
Blameless and fully perfect man.
Yet, fully God, He sits guilt-free,
Completely innocent is He.
The purest, chaste and Sacred One,
A Light much brighter than the sun,
Immaculate and wholly clean,
The perfect standard men have seen,
Yet purity was what they hated,
The Holy One, they desecrated.
But what they did not understand,
Was in their criminal, heinous plan,
The Lamb of God, though shamed and vile,
He, the sinless, free from guile,
Bore our sins, a sacrifice,
His lovely life and death, sufficed.
And do I eagerly proclaim?
A hearty shout, a glad amen?
About the Christ of sound repute.
Loudly play the harp and flute!
With robust song and overflowed thanks,
Let me join the choir ranks.
And last, not least is excellence,
My song of praise and testament.
For He is worthy of my praise,
My heart and mind are fully swayed,
These verses, more and more I see,
Point to Jesus, Lord and King.
[node:bio/skjnoble body]
1197 reads