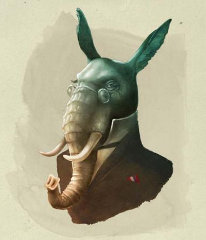 The series so far.
Capitalism—should Christians endorse it with enthusiasm? Accept it with reservations? Utterly reject it? Just ignore it? Questions like these are at the heart of the fourth chapter of Carl Trueman's book Repuplocrat: Confessions of a Liberal Conservative.
Overview
This chapter ("Living Life to the Max") is book's weakest so far. Key terms shift in meaning, the problems under attack lack the kind of concrete examples found in other chapters, claims seem contradictory at times, and the thesis is less clear.
The thrust of the chapter seems to be that although capitalism is the best economic system the world has yet seen, and we have no idea what would be better, it's attendant ills are such that we need to make sure we're sufficiently critical of it.
Some points of agreement
With the above as points of agreement, what objections remain?
1. The irrelevant Max Weber
Trueman devotes several pages (61-64) to arguing against "the Weber thesis," the idea that capitalism is a product of the Reformation (and therefore really awesome). Since I support capitalism for completely different—and far older—reasons, it's hard to see the relevance of Weber's idea. Capitalism does not need a Reformation link to justify it.
2. Hegel and progress
Trueman's reasoning vis–à–vis capitalism and progress (p. 65-69) is hard to follow because he tries to link the idea of never-ending human progress to the idea that the present order is the best that ever will be ("absolutizing the moment"). But these are two different and incompatible ideas. Speaking of Darwin, Hegel and others, Trueman observes,
What all these models had in common was a belief in progress, and that things were moving ever closer to what one might regard as the ideal state of affairs, even if that state would never be perfectly achieved. (p. 66)
Though Trueman attempts to link this thinking to supporters of capitalism, this view of progress is actually a central tenet of the Left and one of its favorite reasons for rejecting the free market. The conservative thinkers who have championed free markets (e.g., Smith, Burke, Friedman, Hayek) have argued that progress in human societies is actually extremely limited and that relatively honest, secure and non-engineered (a.k.a., "free") markets offer the best set of trade offs for making life work among human beings.1
3. Defining capitalism
The definition of "capitalism" is murky throughout the chapter. At times, Trueman seems to identify it exclusively with industrialism and the modern-banking, share-holder-investment phenomenon. At other times, he seems to identify it with the free market idea in general. He refers to it once as "capitalism, aka consumerism" (p. 73).
The chapter sometimes uses the flaws of capitalism-as-industrialism to argue against capitalism-as-free-market or the flaws of capitalism-as-consumerism to argue against capitalism-as-free-market. The difference matters because, though the modern corporation is a new development, free markets (in varying degrees) have been around for millennia.
4. Free market confusion
Several statements suggest that the lack of consistent definition may be partly due to confusion about what the free market idea actually is.
For a free marketer, the system is designed to promote maximum efficiency: wages find their appropriate level, supply meets demand, hard work is rewarded, individual power is enhanced, government is limited. Thus runs the theory. Of course, we are self-interested, but the idea is that your self-interest and mine will, if not cancel each other out, at least affect each other and limit the damage that can be done. Inequality will persist, but as long as there is the possibility of social mobility and thus motivation for hard work, this is not a particular problem. Whether this is the case, however, and the market operates this smoothly is now open to question on a variety of fronts, particularly in light of the financial collapse of late 2008. (p. 69-70)
Trueman also refers to " 'the morality of the markets,' so popular with free-market philosophers" (p. 68) though he includes no examples of this thinking.
These characterizations are flawed. First, the great 18th century free-market thinkers (Adam Smith, Edmond Burke, et. al.)2 saw the market (in contrast to individual choices) as a natural order not "designed" by humans and, as such, neither moral nor immoral.
Second, free market thinkers have not generally depicted the market as working at the level of perfection or even near-perfection. It's simply the best we can do. It works less badly than the alternatives. Sadly, lots of popular free market advocates, unaware of this tradition, badly overstate the qualities of the market.
Third, regarding the collapse of '08, the idea that that good regulation is antithetical to the free market is a popular straw man. Though free market thinkers have passionately opposed excessive and misguided regulation, few have opposed the principle of regulation itself. A market is not free if participants are being cheated by conscious misrepresentations of value.
Finally, the idea that free-marketers believe the market alone is sufficient to restrain evil self-interest and greed (as opposed to ordinary self-interest) is a popular myth.
5. Compared to what?
The chapter not only concedes that capitalism is the best system available (p. 70), it offers no reason to believe any economic system among sinners could ever be better.
Further, the chapter repeatedly faults capitalism for features that are not unique to it. The following is a good example:
It is hard to imagine a premodern society where child-bearing was seen as a burden or, given that age was valued for its wisdom and for its lifetime of contribution, where people would have had serious discussions about whether it was worth looking after the aged. But in an advanced capitalist society, unwanted babies look dangerously like unproductive appetites and old age speaks of of lack of energy an innovation, and frankly, lack of ability to produce wealth. Of what use are such people? This is not to say that capitalism leads to euthanasia, but it creates one of the kinds of societies where such discussion might well take place. (p. 76)
These observations have no relevance in a chapter on why we ought to be less fond of capitalism because the problems in view are characteristic of nearly all economic systems. The briefest glance at world history provides abundant examples of pre-capitalist and non-capitalist societies devaluing those who don't seem to contribute (and the modern world, where do we actually find forced abortion and sanctioned euthanasia?).
6. Causation fallacy
Much of this chapter rests on the assumption that problems that have developed along with capitalism have been caused by capitalism. (See cum hoc ergo propter hoc.)
It is clear that as the world moved from feudalism to economies based on trade and production, values changed, and even the family was restructured as people moved from rural areas to cities and family units became smaller… . Many Christian families want to instill a love of great literature in their children; but think of how modern capitalism connects to the entertainment industry, of how even the imagination has been turned into a marketable commodity. (p. 77)
The assumed causal relationship is questionable. First, while all of these changes were taking place in society, profound changes were also taking place in belief-systems.
Second, consumerism, individualism, poor aesthetic choices and the idolatry of material things are nothing new. As murky as Trueman's definition of capitalism is, it's doubtful he'd say the individualistic consumerism of Luke 12:15-20 (the Rich Fool) or Amos 6:1-10 ("at ease in Zion") took place in a capitalist society. Clearly there are other causes at work.
Third, it's hard to sustain the idea that freedom is the cause of the choices free people make. The absence of restraint does not create anything; it simply allows pre-existing causes to have their effects. Though these effects are often ugly and evil, it's far from obvious that loss of freedom is preferable.
Conclusion
There truly is a great divide in market philosophies. Trueman is fond of faulting American political thought for its "maniceanism," but though reality is multichromatic, the colors black and white still exist. The two great branches of economic thought divide on the question of whether human beings are smart and good enough to devise effective economic order from the top down—the centralized approach—or whether our limits leave us unable manage an economy better than a naturally occurring systemic order can do it.
If all of today's economic views really do derive from one of these two perspectives, and if one of them is more biblical than the other, Christians should not to try to cling some kind of neutrality. All economic systems fail to remedy greed, inequality, injustice and poverty. All of them have unintended negative consequences for the human heart. But some systems are clearly more supportive of biblical values than others.
Related:
Objections to Christian Political Engagement, Part 1
Objections to Christian Political Engagement, Part 2
Notes
1 Friedrich August Hayek (The Road to Serfdom) wrote in somewhat social-evolutionary terms. Nonetheless, he held that the highest point of societal progress was not especially high.
2 This tradition has continued in the work of F. A. Hayek and Milton Friedman among others.
[node:bio/aaron-blumer body]
3436 reads