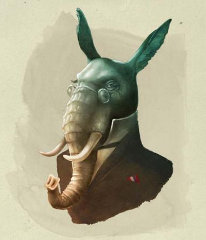 The series so far.
Chapter 3 of Carl Trueman's Republocrat focuses on American conservative Christians' view of the media—with Fox news as the focus.
Though the chapter (The Not So Fantastic Mr. Fox) seemed shorter, it's length is actually the just-shy-of-twenty-pages standard for chapters in this book. Perhaps the illusion of shortness is due to my skimming several pages when it became clear they held nothing of interest (the part arguing against the virtuousness of Fox Broadcasting Company and Mr. Murdoch; since I never thought they were especially virtuous, and don't know anyone who does, I didn't care).
But Trueman does make some solid points in the chapter. We'll consider those before I return to the problems.
Bias
Fox News is indeed biased, as the chapter asserts—depending on how you define bias. Trueman observes, "I like to argue in class that in the writing of history, no one can be neutral" (p. 42). From there, he distinguishes (though doesn't really differentiate) between bias and objectivity. But he is undoubtedly right that there's never been a human being who looks at events and ideas with some kind of tabula rasa.
Full disclosure: since our family doesn't value cable or satellite programming enough to pay the monthly fee, my exposure to Fox News has usually been in small bits in auto-repair shop lobbies, video clips on the Internet and the odd occasion where the cable channel takes over local broadcast news for a period.
Nonetheless, to be human is to be biased, and since Fox News aims to avoid a particular bias, it undoubtedly replaces it—intentionally or otherwise—with another. As Trueman puts it,
I also have no problem with outrageous overstatement to make a point, no doubt being guilty of it myself on various occasions. The problem is neither of these things; rather, it is the failure to notice that these two things are actually happening. To refer to Fox News as "the unbiased one" is to make the mistake of thinking that all one gets on Fox are "the facts." (p. 43)
Sloppiness
Trueman writes:
But my great fear is that Christian frustration with the liberal media has led to an overreaction that has generated a culture where alternative opinions are never, or rarely, considered, and where the most inarticulate and insubstantial arguments are swallowed whole. (p. 42)
He's got a point there—more than one.
My weekly routine involves a fair amount of driving, so when I'm not listening to audio books, I'm sampling talk radio, usually of the conservative variety. What I hear there is indeed the "preaching to the choir" brand of reasoning. It's human nature. If you're speaking to an audience of fans, they hold you to a lower standard of proof than they do their ideological opponents. You get lazy sometimes.
These guys could try harder. I often hear Limbaugh, Beck, Hannity, et. al., make arguments so badly that even I—who am definitely on the conservative side of the great divide—get pretty disgusted and frustrated. Unfairly-construed sound bytes and inaccurate, sweeping generalities are routine, not to mention—in the case of Limbaugh—more than a little crass language, cursing, and sleazy innuendo. It's sometimes enough to get me turning the dial to—gasp—NPR! (At least there, the bad arguments are uttered in well-modulated voices in a calm, even tone, and using a loftier vocabulary. That seems to fool a lot of people into thinking they're hearing smarter radio.)
Trueman's complaints focus on Beck and O'reilly, both of whom were with Fox when the book was written. The chapter quotes Beck and faults him for identifying "Marxism with the welfare state," for characterizing the welfare state as "designed to stop anyone from getting a 'boo-boo,'" and for asserting that welfare-state nations have only been able to sustain their approach "through the barrel of a gun." (p. 45).
Trueman targets Beck's paranoia as well, and describes his fans as "presumably already on board with the somewhat scary Beckian view of the world where 'they' are apparently always out there, trying their best to 'get us.'" (p. 46)
Similarly, the author faults O'Reilly for inaccurate use of the term "socialist" to mean that "the government has all the power. You have none. Can you say Fidel Castro?" (quoting O'Reilly there, p. 46-47). Trueman objects:
I am not a socialist and never have been, but my grandparents were, and for the record, neither of them believed that the government had the right to control or seize private property in the kind of unconditional way implied by O'Reilly. (p. 47)
What Trueman has right here is that conservative pundits often use terms a bit carelessly and link things together without adequately noting important differences.
Ickiness
Trueman is certainly right that Rupert Murdoch is "scarcely a paragon of Christian virtue," (p. 51), and that Fox TV puts out its share of sleazy entertainment. The Simpsons are his case in point. From what I've seen, that show is nothing compared to American Dad and Family Guy—and those are just the "cartoons." The chapter devotes five pages to making this point (50-55).
Weaknesses
As trenchant as Trueman's analysis is in places, the lack of attention to underlying political philosophy evident in ch. 2—and even more in ch. 1—is again evident here. First, a few smaller issues.
Maybe the distinction doesn't exist in the UK, but here in America there's a difference between news and commentary. Beck, Limbaugh, Hannity and O'Reilly are in the latter category and are usually pretty clear about that. Rush used to regularly characterize what he does as entertainment. Beck still uses the tagline "the fusion of entertainment and enlightenment." In short, they don't claim to be unbaised. The exception, perhaps is O'Reilly, who claims the "no spin zone" line. But even he is clear that what he does is mainly "opinion."
Furthermore, as I'll explain later, Beck, Limbaugh, et. al., are far better informed (if not always more articulate) than, say, Olbermann, Stewart, and Colbert. There is no true equivalence between the entertainment-commentariat of the Right and that of the Left.
As for the news arm of Fox News, just about every time I see it, two people who passionately disagree are trying to talk or yell over each other. Doesn't look to me like a place where viewers are never exposed to alternative views.
Context
What Trueman seems to miss in the chapter is the historical-ideological context for what guys like Beck, Limbaugh, et. al. are yelling (often literally) about. Two very different sets of views about human nature, human society and the role of government began to battle for dominance in the 18th century. Weighed on the scale of biblical principles these two sets of views are not even close to equal.
Furthermore, it is nontrivial that when our country was founded, the thought that dominated was not the set of beliefs from which any flavor of socialism is a descendent. To say it another way, the USA was established by people who consciously rejected the ideas that are foundational to the Left and the kinds of socialism that eventually grew on that tree.
The consequence is that, for all their regrettable shallowness and sloppiness, the media voices of the Right are far closer to the truth than they may seem, and the subject matter is far less neutral than it may seem. What Limbaugh, Beck, et. al. understand is that movement toward the Left is movement away from who we are as a nation and movement toward socialism travel down a completely different highway than the one we set out on in 1789.
If Trueman were to take the historical-ideological factor into account, he'd be less critical of the voices on the Right and also less eager to advocate something like a 50-50 exposure to the thought of the Left. There really isn't much virtue in revisiting settled questions.
[node:bio/aaron-blumer body]
7262 reads