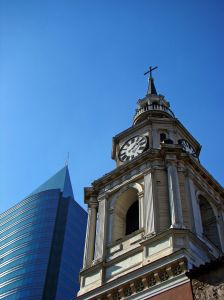 Read Part 1.
Cultural accommodation is a genuine danger in planting churches. However, a real problem is the one-sided perspective that many have of accommodation. Usually the accommodation is seen rightly (Rom. 12:2) but narrowly only toward the world, caving in to worldly culture in dress, music, and questionable practices and associations. Frequently forgotten is the cultural accommodation toward Christians, generally well-meaning but misguided, who have a truncated view of the Christian life and seek to impose discipleship as they've known and experienced it as normative for all believers. Thus, there are twin dangers of cultural accommodation: 1) Accommodating or catering to the unchurched in designing worship from a seeker-driven mentality; 2) Accommodating or catering to the churched who come to the new church plant with their preferences paraded mistakenly for biblical convictions.
A recent article on urban church planting elicited mixed responses for which I'm mostly glad. I appreciate it when others point out weaknesses or would like more clarification. Since I'm not a blogger I don't have a cadre of lapdogs to pat me on the back and cheer me on as seems to be the case with select blogs. A few people, in reading between the lines, may have understood my encouraging the removal of barriers to the gospel in thinking that doing so would allow people to more easily accept the gospel message. I'm all for getting rid of unnecessary barriers which prevent people from hearing the gospel. But there was no suggestion that getting rid of pews, ties, and changing the music will bring more people to Christ.
Nonetheless, I must maintain that I have no problem with an established church which desires biblical transformation or new churches started with a different model. Pew or chairs; Sunday best , business casual or jeans; morning and evening service or morning only; small groups or Wednesday evening prayer meeting—you may find biblical allowance, but you will not find biblical warrant for all your choices. What slightly amazes me is that many seem to care so much about churches where they have no voice of influence, only criticism.
In the previous article I asked two questions: "Whom are you trying to please?" and "Whom do you want to reach?" I was purposely vague about providing definitive answers to those questions (as if I really have them anyway). I can only answer those questions for myself, not for others. The point was that in pleasing God and reaching the lost you may upset some believers who probably shouldn't care so much about what you do in your church. My point at that juncture was to sow seed so that church planters can come to their own conclusions. For that I offer no apology.
Actually I think churches with longstanding traditions should tread carefully and lay a clear biblical foundation for needed change. If that foundation isn't laid or can't be laid, then whether, and what change should be pursued has to be re-examined. Without needed renewal some churches might die, but it won't do to simply chase the latest fad. In church planting it's less a question of change than it is of determining the right course from the beginning in questions of pews, dress, music and similar issues. There is not the same importance accorded to these things as there is in churches with established practice.
The church where I am a pastor would be considered traditional in many respects. Sunday morning you'll normally find me in a suit and tie and singing hymns in a pew. Yet we are finding ways to incorporate the best of more recently written music with classic hymns. I don't consider myself anti-traditional and recognize elements of continuity with historic Christianity. Neither do I consider myself trendy and avant-garde in jumping on the latest church growth bandwagon. But I will oppose investing tradition with biblical authority and will continue to look to Scripture to correct and refresh my view and practices.
In the aftermath of the above-referenced article, the editor of SI rightly pointed out in a comment that "it doesn't follow that we should be stupid and insist on customs that are clearly just our own preferences. But these are far more often issues that matter to believers rather than unbelievers." Exactly! Most unbelievers don't care what Bible version your church plant uses, what preferences leadership might hold concerning dress standards, or what musical philosophy you hold—at least not at the outset. The greater problem in planting a new church is what Christians expect to find in the new church – their favorite Bible version, their opinions on what music God listens to, and their lists of do's and don'ts are deemed emblems of true spirituality.
Concerning the first danger mentioned above—of accommodating the unchurched—there is biblical warrant for having worship done in such a way that unbelievers come under conviction and "worship God and declare that God is really among you" (I Cor. 14:25). That does not mean that you entertain them in a show atmosphere or dilute the gospel to make it more palatable with "plausible words of wisdom" (I Cor. 2:4). It does mean that you need to engage them with the truth in a comprehensible way. If we use incomprehensible words in our witness to unbelievers with the lame reasoning that the Holy Spirit will enlighten them, we abdicate our responsibility to "make it clear, which is how [we] ought to speak" (Col. 4:4). Further,
We have to wrestle with the reasons why people reject the gospel, and in particular give due weight to the cultural factors. Some people reject the gospel not because they perceive it to be false, but because they perceive it to be alien. (Stott 1999, 24)
We cannot do the Spirit's work of bringing conviction. We can do the "work of an evangelist" and speak simply, clearly and compassionately the words of life. In other words, let the gospel offend but don't excuse your personal offensiveness by saying you're "only preaching the Bible." Surely the natural man doesn't receive the things of the Spirit of God (I Cor. 2:14). That's no reason for a lack of courtesy, attentiveness, humility, and civility in speaking the light into darkness.
Concerning the second danger mentioned above—of accommodating the churched—there is biblical warrant for believers to be like-minded (Phil. 2:2; I Peter 3:8). It's interesting to me that these texts which enjoin like-mindedness among believers also call respectively for "having the same love" and "brotherly love." How rarely we find these today in issue-driven churches! These virtues do not entail unanimity in all that we believe to be important for the Christian life. Whether we admit it or not, we are all influenced by our backgrounds, education, discipleship environments and mentors, causing us to emphasize some issues out of proportion to their scriptural importance or biblical clarity. Of course there are some who are right on all issues, who claim the final word on disputed matters and continue to pass judgment on other believers, notwithstanding the apostolic prohibition (Rom. 14:13).
Part of my observation in the earlier article mentioned dress, music, and versions. Their mention was not meant as a criticism of those who choose differently than I in those areas. Although I have no problem with those who would make different choices in these areas, I resist vigorously any attempt to have someone speak for me in a once-for-all fashion as if they have the one right position. And tragically these issues have become fodder for endless disputations particularly by those who, whether from naïve realism or under the spell of influential gurus, have exalted their preferences to a level of scriptural certainty. They proclaim that those who disagree are disobedient to Scripture, preach another gospel, or are possibly apostates.
So, in planting a new church, here's what, by God's grace, we as leaders would do when facing the dangers of accommodating culture, whether it be contemporary culture or preferential, Christianized culture which vaunts itself as the only true expressions and representation of biblical Christianity.
Concerning the unchurched, we will boldly and uncompromisingly preach the gospel of salvation by grace in Christ alone. Yet, "we need to be reminded that this gospel is not simply an evangelism plan; it is a message of how the good news of God's provisions affects our whole lives every day" (Chapell 2009, 100). With that in mind, we will not require that new believers submit to a list of regulations—"Do not handle, Do not taste, Do not touch" (Col. 2:21)—to achieve spiritual maturity. We are confident in the power of the Word and Spirit to bring authentic transformation rather than superficial conformity in the lives of his people. We want God to produce followers of Christ, not imitators of men.
Concerning the churched, we welcome them to journey with us in discovering more about grace. Come, we say, let us worship the Lord in the beauty of holiness. Come with your KJV, ESV, NASB or NIV but if you need to prove to everyone that you have determined which translation is best for everyone else, then you might be ill at ease among us with our tainted translations.
Come with your suits and ties, wing-tipped shoes, skirts and frilly dresses, slacks or Dockers, jeans, pullovers, and sandals. But if you have an impulse to establish the proper dress code, beard and hair lengths, so worship is acceptable to God then you won't be happy with the way we look.
Come with your preferences for classical hymns, gospel choruses, contemporary praise songs, ethnic flavors, and we will incorporate from these that which we believe is fitting to honor the majesty and glory of our God and Savior. Say "Amen," clap your hands, lift your hands in worship or remain silent and meditative. But if you have to always agree with musical choices and modes of expression and have an agenda to correct faulty worship then it might be best to start your own church.
Come with your convictions and precisions of the timing and interpretation of end-time events. But leave your charts at home. Let us look together for the coming of Christ and his eternal kingdom without being blinded by speculative details.
Come with your questions and opinions on Calvinism and Arminianism but leave a dogmatic, argumentative, crusading spirit at the door. We believe in sovereign grace and amazing grace. We don't magnify one without the other. We don't fully comprehend either or claim a divine perspective. We preach "whosoever will may come," marvel that God has saved us, and rejoice over every person saved by grace.
In our attempt to be faithful followers of Jesus Christ, we seek neither accommodation to the world nor accommodation to cultural expressions of Christianity. We embrace truth, yet have no illusion that we and we alone have grasped it fully. Still we submit to that truth to shape the church which Christ builds.
Works Cited
Chapell, Bryan. Christ-Centered Worship: Letting the Gospel Shape Our Practice. Grand Rapids. Baker Academic, 2009.
Stott, John R. W. "The Bible in World Evangelization." In Perspectives on the World Christian Movement: A Reader, ed. Ralph D. Winter and Steve C. Hawthorne, 21-33. Pasadena, Cal: William Carey Library, 1999.
---
Dr. Stephen M. Davis is associate pastor and director of missions at Calvary Baptist Church (Lansdale, PA) and adjunct professor at Calvary Baptist Theological Seminary (Lansdale, PA). He holds a B.A from Bob Jones University, an M.A. in Theological Studies from Reformed Theological Seminary (Orlando, FL), an M.Div. from Calvary Baptist Theological Seminary (Lansdale, PA), and a D.Min. in Missiology from Trinity Evangelical Divinity School (Deerfield, IL). Steve has been a church planter in Philadelphia, France, and Romania. He and his wife Kathy recently moved back to Philadelphia to plant Grace Church with his brother John and his wife Dawn and three other couples. Steve's views do not necessarily represent the position of Calvary Baptist Ministries.
5600 reads