Fomenting a Missional Revolution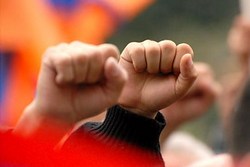 A college president recently opened a can of worms in speaking of changing music on a "missional level." I'm not sure what he meant by that, but "missional" is not going away. It is not easily toppled as some critics have imagined. I have read articles and heard sermons on "missional" which left me puzzled and convinced that many opponents have never been involved with a heterogeneous church or engaged in extensive cross-cultural ministry.
Much time is spent in libraries doing research to find something to use against something disliked. This is especially true when one starts from the perspective that "missional" is bad and needs to be exposed and avoided. The critics then cite sources and employ the worst representatives and distortions to prove their point. For some, "missional" sounds too new age or emergent or associated with the compromise of the social gospel. Surely there is something in "missional" for everyone to dislike, and aberrations can easily be found.
What I hope to accomplish in this brief article is a simple reflection on the validity of churches and Christians adopting a missional stance regarding those who are outside the church and who are in desperate need of an encounter with followers of Jesus Christ. Many churches are mission-minded. They love missions. They support missionaries. They even allow missionaries to plant churches that reflect the culture and community in which missionaries live. Yet often they themselves remain locked in a cultural time-warp, fight battles that were won or lost long ago, debate issues that matter little or matter only to them and their regional or relational sub-culture, and ignore the enormous changes in our society and the challenges we face in reaching people for Christ with the gospel. Disagree if you must with missional churches, but do something to get out of the religious ghetto where you have lost contact with the world and get out of your office occasionally to be on mission rather than on management.
I am not surprised that missional movements have become the whipping post for those who are experts on just about everything. I am surprised that after stating their distaste and opposition, they won't let it go but will beat what for them is a dead horse.
To understand what it means to be missional, we must distinguish among different phases in our collective history. Many still remember the days when Christian churches were dominant in North America, at the center of society so to speak, places of influence, and when the majority of people to whom the church spoke had elements of a Christian worldview. People of other faiths were known mostly at a distance. Other religions were less visible. We often refer to this as Christendom—where people often spoke, rightly or wrongly, of a Christian nation. Times have changed. We now live in another phase, in another place occupied by competing worldviews. Christianity now competes with other faiths for a place in our society. If Christianity was one time at the center of society, it now occupies the fringes and has been marginalized. Immigration has changed our demographics. The people we meet every day are less biblically aware and have had little exposure to what it means to be truly Christian. They have not been raised in a Christian environment, and Christianity is simply one way among many. Although we possess the changeless gospel to confront a changing world, there is little contact with the culture at large, and preaching the gospel comes to mean Sunday morning sermons for the faithful.
Christians themselves must bear at least some of the responsibility for the present situation. Many churches fled the cities over the last few decades to find suburban refuge. In leaving the cities they left places of influence. Many of the decisions and direction of our society take place in cities where we find institutions of higher learning and government which influence culture through ideas and through legislation. As churches fled cities, Christian influence waned as believers retreated from dark places in need of a gospel witness. Churches built large and impressive suburban ministries. These ministries were fed by a steady stream of Christians moving into the suburbs. Many churches grew by adding displaced Christians, and most evangelism was done by bringing in evangelists for special meetings or by impersonal confrontation. Churches started Christian schools to protect their children from the ungodly influences in public schools. The Christian Right became an ally of political parties and many churches all-too-quickly jumped on political bandwagons which further estranged them from the poor, the oppressed, and the downtrodden. Christians who left cities to avoid the ghettos created their own ghettoized form of rabbit-hole Christianity.
Separatism became the hallmark of many churches, which created an enclave mentality, cutting off believers from contact with outsiders. Lists of regulations were established analogous to what we find in Colossians—"Do not handle. Do not taste. Do not touch" (2:21). Churches which were not supposed to be "of the world" were no longer truly "in the world." Christian sub-cultures were created which in the end removed salt and light from society. Churches became havens of rest for Christians alienated from their communities and relatively untroubled by the turmoil of life outside. The building became the church and the center of activity while the people of God grew comfortable and passive in the institutions that now existed primarily for the benefit of those who were already believers. These churches, to their credit, often gave heavily to foreign missions and were known as mission-minded churches. But "mission became only one of the many programs of the church" (Darrell L. Guder, Missional Church: A Vision for the Sending of the Church in North America, Eerdmans, 1998, p. 6). Churches saw themselves as sending churches rather than seeing the church as sent into the world.
The present decline of Christian influence and a fortress mentality cannot be reversed overnight. There is no utopian redemption for our cities. There is no reversal for the moral decay and corruption of our society apart from divine intervention. Yet there is redemption and transformation of lives through the gospel of Jesus Christ. This is what it means to be missional! There is hope for the hopeless, help for the helpless. Believers can be salt and light in government, in institutions of higher learning, in public schools, and in community organizations. God's answer for the sins and ills of our society is the glorious gospel of grace. Churches know this but without contact with the world, without returning to the dense and diverse populations of our cities, there is little reason to hope for substantive change.
Christians, churches, and para-church organizations can continue to make resolutions which are mostly defensive in nature, often out-of-touch with reality, and filled with Christian jargon or they can commit to a missional engagement as the sent people of God in taking the gospel to those presently outside our reach. They can continue to fear contamination by association with outsiders or begin to build redemptive relationships with outsiders. They can continue to make extra-biblical lists of how faithful Christians should look, act, and dress or they can humbly depend on the Holy Spirit to transform lives and change practices. They can continue to avoid addressing social injustice or they can raise a prophetic voice against evil in its variegated forms and seek to alleviate human suffering as a legitimate implication of transformative gospel ministry. They can continue to fight among themselves for the inconsequential and irresolvable or they can turn their weapons of warfare to pull down enemy strongholds. They can continue to use their resources mostly to sustain their institutions and maintain the status quo or they can invest in planting new churches in cities enveloped in darkness. They can continue to invent new applications of unbiblical separation from brothers in Christ or pursue gospel-centered biblical unity. They can continue to argue over who should speak where or they can graciously disagree and let churches and schools follow the Lord's leading.
Many churches will not be able to make the transition from being merely mission-minded, that is, caring about missions, to becoming radically missional. Thankfully, in spite of not being able to cross over, God in His good pleasure will deign to use them in His own way for His glory. Sadly, some of these churches will continue their decline as they remain unable or unwilling to engage the new realities of our day; some will continue to receive a stream or trickle of new members who were Christianized elsewhere and added to membership rolls; hopefully some might invest in planting churches, particularly in urban areas, which remain faithful to Scripture and effective in blending cross-cultural ministry and counter-cultural living.
We are living in unusual and challenging times in uncharted territory. Do we remain faithful, few, and fixed in place, or do we faithfully go to Jesus who stands outside the camp (Heb. 13:13)? We may be safe behind the walls we construct but need to peer over the edges and see where Jesus is, with the outsiders, and join Him there. It's time to look around and see that Jesus has left the room. He is outside many movements and ministries which serve mostly as a fortress against the world. It is time to leave the artificial safety of the fortress and encounter the world with the good news of God's expansive grace.