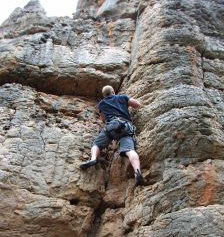 Christians agree that those who come to Christ in faith and repentance are supposed to behave differently thereafter. We also agree that God's plan for every believer is to remake him or her in the likeness of Christ. Most also understand that this is a process that continues throughout this earthly life and culminates when "we shall be like Him," seeing Him "as He is" (NKJV, ). It is God's great gospel purpose to graciously change sinners into saints.
But what responsibilities do believers have in that plan? What attitudes should dominate our thinking? How does grace relate to effort and struggle?
Some insist that "effort" has no role at all. Beyond preaching the gospel to ourselves, struggle and striving are incompatible with grace and draw our attention away from the gospel and from Christ. Others concede (with evident reluctance) that effort is required, but quickly emphasize tension in the opposite direction. To them, believers are in constant danger of lapsing into "performance based" thinking or, worse yet, "trying harder."
Both of these views tend to favor language and emphases that are out of sync with the simplicity of the New Testament teaching regarding sanctification. What we find in the NT is that properly understood, "trying harder" (i.e., discipline, hard work, and old fashioned effort) is a vital part of God's design for the remaking of His saints.
1. The NT puts a strong emphasis on trying harder.
Though it's true that Jesus presented His lordship as an easy yoke and a light burden (), He also encouraged people to view following Him as a costly and demanding way of life. He warns listeners that those who follow Him must accept the prospect of homelessness () and alienation from family members (). He insists that the life of the Christ-follower involves renouncing all one has (). He demands that disciples hand over their very lives (, ).
How such a life constitutes an easy yoke and a light burden is a question for another study, but this much is clear: Jesus did not intend for His disciples to cherish any delusions that they would be spared from having to do hard things. He said the "way" is "difficult" (ESV, ).
The apostles make the same point, but with a slightly different nuance. Without downplaying the personal cost of following Christ, they place greater emphasis on the personal effort involved. The following is a sample.
"strive together with me in your prayers" ()
"that…you may abound in every good work" ()
"strive to excel in building up the church" ()
"your labor is not in vain" ()
"Let your manner of life be worthy…striving side by side for the faith" ()
"do so more and more" ()
"To this end we toil and strive because we have our hope set on the living God" ()
"Remind them…to be obedient, to be ready for every good work" ()
"Strive for…the holiness without which no one will see the Lord." ()
What this small sample shows is that the NT calls us over and over to exert ourselves. It's a constant refrain with occasional full orchestra bursts, such as these:
"I discipline my body and keep it under control" ()
"I press on toward the goal" ()
"let us cleanse ourselves…perfecting holiness" ()
"self-controlled, upright, holy and disciplined" ()
"train yourself for godliness" ()
"add to your faith virtue…knowledge…self-control…perseverance" ()
"In your struggle against sin you have not yet resisted to the point of shedding your blood." ()
Whatever pitfalls may be involved in teaching believers that they should "try harder"—and there are some—the fact remains that the NT reveals no concern at all that believers might put too much effort into their pursuit of godliness.
2. "Reckoning" and "yielding" are forms of trying harder.
Let-go-let-God advocates (whether of Keswick or Reformed roots) tend to introduce unhelpful complexity into Romans 6, often using language that suggests passivity. But the argument of the passage is not difficult, and Paul is clearly calling on his audience, and on us, to do something. "Consider" (AV, "reckon") in is an imperative, as is "yield" in 6:13 and 19b. The "know" references in the text are indicative, but our response is consistently imperative. We are commanded to act.
Every little boy who has ever sat still when he wanted to wiggle knows that yielding often requires "trying really hard." It's putting down what we want and instead choosing what another wants. Yielding is not fundamentally different from the putting off and putting on imperatives of .
3. Properly teaching "try harder" emphasizes the gospel and humbles us.
One argument goes that calling on believers to exert themselves increasingly in the pursuit of godliness de-emphasizes the gospel, fuels pride, breeds legalism, and robs the Christian life of the joy we're intended to have in Christ.
But this cannot be the case. Though believers' personal discipline can indeed go horribly wrong (e.g., , and most of Galatians) the problem cannot lie simply in calls to "try harder." Two lines of evidence support this analysis.
First, appeals to work harder cannot be inherently anti-gospel and pro-pride because, as the passages above demonstrate, these calls to exert ourselves are the norm in the NT. Second, appeals to try harder cannot be anti-gospel because the gospel itself is repeatedly cited as the very reason for trying harder.
Because we "know" we must "yield" ().
Because God works in us, we must "work out our salvation" ().
Because God has provided, in Christ, all we need, we are to "make every effort to supplement [our] faith" ().
Because we have been saved "by grace…through faith," we "should walk" in the "good works" God prepared for us ().
Following Paul's example, we should be "struggling" because of "[Christ's] energy" that "powerfully works within" us ().
When we live the Christian dynamic, we pursue the imperatives in light of the indicatives, but we do not minimize the imperatives. In other words, we work hard and then harder, because we understand that we have been bought with a price for the very purpose of becoming holy and have been richly blessed with Spirit-fueled ability to do that very thing.
Properly understood and pursued, "trying harder" humbles us because we know every success is really a gift. Put in its proper context, "try harder" exalts the gospel because we are honoring it—and the Savior who is at its center—by making use of what He bought for us and has already done in us.
My parents once gave me a cordless drill for Christmas. In the days that followed I had some options. I could sit and admire the gift and feel genuine appreciation for the givers and their thoughtfulness and love. I could get to work using the gift and forget all about the heart behind it. Or I could admire the gift, appreciate the givers and also get to work. Which of these options honors both gift and givers most?
It is possible to "try harder" on a small number of superficial spiritual metrics and not really grow much. It's also possible to "try harder" more comprehensively but do so with little reflection or awareness of why we're trying, and Who rightly owns the credit for every successful step we take. But the solution to these errors is not to swing to the other extreme and proclaim a confusing, passivity-tinged version of the pursuit of holiness. The solution is to fully grasp the beauty of the gospel and the Savior and therefore try harder.
---
Aaron Blumer, SharperIron's second publisher, is a Michigan native and graduate of Bob Jones University (Greenville, SC) and Central Baptist Theological Seminary (Plymouth, MN). He and his family live in a small town in western Wisconsin, not far from where he pastored Grace Baptist Church for thirteen years. He is employed in customer service for UnitedHealth Group and teaches high school rhetoric (and sometimes logic and government) at Baldwin Christian School.
1275 reads
16195 reads