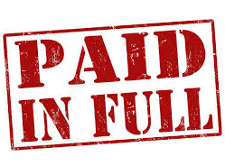 For time's sake, I want to skim a few verses through the next chapters to help us grasp a fuller description of the gospel message. Drop your eyes down into chapter two for a moment. Do you see the first three verses? They make the argument:
The Gospel is a message that shows "living by conscience" won't fix my sin problem.
We've all heard it. "I do the best I can. I hope God will see that I was a good man." Look at what Paul wrote:
You, therefore, have no excuse, you who pass judgment on someone else, for at whatever point you judge another, you are condemning yourself, because you who pass judgment do the same things. Now we know that God's judgment against those who do such things is based on truth. So when you, a mere human being, pass judgment on them and yet do the same things, do you think you will escape God's judgment? (Romans 2:1-3)
The Bible writer makes the awkward point that we aren't very reliable judges of what is good and right. We have a standard for others that is often much different than the standard we have for ourselves. God judges based on Absolute Truth. He knows when I lie, when I cheat, when I steal, when I allow hate and prejudice to burn within. He sees me as a liar, a cheater, a thief and a (using Jesus' standard for murder in my heart) killer. I am those things. I may try to be good, but I cannot be righteous. I don't have the ability to "get my heart together" in a way that will please God. I just can't.
If I took the time to describe each line, it would be clear that the gospel isn't about God looking past my sin—but looking directly at it.
The Gospel is a message that shows God doesn't ignore my sin
Even when God doesn't strike me down, it doesn't mean He is happy with my life. Paul wrote:
Or do you show contempt for the riches of his kindness, forbearance and patience, not realizing that God's kindness is intended to lead you to repentance? But because of your stubbornness and your unrepentant heart, you are storing up wrath against yourself for the day of God's wrath, when his righteous judgment will be revealed (Romans 2:4-5).
In simple terms, the bill for sin will one day be due for all of us. God kindly puts off punishment to call us to see His love, but there is a day when that will run out.
Don't be deceived into thinking that this whole scenario doesn't apply to you, because of who you are.
The Gospel is a message that doesn't play favorites based on pedigree
For God does not show favoritism. All who sin apart from the law will also perish apart from the law, and all who sin under the law will be judged by the law (Romans 2:11-12).
Don't try to claim you didn't know you weren't following God, and that you have been living for yourself. You DO know. You know right now, right where you are sitting if you are surrendered to God or living for yourself. No one else may know, but YOU do.
Even if you have kept your decisions secret, you should read a few verses down: This will take place on the day when God judges people's secrets through Jesus Christ, as my gospel declares (Romans 2:16).
Don't squirm, everyone in the room is either in this position, or we were at one time. That is the simple truth. You aren't the only one who has ever felt God's conviction. In fact, Paul made clear that is the reason for the gospel.
The Gospel is a message that reveals exactly who we are and what we need
Romans 3 shared the clear and plain truth:
As it is written: "There is no one righteous, not even one; there is no one who understands; there is no one who seeks God (Romans 3:10-11).
We don't walk right, because our heart is our own. That is true because of something even deeper shared a few verses below:
There is no fear of God before their eyes (Romans 3:18).
In our heart, we don't really fear God. We think we can negotiate with Him when the time comes. We believe that IF He is there, He will see that we aren't all that bad.
Here is the problem. Suppose for a moment you were the Creator of a universe, and your creation became stubborn and mutinied against you. They decided to live according to their own standards. Then suppose, out of love, you parted with your only son—and allowed Him to be beaten and broken to pay for their rebellion. Would you be open to that creation simply dismissing your gift and seeking to bring other accomplishments and works to you, all the while snubbing Your openly stated plan? Wouldn't allowing YOU to make the terms keep YOU in control of the relationship, thereby setting aside the true place of the Creator?
Keep reading, because the gospel is good news. There is a solution to the sin problem. The gulf between God and man now has a bridge that spans the cleavage:
Therefore no one will be declared righteous in God's sight by the works of the law; rather, through the law we become conscious of our sin. 21 But now apart from the law the righteousness of God has been made known, to which the Law and the Prophets testify. This righteousness is given through faith in Jesus Christ to all who believe. There is no difference between Jew and Gentile, for all have sinned and fall short of the glory of God, and all are justified freely by his grace through the redemption that came by Christ Jesus (Rom. 3:20-24).
Drop your eyes further down in the next chapter to Romans 4:24:
[They were written]…also for us, to whom God will credit righteousness—for us who believe in him who raised Jesus our Lord from the dead. He was delivered over to death for our sins and was raised to life for our justification (Rom. 4:24-25).
There it is! Jesus died to pay for your sins. Jesus was raised because God accepted the payment. Let's be clear about what the content of the gospel message truly is:
The Definition of the Gospel
First, when we believe what God has said concerning our lost state, and His acceptance of Jesus' payment on our behalf—God fully accepts that. Romans 5:1-2—"Therefore, since we have been justified through faith, we have peace with God through our Lord Jesus Christ, through whom we have gained access by faith into this grace in which we now stand. And we boast in the hope of the glory of God."
Second, even if others don't accept us and our message, we know God has accepted us. Romans 5:3-5—"Not only so, but we also glory in our sufferings, because we know that suffering produces perseverance; perseverance, character; and character, hope. And hope does not put us to shame."
One writer said it this way:
Jesus was never interested in having fans. When he defines what kind of relationship he wants, "Enthusiastic Admirer" isn't an option. My concern is that many of our churches in America have gone from being sanctuaries to becoming stadiums. And every week all the fans come to the stadium where they cheer for Jesus but have no interest in truly following Him. The biggest threat to the church today is fans who call themselves Christians but aren't actually interested in following Christ. They want to be close enough to Jesus to get all the benefits, but not so close that it requires anything from them. (Kyle Idleman "Not a Fan," 25)
Third, we not only have eternal salvation, but God in our life now! Romans 5:3b—"because God's love has been poured out into our hearts through the Holy Spirit, who has been given to us."
Fourth, and this is essential to remember, we never got salvation because we were good, but because God provided it and we responded to His gift!
You see, at just the right time, when we were still powerless, Christ died for the ungodly. Very rarely will anyone die for a righteous person, though for a good person someone might possibly dare to die. But God demonstrates his own love for us in this: While we were still sinners, Christ died for us. Since we have now been justified by his blood, how much more shall we be saved from God's wrath through him! (Romans 5:6-9)
On August 30, 2005, Coast Guard Lieutenant Iain McConnell was ordered to fly his H46 helicopter to New Orleans and to keep that machine flying around the clock for what would turn out to be a heroic rescue effort. None of his crew were prepared for what they were about to see. They were ahead of every news crew in the nation. The entire city of New Orleans was under water. On their first three missions that day they saved 89 people, three dogs and two cats. On the fourth mission, despite twelve different flights to New Orleans, he and his crew were able to save no one. None! They all refused to board the helicopter. Instead they told the Coast Guard to bring them food and water. Yet they were warned that this extremely dangerous. The waters were not going to go away soon. Sadly, many of those people perished because of their refusal to be rescued. In our gospel lesson today we come face to face with the Son of God and with the greatest rescue effort of all time (Sermon Central archives, sermon by Michael P. Walther, Blessed is He Who Comes in the Name of the Lord, 5/25/2011).
In Jesus' death, the work of payment was finished. In the resurrection, the notice became public: It is done. I have accepted it! There is no better message than the one that shows all the debt has been satisfied!
Dear Ones, you must know this: If Christ has not risen, leave your church. Don't go back. They have been telling lies to the world for generations—it is all a farce. If Christ is not risen, we have no way to know if the death of Christ was enough, for God did not place His stamp of approval on the deal. If Christ is not risen, put down your New Testament. It is not a good book, but a tale of cleverly devised myths. Death awaits us all, and the message of Jesus cannot help us—for our source is so deeply flawed as to lie about its central story.
But He was risen as He said. Angels proclaimed it to the women at the tomb. He was risen—twelve times He appeared to people—at one five hundred in the same place! He was risen, and His power was revealed and God's satisfaction with His death was made clear.
A mere stone could not hold back the One Who made millions of planets.
A mere inactive heart could not resist the order to beat again from He who formed man from the dust of the ground.
Christ is risen. Christ is risen indeed!
---
Dr. Randall Smith is Teaching Pastor at Grace Church of Sebring, Florida; Director at Global Vision Outreach, Inc.; and a teacher at Great Commission Bible Institute. He bogs regularly at The Wandering Shepherd.
995 reads
1831 reads