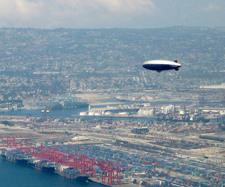 The massive dome at the Cathedral of St. Peter in Rome rises nearly four hundred fifty feet in the air, with its interior is nearly one hundred forty feet wide. It is the highest dome you will ever see, but not the largest one. The dome of the Pantheon built in the second century is a few feet wider and Brunelleschi's massive dome on the Duomo in Florence is a few feet wider still.
To me, what is striking about the dome found in St. Peter's is that you can make out, if you look ever so closely, the shape of people walking around the catwalk who dared to take the elevator up to the dome for what I am told is a fantastic view of Rome. They look like tiny specks and perhaps ants, but they are people at a great distance above your head if you are within the massive church. Those who know me well, know that I enjoy watching from below, because—though some would call me afraid of heights—I like to believe I merely have a "more healthy respect for gravity." 
What I can easily imagine is that the view from above is a different view.
Just as in a parade, we generally see only the float in front of us and perhaps the one behind (as well as the crowd gathered on the side of the street), but we cannot see clearly the turns in the road ahead. From beside the parade, we could see each float as it passes by us, and we may even be able to glimpse at coming floats and anticipate what may appear next. Yet, from above the parade, let's say from the perspective of a blimp, we could see the end the parade from the beginning to the end. The whole parade may be observed at one time! That view would be far more informed than any other!
Now, life isn't merely a parade, and human history is not simply a series of floats wafting by a group of admiring spectators—but there is a point to this illustration. The Bible makes clear that from God's lofty perspective, human history appears much differently than it does to us as we pass through life. He both observed and designed the end from the beginning in the text and He alone sees it all from His perspective.
Let's say it this way: God knows what He intends for us, as well as what He expects from those of us who claim to follow Him. He has graciously taken the time to share with us some small pieces of His plan through His word. For that reason we want to take a few moments and look at what He says about the lives of believers and His expectation of us. In Romans 12, Paul appeared to cite five specific expectations of God for each person who calls themselves a follower of Jesus. Let's first be clear.
Key Principle: God knows what He wants from me, and He took the time to explain it.
Like the pervasive road signs designed to tell us when to stop and how fast is "too fast" on the road—God's Word gives us what the Engineer planned for the road of life.
Before I continue, let me stop here and say something that may help you concentrate. All week long you may feel people place expectations on you. It may not be fun to come into church and hear that God also has a set of expectations. The popular message of today is all about benefits—not about responsibilities. You may want to simply let me blather on and you will politely listen and then go on about your life. I am asking you to stay engaged. Don't turn off. Why? Because our greatest privilege in this life is to walk with our Creator and fulfill His designs for us. It isn't heavy unless we resist Him and ignore the Engineer's road signs, and that never leads anyplace but to pain.
Let's boldly ask the question: What does God want from my life?
The five expectations of our passage begin with God's right to inspect our life.
Expectation One: "Right to Inspect"—God Has What He Called a "Reasonable Expectation" of My Total Surrender to His Direction.
Therefore I urge you, brethren, by the mercies of God, to present your bodies a living and holy sacrifice, acceptable to God, [which is] your spiritual service of worship. (Rom. 12:1)
Note Romans 12:1 began with a simple word: "Therefore." The connective term links what Paul wrote after to what he expressed before that word. There are two senses for this connection—a big one and a small one.
The big one
The letter has explained the big plan of God—moving from lost men (1:1­3:20) to God's incredible gift—declaring sinner that trust the sacrificial work of Jesus as righteous (3:21­5:21). Astoundingly, God did not stop there. He went on to take those He declared righteous and empower them to be free from slavery to sin (6) and the arduous constraints of a singular legal set of contracts (7)—to be energized through the very indwelling of His Holy Spirit (8). He took pains to describe how God would continue His faithful and eternal love for the Jewish people who for a time were blindly acting in opposition to their own Promised Son (9­11). This was a power­packed "therefore." God saved lost men, empowered them, and kept His over­arching plan to one group while embracing another. Everything Paul said after was with that in mind.
The "small" one
Not to minimize the content, but the "therefore" has a more immediate context as well. The immediate context was the few verses that ended chapter 11. Remember this was originally one letter, without the chapter divisions, so the "therefore" flows from the words of an exclamatory prayer:
Oh, the depth of the riches both of the wisdom and knowledge of God! How unsearchable are His judgments and unfathomable His ways! For who has known the mind of the Lord, or who became His counselor? Or who has first given to Him that it might be paid back to him again? For from Him and through Him and to Him are all things. To Him be the glory forever. Amen. (Rom. 11:33–36)
In Romans 11:33­36, Paul was marveling over what God did in putting a judgment of temporary blindness on the eyes of the Jewish people in order to save the nations that Israel did not reach out to, on His way back to opening their eyes. Paul's heart was overtaken by the mastery of it all. Paul was experiencing as he offered eight important truths from a heart of worship:
God's wisdom is deep and rich—He is neither impractical nor outsmarted by the problems of men in their blindness.
God's knowledge is vast—He is not waiting for help to understand the situation.
God's way of judging things are beyond my capability to properly understand—He alone knows how to "do history" the right way.
I can offer nothing to Him in counsel—I stand before a vast God as a man undone by His brilliance. I have no "better way" to do what He does in telling His story to the universe.
He owes me nothing—for all that is belongs to Him "free and clear."
Everything started with Him—He is the origin.
Everything is held together through Him—He is the purpose and connecting tissue.
Everything consummates in Him—He holds the destiny of everything.
---
Dr. Randall Smith is Teaching Pastor at Grace Church of Sebring, Florida; Director at Global Vision Outreach, Inc.; and a teacher at Great Commission Bible Institute. He bogs regularly at The Wandering Shepherd.
1817 reads
4083 reads