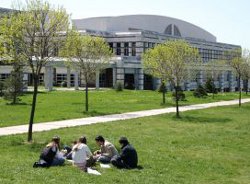 The full length version of this article appears in the November/December issue of Voice magazine.
When we walk into a local grocery store in the U.S., we face an abundance of choices unlike anywhere else in the world. The cereal aisle alone is a great example of how companies strive to offer something for everyone. We see cereals for the health-conscious and sugary cereals with cartoon-filled boxes promising delicious taste, unique shapes and hidden toy prizes. We see cereals for those who like fruit, for those who like sweetness, for those who need fiber, and for those who just like their breakfast plain and simple.
American churches have also adopted this trend of specialization. Almost all churches strive to have something for everyone. Babies and infants have a nursery. Toddlers and preschoolers have their own class. Many churches offer Children's Church for grade-school kids. And youth ministries have been developed to meet the needs of adolescents as they progress through junior high and high school. Many churches also offer adult women's and men's ministries and classes for married couples and senior saints.
But this church structure has flaws.
The gap for singles
A gap exists in this common ministry structure—one that poses a danger to the future of many churches. Churches provide ministry for children and young people from birth through high school, and beyond that age, adult ministries usually range from young married's classes through ministries to the elderly members.
This structure would be perfect for young people who get married right out of high school; they can transition from the youth group to the young marrieds group. But what about the vast majority of high school graduates who move on to college or enter the workforce and remain single?
I have come to the conclusion that if a church lacks ministry to college-age young people, it is risking its future.
Five years ago, George Barna published "Most Twentysomethings Put Christianity on the Shelf Following Spiritually Active Teen Years." The article revealed a number of alarming trends:
Only 20% of twenty-somethings maintained the level of spiritual activity consistent with their high school years.
61% of twenty-somethings had been churched during their teen years but were later "spiritually disengaged (i.e., not actively attending church, reading the Bible, or praying)."
Only 1/3 of twenty-somethings parents took their children to church compared to 40% of parents in their thirties and 50% of parents in their forties.
Granted, a church without a college ministry may be able to stay open for years, but those churches will increasingly find themselves fighting an uphill battle against dwindling membership and diminishing ministry effectiveness, as generations of college students grow older and find their place in the surrounding communities.
Building bridges
The St. Louis Arch is known as the "Gateway to the West." Visitors to the Arch learn of the pioneers who crossed the Mississippi on their way to settle the vast wilderness that lay before them. I am thankful that I no longer have to cross those great rivers in canoes or rafts. It is truly a blessing that those who came before me built bridges to make transportation to the west so much easier.
When teens come to the end of their high school years, they are facing changes that are just as daunting as crossing the Mississippi River was with the technology of the 1800s. Churches need to provide bridges to help these young people better navigate their journeys. So what can we do to build these bridges and fill the gaps in our ministry structures? From my experience, here are a couple key ideas.
1. Recognize who they are and where they are.
Recognizing who these twenty-somethings are goes way beyond appearances. In fact, if we evaluate them based on appearances, we will totally miss great opportunities for ministry and discipleship.
This past June I performed a wedding for a couple who had been involved in our college ministry for about a year. The guy was pretty laid back and often wore an earring and khaki shorts to church. He was also a member of an athletic team that didn't have a very positive spiritual reputation on our local Christian college campus. Yet as I got to know him through college ministry and pre-marital counseling, I was encouraged to see that he was a great guy who is focused on the Lord and is truly a faithful follower of Christ. We need to look past the earring and other externals and recognize the true heart of these students. If our churches can't do that, we have bigger problems than a lack of college students attending on Sundays.
At the same time, Christians who work in college ministry also discover a not-so-positive characteristic of a large segment of this generation—they are often hypocrites.
I was at a conference recently and attended a break-out session on college ministry. About fifty of us packed into a classroom and discussed various aspects of college ministry. The discussion intensified when someone brought up the blatant sin many of these young people allow in their personal lives. Many in this generation find it acceptable to attend worship services on Sunday but live like pagans the rest of the week. Leaders of college ministries must strive to help these young people connect what they say they believe with how they live. (For more on this, see Scot McKnight's article in the July/August edition of Relevant magazine.)
Where they are in life
Recognizing who these young people are requires that we understand where they are in life. The college and post-college years are so formative as young people make spiritual decisions and own or disown their faith. Going to college or getting a first serious job provides an opportunity for independence. Some use that independence to continue to embrace their faith. But others—especially those who have grown up sheltered, and pressured—relish the chance to get out on their own and enjoy their freedom.1
The nature of an individual's upbringing greatly affects which direction he or she goes. If home life was dominated either by excessive rules or excessive permissiveness, that can have costly effects. Legalism often encourages students to rebel when they obtain their freedom. But twenty-somethings from overly permissive homes are prone to try to make their own rules according to whatever they themselves desire. Without a foundation of truth, they have no sense of morality other than the changing whims of our culture.2
It is crucial that our churches recognize who these young people are by seeing past the externals and personally connecting with them to do the hard but necessary work of discipleship. It is also crucial that we understand how vitally important this time is, given the decisions they make and the influences that can affect how they use their freedom.
2. Respond by pursuing relevant, biblical ministry.
Recognizing who they are is half the battle. We need to respond to who they are with ministry methods that speak biblical truth in their language. I cannot overemphasize this group's absolute, essential need for vibrant teaching of God's Word. That must be the foundation!
The twenty-somethings generation gravitates towards two things: music and service. Their musical language is the contemporary worship style, but they do appreciate hymns as well. They just prefer to sing "Jesus Paid It All" with guitars. The fact that they love to serve can be an incredible blessing to a church.
The college-age group at our church has often lacked a large Sunday School because so many of them were serving in children's ministries. This generation's willingness to serve can benefit churches in so many ways, including missions and outreach teams. They are excited about causes and meeting needs.
A plurality of leadership is important to the college ministry. Making people feel welcome, taking prayer requests, and hosting events should not be the sole responsibility of the person who is the primary teacher. Students should take leadership in teaching, organizing, and planning also.
Whatever other leaders are involved, a "Connector Couple" is essential. This couple encourages fellowship, greets people during Sunday School classes or other activities and carries much of the burden for the main leader. During my years as Intern/Director of College and Young Adult Ministries, our ministry grew stagnant until we had a dynamic just-out-of-college couple join our ministry. Having that plurality of leaders is vital.
The leaders must also connect with whatever college campus is near the church. Through Facebook messages, care packages, email, and dinners together, a little effort can go a long way in connecting with college students. If your local college is a non-Christian school, the local Campus Crusade, Youth For Christ, or Fellowship of Christian Athletes representative can help you connect with students who are looking for spiritual support. This generation is craving real discipleship and authentic relationships. The false intimacy that can develop when Facebook and texting are the main methods of communicating creates an opportunity for us to give them real, life-on-life, godly encouragement.3
Responding with relevant and biblical ministry may also mean you try "outside-the-box" ideas. Understand ahead of time that failure happens, ideas flop, and sometimes no one shows up. The more I have interacted with other college ministry leaders, the more I have realized that this is the nature of this kind of ministry. But it is sometimes effective to use methods outside your comfort zone, such as asking questions and promoting discussion in a Bible study rather than lecturing or such as having people text in questions during your sermon.
Change is unavoidable
Accept change as a reality, but try to fill the gap anyway.
Change and turnover is part of the DNA of this age group. They go to school for a few years, get jobs, often move away, and often pursue relationships and get married. The school year itself can create two separate college groups in a church's ministry: those who come for the school year and leave during the summer and those who do the opposite. Accept and anticipate these changes. Every few years, you will have a new group to work with.
Change is a reality but should not scare us or frustrate us to the point that we give up. These young people need personal relationships that will serve as examples of how to live the Christian life. They need guidance and direction. As one leader put it, our college ministries should be like rest stops on the highway, places where young people can stop for a while, rest, refuel and be refreshed before continuing on the busy highway of life. Many of them have lost all sense of direction and are not sure where they are going on this highway. May our churches help them, not to find their own way—but to find His way!
Notes
1 Howe, Neil and William Strauss. Millennials Go to College. Lifecourse Resources. 51-63. This book deals primarily with the Millennial Generation usually identified as those born after 1982 (see p. 19), though many, like Elmore, see an additional generation being born around 1992.
2 A helpful resource on this point and the entire discussion is Chuck Bomar, Worlds Apart: Understanding the Mindset and Values of 18-25 Year Olds. Zondervan. 2011.
[node:bio/leecompson32 body]
2935 reads