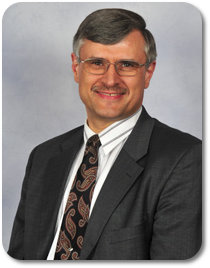 Steven Joseph Stratford, the director for institutional research at Maranatha Baptist Bible College and a pioneer in integrating computers into church ministry, died on Saturday in Watertown, Wis. He was 52.
Dr. Stratford was diagnosed with a brain tumor soon after the start of the fall semester in 2008, leading to a lengthy illness, surgery, and then the "quiet and graceful" exit he prayed for, surrounded by family who sang to him on the way Home.
"Let me state without a moment's hesitation that having a brain tumor is not a good thing," Steve wrote on his blog last October. "Brain tumors are ugly and nasty and virulent, and they kill people. They rank up there with guns and pit vipers. Sorry, I do not relish the thought of dying of a brain tumor!"
Wait, Steve—tell us what you really think!
And he did, marking the final year of his life with the same consistent testimony that characterized his entire ministry. "I am not afraid to pass into eternity; I will be glad to go home to be with the Lord," Steve said. "Please do not 'promote me to glory.' I think that phrase is so hokey! I want it to be said of me that I 'went home to be with the Lord,' please."
Steve's editorial request was honored when Maranatha wrote his obituary this week, using the opportunity to review the accomplishments of a remarkable life. Reading it, my mind slips back 25 years, to when I first met Steve.
"Hey, Mungons! You need a song to sing today?"
This was the Steve Stratford I remember, interrupting my morning, barging into Room Ten at the high school where we taught together. He proceeded to sing a verse of "The Ballad of Jed Clampett" in full voice, with air banjo.
Steve was smart enough to know that tunes had a way of getting trapped in my head, so he liked to wander into my classroom, plant small music bombs in my brain, then laugh when they exploded at odd moments throughout the day, as I caught myself humming.
"Hey, Mungons! Look what this can do!"
Prior to the fall of 1985, I had never touched a computer, and I had never met a technogeek evangelist quite like Steve. He sat me down in front of a Radio Shack TRS-80 Model III, showed me how to turn it on, insert a 5-inch floppy disk, and boot up the cassette drive. I wasn't yet impressed, but Steve had a gift for connecting new technology to old ideas. More practical than trendy, he always tempered his love for computer technology with his love for mechanical oddities like the player piano he kept in his living room. ("I've always wanted to figure out a way to connect the two. . . . Maybe a MIDI interface. . . .")
Steve showed me how to connect the computer to a daisy wheel printer, feed in a purple ditto master, and spit out a perfectly typed music quiz, ready to duplicate on an ancient hand-cranked ditto machine steeped with the unforgettable odor of isopropanol and methanol alcohol.
I mention these arcane details because those of us in church ministry have officially forgotten the smells and ka-chunks of the pre-computer era. But we must not forget people like Steve who prodded our movement to use the new technology, and use it right. Christian organizations like ours, where Steve and I taught and ministered, were behind. Way behind. Steve was too tactful to say this overtly, but he looked at the future with his early-adopter eyes . . . and noticed that churches weren't yet part of the revolution.
Steve knew that Baptist fundamentalism needed to move beyond the homemade HeathKit computer he first soldered together in 1981. Awarded two graduate fellowships from the University of Michigan, Steve earned a PhD so that he could lend academic credibility to the mom-and-pop computer labs hiding in many school basements at the time.
But Steve never wanted to be a Bill Gates evangelist addressing convention halls full of consumers. Instead, Steve's methods were much more direct: He sat an entire generation down in front of the New Gizmo and said:
"Look what this can do!"
His students took it from there. Some became successful engineers; others became pastors and missionaries. Steve was proud of them all, and proudest when the technology bombs he planted in their minds had practical applications for churches.
"Hey, Mungons! You really need a hobby!"
Steve knew I wouldn't survive my first years teaching if I couldn't summon the good sense to push away from the desk when it was quitting time. He tutored me slowly, nurturing me with Cindy's homemade pizza, Star Trek reruns, and the chance to sit next to him in our church choir. Sadly, Steve never got to see how his advice flowered into my epic collection of record albums. He would have laughed at my 78 rpm turntable, hooked into a preamp, then a digital audio converter, then connected to my laptop.
Steve had a life away from his job—one that centered around his wife, Cindy, his family, and his church.
Steve and Cindy had more children than most parents would ever consider prudent, having spent their adult lives creating a home that was a warm and welcoming place to college students, younger teachers, and visitors who happened to wander through church on Sunday morning. Interestingly, Steve and Cindy did not have children of their own. They couldn't have, really, given the hospitality and discipleship ministry God had planned for them.
Steve was preceded in death by his computer hard drive. No kidding. Three days before Steve died, his beloved Mac took an early exit, grinding to a halt with a wonderful sense of timing. No matter. Steve had the extended warranty.
"Manmade things can be repaired and replaced, but everything that exists in this sin-cursed world is terminal," said Cindy, reflecting on the irony.
So Steve would want me to mark this occasion with another comment—one directed to his former students and mine. "When my name is called, I will not be afraid of entering eternity," Steve once said, fully realizing that some of his students would not have this confidence. Or, maybe they had walked the walk for a while and followed the dress code, only to become spiritually disillusioned as adults.
If so, Steve still wants to ask about that extended warranty! And he wants to grab us and plunk us back down in a church pew and say, "Look what this can do!"
Like everyone who knew Steve, I feel our time together was too short—only three years, back in the 1980s, before ministries pulled us in different directions. But when I moved away, Steve wrote me a note that I still have, reminding me that the most beautiful thing we ever did was sing next to each other in church choir.
I agree, and I still have Steve's song in my head.
---
Kevin Mungons is managing editor of the Baptist Bulletin and editorial director of publications for Regular Baptist Press. He has previously ministered as an associate pastor and a high school music teacher. He and his wife, Carla, have ten children and live near Chicago.
3012 reads