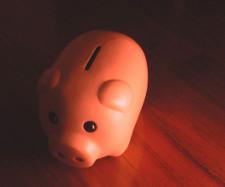 Originally posted in 2013. Read the series so far.
On "Paying Yourself First"
Perhaps the reader has heard the oft-repeated maxim, "Pay yourself first." "Pay yourself first" simply means to save first—sometimes at a recommended rate of 10%—and use the remainder for spending. Forbes calls "pay yourself first" "the most important rule for a comfortable retirement." Investopedia notes that "some financial professionals even go so far as to call 'pay yourself first' the golden rule of personal finance."
The Word of God disabuses this maxim. Indeed we are to give to the Lord first as taught in verses such as:
Proverbs 3:9, "Honor the Lord with your possessions, And with the firstfruits of all your increase"
Matthew 6:33, "But seek first the kingdom of God and His righteousness, and all these things shall be added to you"
2 Corinthians 8:5, "And not only as we had hoped, but they first gave themselves to the Lord, and then to us by the will of God"
How the Christian allocates his financial resources should reflect the reality of his position and calling. Paul calls this "walk[ing] worthy of the calling with which you were called" (Ephesians 4:1).
The disciplines discussed in this series are not distinctively Christian disciplines. Indeed financially astute unbelievers will annually check their credit report, know their FICO score, eschew bad debt, and track their income and expenses.
What Is a Budget?
A budget is simply a plan on how monies will be spent in a future period. It is the mirror of the income and spending statement addressed in an earlier article in this series. The income and expense statement looks back and is historical, while the budget is a predictive plan. A plan is:
Purposeful
Prepared ahead of time
Rooted in principle (ultimately to glorify God)
Yielded to the ultimate purposes and sovereign plans of God (e.g. Paul planned to visit Rome but was hindered, Rom. 1:13)
Another value of a budget is that it settles issues and 'drives a stake in the ground'. It communicates that these priorities have been set and agreed upon.
Unarguably no budget can be followed slavishly. The unexpected will occur and changes will have to be made. To cite a handful of recent examples from my own life:
Last year we had a raccoon in our attic, the resolution of which is much more expensive than one might think. It involved animal control setting and monitoring traps; a tree surgeon hired to remove trees near the house (the ingress to the roof area); and repairs to the soffit and fascia.
This year a major storm damaged 4 large trees in our yard and blew over a large spruce. Because I am handicapped, the chain sawing is in my past. We had 7 men working 7 hours in our yard cleaning up the storm debris. Afterwards we had to have the spruce stump ground out and a new tree planted in its place.
Our emergency fund paid for these expenses. While one cannot budget for the unusual or the disasters, one can budget to save for emergencies.
Who Needs to Budget?
Perhaps not everyone needs to budget but in particular in these cases a budget is wise:
College students. The budget will focus on the big question,"How will I pay for college?" and the littler questions about clothing, cell phone, entertainment, books and travel.
Couples preparing to marry. The major issue will be "How do we pay for this wedding and honeymoon?"
Newlyweds. The major issues will be rent, clothing, and setting priorities.
Couples starting a family. The major issues will be adjusting to a one-income household or child-care expenses.
Couples with teenagers. Anecdotally this is the age where children really seem to be expensive. A major issue will be budgeting for the insurance for extra drivers.
Couples with children entering college: "How will I pay for college?"
Couples preparing for retirement. The major issue is "how much should we save? How much will we need?"
How to Budget?
One cannot budget unless they have a record on their income and expenses.
Bless my 93-year old mother. She was a bookkeeper for much of her life. Now long retired and in a retirement home, she maintains one large-format (9" x 12") green ledger page for each month and records all of her income and expenses by hand.
I simply could not live with a manual process like that to track income and expenses. One could use Quicken (Intuit) or another money management program. We use the web-based service Yodlee to track income and expenses. Intuit has a similar product called Mint. For those who prefer a more manual process but wish to avoid the green-ledger approach, Microsoft Excel has a template to track income and expenses.
To budget one looks back at the history of income and expenses and projects income and spending for a future period. It may take a quiet afternoon of work to accomplish this task. Quicken and Yodlee both have a budgeting component.
In our practice (this may be helpful), expenses fall into two categories: discretionary and non-discretionary. Examples of non-discretionary (for us) are: our parking contract in downtown Minneapolis, utilities, and groceries. We do not line-item budget for the non-discretionary. Examples of discretionary expenses that we budget for would be clothing, anticipated travel, and projects for the house. We have a plan to give; we have a plan to save ("pay yourself second") and a plan to spend.
My wife and I spend several evenings in the week between Christmas and New Year's putting together "the plan" for next year. Our plan for 2013 included:
A trip to Florida to see my wife's dying brother
A trip to Texas to help Mom clean out her house and prepare it for sale
A vacation to Cape Cod
A planned bathroom remodel
For each of the above we had an actionable plan to save so that each would be pre-paid.
Our upcoming plan for 2014 (not yet finalized):
We want to host a nice party for my son who is due to return from Afghanistan approximately June of 2014. I've already scouted out a location—Yarusso's in Saint Paul.
We would like travel to Dallas to visit my Mother for her 94th birthday in May
We have rented a cabin near Hastings Michigan for a week in September
We would like to have 2 bedrooms and a den painted and re-carpeted
For each of these, we have an actionable savings plan.
At the gross level, our budget looks like this: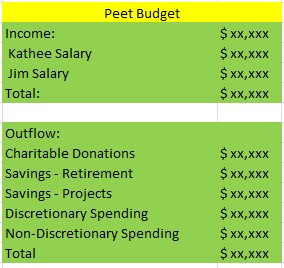 I prepare a large spreadsheet at the beginning of the year that reflects our projected cash flow by month. I synchronize this with our checkbook. It looks something like the following: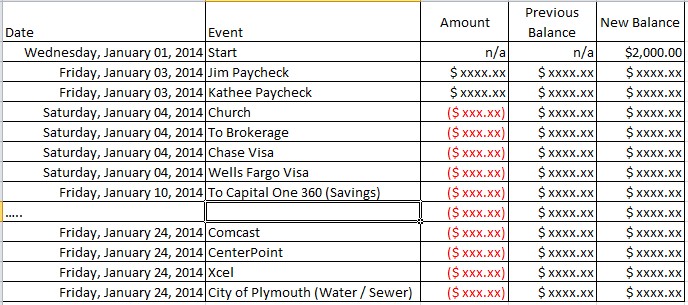 Our checkbook balance on any given day matches the balance on our cash-flow budgeting sheet in Excel.
Our cash-flow budget looks ahead to the end of the year. It looks back to the beginning of the month. When I balance the checkbook, I delete the previous month's data.
Kathee and I have a "financial date" once a week on Tuesday. We review the previous week's expenses. We look ahead to the next week's projected outflow. We share screens on our PC's and log onto our checkbook, our brokerage account (retirement), our savings account, and our checking account.
On the Discipline of Christian Giving
Christians are to "abound" in giving (2 Cor. 8:9). I don't believe that a newborn Christian will automatically be a good giver. Christians need to be instructed and grow into this grace.
Years ago when I was a new Christian someone wisely advised me to give 10%, save 10% and spend 80%. I see wisdom in this advice. And yet I do not believe that the New Testament teaches tithing. I subscribe to John MacArthur's view of tithing. The excerpt below is from the "God's Plan for Giving" tape series.
Does God require me to give a tithe of all I earn?
Two kinds of giving are taught consistently throughout Scripture: giving to the government (always compulsory), and giving to God (always voluntary).
The issue has been greatly confused, however, by some who misunderstand the nature of the Old Testament tithes. Tithes were not primarily gifts to God, but taxes for funding the national budget in Israel.
Because Israel was a theocracy, the Levitical priests acted as the civil government. So the Levite's tithe (Leviticus 27:30-33) was a precursor to today's income tax, as was a second annual tithe required by God to fund a national festival (Deuteronomy 14:22-29). Smaller taxes were also imposed on the people by the law (Leviticus 19:9-10; Exodus 23:10-11). So the total giving required of the Israelites was not 10 percent, but well over 20 percent. All that money was used to operate the nation.
All giving apart from that required to run the government was purely voluntary (cf. Exodus 25:2; 1 Chronicles 29:9). Each person gave whatever was in his heart to give; no percentage or amount was specified.
New Testament believers are never commanded to tithe. Matthew 22:15-22 and Romans 13:1-7 tell us about the only required giving in the church age, which is the paying of taxes to the government. Interestingly enough, we in America presently pay between 20 and 30 percent of our income to the government—a figure very similar to the requirement under the theocracy of Israel.
The guideline for our giving to God and His work is found in 2 Corinthians 9:6-7: "Now this I say, he who sows sparingly shall also reap sparingly; and he who sows bountifully shall also reap bountifully. Let each one do just as he has purposed in his heart; not grudgingly or under compulsion; for God loves a cheerful giver."
I believe every Christian should give. And I believe that every Christian should faithfully support his local church. Ideally one will plan to give and plan to give generously that the Church would prosper financially.
2906 reads