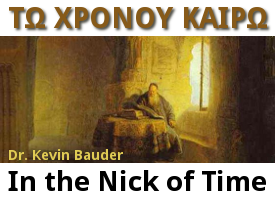 Dear Brother Ketchum,
Over the past couple of months my attention has been directed to several of your writings, some of which mention me. While I do not make a practice of responding to unsolicited criticisms, two factors have influenced me to write to you. The first is the fact that we have labored together in the same corner of the Lord's vineyard and have come to know each other well enough to speak frankly. The second is that, while I know you to be an honorable man who would never willingly misrepresent a brother, your recent writings have contained a sufficient number of misunderstandings that I have heard people question your credibility. So I am writing to you simply to set the record straight, I hope in a way that is charitable.
One of your concerns is that you believe you have been ridiculed, particularly within the Minnesota Baptist Association. You state, "I have talked to a few men in the leadership of the Minnesota Baptist Association of churches regarding these issues. My comments were received with a smirk of derision and ridicule." Since the only board member of the Minnesota Baptist Association whom you mention by name is me, people are likely to infer that I have ridiculed you, or perhaps that I have encouraged others to ridicule your pronouncements.
Actually, I don't recall having heard you ridiculed, either in public or private, by any board member or pastor of the Minnesota Baptist Association. Personally, I respect you too much to subject you to mockery. I have witnessed God's grace in your life. I have watched you face severe trials with equanimity, treat opponents tactfully, and persevere both in faith and in ministry. While we disagree about some issues, I believe that you are a man of honor and a man of God. If I heard someone attack your character, I would want to be one of your defenders.
As you know, however, defending a man's character is easier than defending his every pronouncement. For example, you recently complained that someone ridiculed your article on the Hegelian dialectic. Yet your description of Hegelian dialectic contains little that would be recognized by anyone who had perused a serious book about Hegel, let alone read Hegel himself. Consequently, I find that you have left me with no answer for those people who wish to ridicule it.
The same may be said of your remarks about John MacArthur. You state, "John MacArthur is a hyper-Calvinist, believes in Lordship salvation, Presbyterian polity, uses CCM and Christian-rock in his church ministries, and is undoubtedly a New Evangelical." Some of your allegations are certainly true: for example, John MacArthur does believe in Lordship salvation. Some are beyond my knowledge: I really do not know whether MacArthur uses CCM or "Christian-rock" in his church ministries, though I know of many fundamentalists who do. (The only rock concert to which I've ever taken my wife—inadvertently—was a chapel service in one of the King-James-friendly Bible colleges). Some of your observations are simply not accurate. MacArthur's polity is not so much Presbyterian as it is Plymouth Brethren. No historic definition of hyper-Calvinism can imaginably be applied to MacArthur. Only the most pejorative standards would classify him as a New Evangelical. When people ridicule you for making such accusations, it becomes very difficult to defend you.
As I recently glanced through your writings, I discovered that I myself had been similarly misinterpreted. For example, you stated that I have "regularly criticized people for criticizing Reform [sic] Theology, especially Reformed Soteriology. Under [Bauder's] paradigm, anyone believing that Reformed Soteriology is unscriptural, and is [sic] willing to say that publicly, is outside of his acceptable Fundamentalism." Well, there is a grain of truth here. I have on a couple of occasions said that we do not need to fight about Calvinism. But the fact is that I myself believe that some tenets of Reformed thought are unscriptural, and I am willing to say so publicly. For example, I do not believe in Limited Atonement as it is traditionally defined. I have actually written about some of the areas in which I differ with Reformed theology, and I see no particular problem in allowing others to express their disagreements as well. The question is not whether we may disagree, but how. The kind of disagreement that would label John MacArthur as a hyper-Calvinist is clearly not helpful. It is the kind of thing that invites ridicule. Though I disapprove of aspects of MacArthur's soteriology, disagreement does not deliver me from the obligation to represent him fairly.
The same can be said of the following sentence:
When professed fundamentalists such as Dr. Kevin Bauder, Dr. Douglas McLachlan, Dr. Timothy Jordan, and Dr. Dave Doran begin to defend men like Al Mohler, John Piper, Ligon Duncan, John MacArthur, Phil Johnson, Mark Dever, C.J. Maheney [sic], and Rick Holland (to name a few), it becomes very apparent that there has been a considerable change in direction regarding the practice of militant separation.
You seem to think that it is unacceptable to defend men when they are falsely accused. Well, I am willing to defend these men from slanders against their character or false statements of their views, in the same way that I am willing to defend you. Nevertheless, at a great many points I have challenged their views: in some cases over miraculous gifts, in other cases over church polity, in yet others over contemporary methodologies. I have attempted to persuade them that fellowship and separation involve more than simple adherence to the gospel (some of them already understand this to varying degrees). I think that I can defend their character while disagreeing with some of their theology, just as I do with you.
If you scold a child for everything, then she will pay no attention when you scold her for the thing that matters. Something like this has happened with the incessant fundamentalist scolding of conservative evangelicals. If you want to open the way for competent fundamentalists to articulate our differences with conservative evangelicals, your best approach is to expose and reprove fundamentalist periergazomenous* whose only spiritual gift appears to be censoriousness.
"But, beloved, we are convinced of better things concerning you…though we are speaking this way" (Heb. 6:9, NASB). You are an honorable man, and that is why I have felt comfortable offering both clarification and exhortation. I trust that you take my words in the charitable spirit in which they are intended.
With affection,
Kevin
Notes
*—see 2 Thessalonians 3:11.
Untitled
Christina Rossetti (1830-1894)
Thy Name, O Christ, as incense streaming forth
      Sweetens our names before God's Holy Face;
Luring us from the south and from the north
      Unto the sacred place.
In Thee God's promise is Amen and Yea.
      What are Thou to us? Prize of every lot,
Shepherd and Door, our Life and Truth and Way:—
      Nay, Lord, what art Thou not?
[node:bio/kevin-t-bauder body]
81747 reads