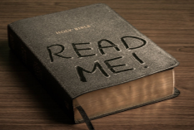 How can Christians tell which interpretation is valid? Different people read the same text, and have different ideas about what it means. Why? Don't we all have the same Lord, the same faith, the same baptism of the Spirit, and the same God and Father? Why don't we agree on what the Bible teaches?
One reason is because some people are better at reading than others. In our day and age, people don't read as often as they should. This means we don't read all that much, which means when we do read, we can do it badly. So, when we read the Bible, it's entirely possible we don't read it too well.
A while back, Roy Zuck wrote a wonderful book entitled Basic Bible Interpretation: A Practical Guide to Discovering Biblical Truth. The title says it all. What makes this book so practical is that it's written for normal people. Zuck tackled the problem of "whose view is valid" in this book. Here, I'll briefly explain some of his axioms of Bible interpretation. No matter how smart you are, how many degrees you have (or don't have), or how skilled you are in biblical Greek and Hebrew, these principles are foundational to understanding and interpreting the Bible. I once heard Steven Lawson proclaim that he re-reads Zuck's book every few years; it helps him not forget so many of the basics that can be taken for granted.
3833 reads