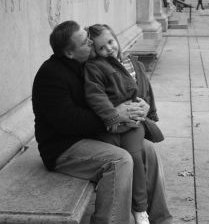 I had apparently brushed aside her bashful requests too long. So over Christmas break our youngest child and only daughter renewed an old petition: She wanted her ears pierced! Such a mundane entreaty has a strange affect on an old dad who finds it a bit disconcerting to watch his little girl mature into a young…well, you know—I can't even bring myself to write the word.
We sat down on the couch for a talk—a short one for me, a very long and unnecessary one in her estimation. I asked if she couldn't wait a while longer, like maybe another 30 years or so. I asked rather melodramatically if she had counted the cost—if she was willing to endure the pain and follow the disinfecting regimen without grumbling. Most important I asked her why she wanted her ears pierced. She explained very matter-of-factly that she wanted to "look good." I explained very matter-of-factly that I had no idea why that mattered or how earrings could help her attain such a ridiculous objective.
She sighed and rolled her eyes a good bit during our conversation. She endured my stall tactics with commendable patience. She also found revolting my insinuation that her request might perhaps be motivated by a desire to impress boys. I found solace in her repugnance toward the notion, while conceding in my mind that my relief is doomed to have a short shelf-life.
Having successfully passed her interview with me, we went to the mall a few days later. There, a jewelry store manager took my little girl, strapped her down like a lamb for slaughter, and drilled two holes into her head! And I was supposed to stand there with hands folded, smiling politely! To my daughter's relief I behaved myself, squelching the primal desire to inflict severe bodily damage upon the manager. Meanwhile my dear wife cheerily snapped pictures of an event I cannot imagine anyone wanting to remember.
The deed was done; and the little girl who needs no additional orifices in her body to convince me she looks beautiful "as is" was on her way to a life of heightened fashion. I comforted myself that at least this had nothing to do with boys.
I was happy for her, in the end; but I also had a strange sensation that something precious had slipped a little further through my fingers. It was another indicator that my little girl is growing up and that my days as the number one man in her life are limited.
Later during the same vacation break, our family spent a day at an area ski hill. The whole ear piercing matter was fresh on my mind. My daughter and I found ourselves together for a while as we skied down an easy hill that suited her fancy. We took the two-seat chairlift up that hill time after time. While the gentle slope held little excitement for me as a skier, I found fulfillment in serving as my daughter's proud guardian and protector on each chairlift ride to the summit.
We got separated at the end of a particular run. I spotted her in the line ahead of me awaiting the chairlift. As I tried to reach her, calling her name, I heard a voice holler out from a gaggle of boys, "Hey, Austin, go with her." I had no idea who Austin was, but I fairly broke into a cold sweat to realize "her" was my daughter! "Hey, she's supposed to ride the chairlift with me," I thought, as protective, fatherly concern set in. But before I was able to do anything to intervene, my "her" was ascending the hill seated next to an "Austin." Sadly, there was nothing I could do to rescue her. Happily, her ears were covered by a stocking cap.
So as I stood at the bottom of that hill alone in a crowd, I watched my daughter whisked away with a boy at her side. I could not miss the foreshadowing of how difficult it will likely be someday to release her into the arms of a young man for whom she longs to look good and who notices more than her earrings. It was not long ago that she used to say she wanted to marry me when she grew up. She doesn't mention that idea anymore. Someday she may join a recessional on the arm of a young man who will not deserve her but with whom she will joyfully choose to ascend the hills and descend the valleys of life from that point forward.
As I watched her slowly disappear up the hill, the Creators' words of counsel provided preparatory solace: "Therefore shall a man leave his father and mother and shall be united to his wife" (Gen. 2:24). My daughter does not belong to me, I am reminded, but to God. Should God ordain it, I will soon be called to release her from my fatherly protection to the care of her husband. On that day I know my heart will be pierced, but I cling to the heart of the one who "so loved the world that he gave his only begotten Son" (John 3:16a) to redeem his people and give them life.
Rooted in that grander reality I hope someday to find the grace to joyfully release my daughter for the glory of our Savior. I rejoice now to know my Father is slowly, patiently preparing me for that trying day. And I take heart to know that at least he understands how hard this all is.
---
Dan Miller has served as the Senior Pastor of Eden Baptist Church since 1989. He graduated from Pillsbury Baptist Bible College with a B.S. degree in 1984 and his graduate degrees include a M.A. in History from Minnesota State University, Mankato, and the M.Div. and Th.M. from Central Baptist Theological Seminary. He is nearing completion of D.Min. studies at Trinity Evangelical Divinity School. Dan is married to Beth and the Lord has blessed them with four children: Ethan, Levi, Reed and Whitney.
1789 reads