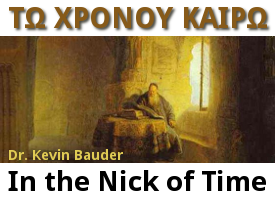 While this essay is not about marriage, I nevertheless wish to begin by considering the key biblical text that addresses marriage. This text, originally given in Genesis 2:24, is cited authoritatively by both Jesus (Mark 10:7-8) and Paul (Eph. 5:31). It essentially offers us a definition of marriage: a man must leave his father and his mother, must be faithfully devoted to his wife, and the two of them must be one flesh.
The final clause is, of course, highly interesting. It suggests the biblical description of the proper use of human sexuality according to its holy and undefiled purpose. Rich as this clause is in theological and ethical overtones, however, it is not my focus at the moment.
Nor is the middle clause, which gives us a concise biblical definition of marriage. Evidently, it is the committing of one's self to another in faithful devotion that transforms one into a spouse. While only the man's side of this commitment is overtly specified in the text, the commitment of the woman is almost certainly understood. This commitment is what identifies one individual as the marital property (I use this term advisedly—1 Cor. 7:4-5) of another human being. For the commitment to perform this function, it must be made publicly. For it to be solemn and binding, it must take the form of an oath.
As I say, however, this clause is not my primary focus. The implications of this clause are both interesting and ethically indispensable. They deserve defense and development. Nevertheless, my present purpose excludes that kind of careful treatment. Instead, I wish to examine the first clause, which states that a man is to leave his father and his mother.
This command seems odd when compared to the social context of the Old Testament. Very often young men did not leave their fathers and mothers—at least not right away. While this phenomenon puzzles us, perhaps it should give us no more pause than the occurrence of polygamy and divorce in the Old Testament. These social customs seemed to have lagged behind the middle clause of the Bible's teaching about marriage, even among the people of God. It would not be surprising if other social customs lagged behind the biblical ideal expressed in the first clause.
What is that ideal? What does the text mean when it says that a man must leave his father and his mother? First, it is worth noting that "father and mother" probably stands as a synecdoche for all non-spousal relationships. Since the relationship of child to parent is naturally the closest of human connections, to demote this relationship entails the demotion of all others.
Second, this text clearly does require a demotion. While a man surely must continue to honor his father and his mother (for this is God's moral law), he no longer prioritizes his relationship to his parents. His life does not revolve around them. He is not dependent upon them. He is capable of living his life without their constant presence and support. He is capable of providing, not only for himself, but for a family. He no longer needs to be told what to do, but rather exercises his own judgment, enjoys his own successes, and learns from the consequences of his own mistakes.
A good analogy can be found in Paul's description of spiritual maturity (Eph. 4:13-16). A child is unstable and easily taken advantage of, while a mature person exercises sound judgment and, by his unique role, contributes to the orderly functioning of a larger whole. Such a person not only knows what is true, but knows how to express the truth.
Inescapably, the primary feature of leaving one's father and mother is the exercise of independent judgment. While the counsel of one's parents should be welcome at every stage of life, a mature person does not need to rely upon his parents (or other authorities) to tell him what to do. He can and does make wise choices on his own.
In other words, a man is not ready to marry—indeed, he is not a man—until he can think for himself. He is not ready to marry until he can provide for himself. He is not ready to marry until he can provide for his family. He is not ready to marry if he has to shelter under his parents' roof or let his parents do his thinking for him. He is not ready to marry until he has the maturity to recognize the gravity of a marriage oath and the level of commitment that will see it through to the end.
That is what it means for a man to leave his father and mother. But what about the woman? Is she also required to leave her father and mother?
In a way, the answer to this question is assumed in the text. When Moses wrote Genesis 2:24, men did not typically go to live in their wives' homes. Instead, the wives went to live with their husbands. Of course wives also left their fathers and mothers.
Yet this answer may not be adequate. Somehow a goofy view of female subjection has gone abroad among some Christians today. These dear saints hold that a woman (of whatever age) is to remain in her father's house and under her father's authority until she marries, when the authority is transferred to her husband.
Try telling that to Lydia. This woman of God exercised exactly the independence and judgment that should characterize a man who has left his father and mother. She lived her own life, made her own decisions, and secured her own support. Because she was able to do these things, she accomplished great good for the cause of the Lord through the ministry of the apostle Paul.
The greatest ministry that parents can perform for their children is to prepare them for independent existence. Godly parents will train their children to judge for themselves, choose for themselves, live by themselves, and provide for themselves. The moments that parents should cherish are not the moments when their children are the cutest and most dependent, but those moments when their children best demonstrate their developing capacity for wisdom in independent action.
Of course, the risk is that children who think for themselves might think differently from their parents. They may adopt different perspectives, mores, and standards. The solution is not to do their thinking for them, but to instruct them to think clearly, judge wisely, and love rightly. An adult who merely repeats a parent's clichés is still acting as a child. All Christian parents want their children to walk in the truth, but we must never attempt to achieve this goal at the cost of dooming our children to perpetual immaturity. The one is as bad as the other.
At this late point in the essay, I have a confession to make. Even the most careful readers will justifiably believe that I have been writing primarily about family relationships. My point through this entire discussion, however, has been to draw attention to certain dynamics that ought to characterize church leaders and church members (or, perhaps more relevantly, parachurch leaders and their followers). Yet here I am, already having reached the allowable maximum length for these essays, and I have not drawn a single implication for church or parachurch relationships.
Can you guess what they might be?
There Is a Land of Pure Delight
Isaac Watts (1674-1748)
There is a land of pure delight,
Where saints immortal reign,
Infinite day excludes the night,
And pleasures banish pain.
There everlasting spring abides,
And never withering flowers:
Death, like a narrow sea, divides
This heav'nly land from ours.
Sweet fields beyond the swelling flood
Stand dressed in living green:
So to the Jews old Canaan stood,
While Jordan rolled between.
But timorous mortals start and shrink
To cross this narrow sea;
And linger, shivering on the brink,
And fear to launch away.
O could we make our doubts remove,
Those gloomy thoughts that rise,
And see the Canaan that we love
With unbeclouded eyes!
Could we but climb where Moses stood,
And view the landscape o'er,
Not Jordan's stream, nor death's cold flood,
Should fright us from the shore.
[node:bio/kevin-t-bauder body]
5684 reads