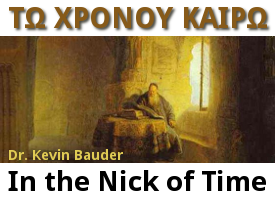 Among the recent criticisms of Bob Jones University, one of the strangest is that the university's teachers are poorly paid. One critic even prepared a chart showing faculty salaries from independent four-year colleges and universities throughout South Carolina, locating Bob Jones University at the bottom of the salary scale. The (anonymous) critic took this lack of munificence as such an obvious scandal as not even to require comment.
Plenty could be said about the survey itself. Comparisons of this sort are rarely as helpful (or, in this case, as damaging) as they are meant to be. The variables are simply too significant for direct evaluations to be made.
A larger issue is at stake, however. The fact is that the published salaries at Bob Jones University are not greatly out of line with faculty salaries at most Fundamentalist institutions of higher learning (especially if regional cost of living is taken into account). Professors in Fundamentalist institutions are paid far less than their peers in comparable secular colleges and universities.
This situation extends further than just Fundamentalism. Many broadly evangelical schools do not pay their professors much more. I have degrees from two large, evangelical seminaries. In one of those institutions, a tenured professor told one of my classes that, in order to support his family, he had to make $10,000 to $15,000 of outside income every year. A recent reporting instrument shows that institution paying an average salary of only $25,000 per year, less than the reported average for the Bob Jones faculty.
While average salaries are low for Christian professors, they can be even lower for pastors. Many pastors receive no more compensation than professors at Bob Jones. In fact, many receive substantially less. Smaller churches frequently offer salary packages that virtually require pastors (or their spouses) to work outside jobs.
The people who take these positions—these professorships and pastorates—are obviously not taking them for the money. Some other concern is in play. That concern can be expressed in various ways: ministry, serving the Lord, the care of souls. Jesus called it "laying up treasures in heaven."
When I was thirteen years old, my father left his management position with a major airline to go to Bible college. Over the next several years I watched my parents live by faith, dividing time between schooling, work, family, and, eventually, ministry. In time, I saw my father take pastoral positions without ever asking what his compensation would be. He was convinced that, if he trusted the Lord, then God would supply our needs. God did.
Years later, my own college complete, I attended seminary at an institution where salaries were not only low, they were regularly in arrears. My professors went and found second jobs so that they could continue their ministries in the classroom. These were talented, bright individuals with good educations. They could have gone elsewhere and made plenty of money. But they were committed to the ministry that the Lord had given them. As they saw it, they were serving the Lord. They were caring for souls. They were laying up treasure in heaven.
Episodes like these have affected me deeply. It does something to you when you know that your professor spent the previous night working as a janitor so that he could have the opportunity to be in class teaching you in the morning. Consequently, I am aware that my education is not simply a product that I have purchased, much less an entitlement. It has been given to me as a gift by men and women who have made willing sacrifices, partly because of their love for the Lord, and partly because of their hopes for me. What I have received is something like a trust, committed to me in the hope that I would be able to communicate it to others in turn. To misuse this gift for personal advancement or worldly gain would be a betrayal of the trust.
Not that I am an ascetic. Far from it. I am grateful, not only for the daily provision of needs, but also for a fair number of creature comforts. These I take as additional gifts with which God has seen fit to entrust me. These material things are good, and I rejoice in them. They are not, however, the reason that I choose to minister.
Now, I am embarrassed to have spent these past paragraphs talking about myself. The point is not that I am a wonderful person (much as I wish that were true!). The point is that my own life has been irrevocably altered and bettered by people who did exactly what the faculty at Bob Jones University is doing. By virtue of their sacrifice, I have been made immeasurably richer in the ways that matter most.
What I am trying to do is to describe the attitude that leads highly talented and educated people to settle for salaries that the carnally-minded see as laughable. As a teenager, I saw this attitude in my parents. As a student, I saw it in my professors. As president of Central Seminary, I saw it in colleagues (both staff and faculty) who petitioned me to lower their compensation so that the seminary could prosper.
Because I have been an administrator, I also understand the responsibility that an institution bears toward such self-sacrificing people. Precisely because they can be taken advantage of so easily, they are a sacred trust. God will hold the institution and its leaders responsible for their treatment. My sympathies are with every administrator who struggles with decisions about raising salaries versus meeting other institutional concerns. Professors are not well served if they receive higher compensation (which they surely deserve) for a year, only to see their institution close its doors.
I celebrate the professors at Bob Jones University whose lives do not consist in the abundance of their possessions. I rejoice over teachers like them in Christian institutions all over the country, teachers for whom ministry is more important than wealth. I honor and esteem pastors who sacrifice personal financial prosperity in order to shepherd souls. These people truly are laying up treasure in heaven.
Lord of the Worlds Above
Isaac Watts (1674-1748)
Lord of the worlds above,
How pleasant and how fair
The dwellings of thy love,
Thine earthly temples, are:
To thine abode my heart aspires,
With warm desires to see my God.
O happy souls that pray
Where God appoints to hear!
O happy men that pay
Their constant service there!
They praise thee still; and happy they
That love the way to Zion's hill.
They go from strength to strength,
Through this dark vale of tears,
Till each arrives at length,
Till each in heav'n appears:
O glorious seat, where God, our King,
Shall thither bring our willing feet!
God is our Sun and Shield,
Our Light and our Defense;
With gifts his hands are filled;
We draw our blessings thence.
Thrice happy he, O God of hosts,
Whose spirit trusts alone in thee.