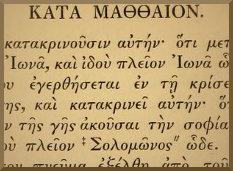 Many Christians are wrongly intimidated by the fact that they do not understand the original languages of the Bible. Those supposedly "in the know" make assertions that imply their superior status in understanding of Scripture because of their linguistic skills.
In reality, proper interpretation is more often about maintaining an open mind and avoiding logical fallacies. A believer who knows how to read and think, but doesn't know the original languages, will be a superior interpreter to one who knows the ancient language but cannot think logically. Some highly educated folks cannot distinguish between correlation and cause, description and prescription, or the difference between partial truths and the whole truth.
The languages can make a difference, but not to the degree that some would imply. Muslims, for example, claim the only way to understand the Koran is to read it in Arabic. Christians, on the other hand, have traditionally not made such a claim. Snobs, by definition, would not make such an admission. Fortunately, most evangelical scholars are not arrogant; they will freely admit that understanding the original languages is helpful (otherwise why learn them?), but not absolutely crucial for every Christian.
Consider that the early Christians—for over three centuries—used the Greek translation of the Hebrew Old Testament (the Septuagint). When Paul lists the qualifications for elder in I Timothy 3, being fluent in Hebrew was not one of them.
For about 1,000 years, most Christians used Jerome's Latin translation. For most of her history, the western church relied on this Latin translation. That is a long time.
Still, God inspired the Old Testament in (mostly) Hebrew, and the New Testament in Greek. Yet we need to add a footnote or two. Early church tradition suggests that the Gospel of Matthew was originally written in Hebrew and later translated into Greek. Also consider that the words spoken by our Lord himself were spoken in either Mishnaic Hebrew or Aramaic (a language related to Hebrew). Thus, what we have in the Gospels are translations of Jesus' words into Greek.
The New Testament authors often quote the Greek Septuagint (or sometimes their own translations from the Hebrew) with confidence as Scripture, not as merely an inadequate translation. Perhaps most mainstream Jews in the first century—who were not fluent in Hebrew—read the Greek Septuagint. After all, that is precisely why it was translated.
I think it is fair to say that the original languages are preferred and do add their nuances. We need scholars and biblical linguists. But the man in the pew should not feel intimidated at all. Whatever mainstream translation he owns is an accurate version of the original manuscripts for many reasons.
So why are there differences between translations? Are the original languages so rich that single English words cannot capture the meaning? Should we all purchase versions of the Amplified Bible to get the full meaning?
What most people do not understand is that it is English—not Greek or Hebrew—that is the rich language. The vocabulary of the English language has so many nuances—fine shades of meaning and a massive vocabulary. The reason for this is that English is combination and synthesis of several languages.
The original language spoken by the residents of England was Celtic. When the Anglo-Saxons invaded, they brought their German-like language with them, called "Anglish" which morphed into the word "English." Much of our most common vocabulary words come from old German, and English is technically considered a low form of German.
When the Vikings conquered England, they brought their Scandinavian language to the party. So there might be a Celtic term, a German term, and a Scandinavian term for the same concept. Yet the plot thickened: when the Normans (from France) conquered England, they literally mandated the English people to adopt French as the spoken language. French, of course, is derived from Latin. So we picked up an entire array of French words (with Latin roots) that found their way into the English language.
The way we pronounced words changed, but we often retained the older spelling. For example, the words "light" or "rough" used to be pronounced exactly as they look. Hard to say unless you spray!
How does this apply to translation? Because English has so many synonyms and a vocabulary five times that of even modern German, we have to make a choice that Greek or Hebrew speakers did not have to make. What this means is that the ancient language vocabulary had to do more duty; thus their words were not as pinpointed as ours are, by and large. One word could mean more things.
Whereas other languages might have one word for "smile," in English we must choose from: "smirk, beam, grin, sneer, grimace." In both Hebrew and Greek, the single word for "spirit" can be translated as "wind, breath, or spirit." We have three distinct words (if we do not include words like "breeze, draft, exhalation," etc.).
In English, we can choose between the meek inheriting the "earth" and inheriting the "land." It is our choice, because the original language can mean either one.
The amazing word for love in the Old Testament (hesed) can be translated as lovingkindness, steadfast love, mercy, or faithful love. The main New Testament word for love, agape, which can range in meaning anywhere from niceness (1 Corinthians 4:21) to the amazing love of God demonstrated for us in Christ's death (Romans 5:8).
Regarding the use of agape in the Septuagint, Leon Morris explains that "it is most commonly used to refer to sexual love" (Testaments of Love, p. 102). He then points out that Christians (including Paul) later made the word agape special, giving it a meaning of sacrificial, others-centered love. If you think about it, we use the English word "love" in all those ways as well. The other important word for love (phileo) implies a brotherly love, but was also used for Jacob's love of Esau's stew (Gen. 27:4).
Even though all languages have flex in them (including English), we can communicate well in any and every language. In the case of translation, committees of top-ranked scholars do all major translations. Some were done so long ago that English has changed (as in the case of the Geneva and King James versions).
The modern, more literal translations—English Standard, New American Standard, New King James, Holman, etc.—are very well done. Dynamic translations—like the New International Version—generally capture the meaning well but lean a bit more toward paraphrase. Full blown paraphrases—like The Living Bible or The Message—are easier reading but not considered strict translations.
If you find variations between translations, however, they are often quite slight, usually based upon the choice of one of our abundant synonyms. In most instances, becoming fluent in Hebrew or Greek would not solve the problem.
The original languages have great value when it comes to nuance or understanding the options in the exceptional instances when a text is unclear. If you are a decent English speaker, your Bible is the dependably translated Word of God. Through becoming familiar with the text, study, debate, prayer, sitting under good teaching, and the work of the Holy Spirit, you can interpret well.
4322 reads