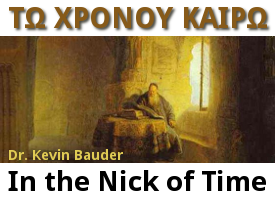 To the question of whether moderns know more than their predecessors, Richard Weaver (one of the three fathers of modern conservatism) responded by noting that "everything depends on what we mean by knowledge." Then he offered this observation: "[T]here is no knowledge at the level of sensation." From the perspective of anyone who is not a modernist, Weaver has to be right.
Sensory stimulation alone conveys no knowledge. Sensation alone is meaningless. Sensations do not even register in the consciousness until they have been construed. The act of construal is an interpretive act in which a sensation is connected to other sensations within a web of meaning. Humans never know a thing simply as it is: they know the thing only as it has been interpreted.
The universe has a structure in which everything is related to everything else. If the mind were utterly tabula rasa, no amount of sensation could ever lead to knowledge. Knowledge requires correct interpretation, and correct interpretation requires an interior, mental structure that matches the outer structure of reality—if not in its details, at least in its outlines.
Only one Mind fully comprehends the structure of the universe. It comprehends, not because it has exhaustively studied the universe, but because it planned the universe. Its knowledge is not derivative and inferential, but immediate and intuitive. It never studies and never learns, but simply knows. That Mind is God's mind.
Consequently, we can speak of reality existing at three levels. One is the external reality of the universe in which all objects and events are related to one another in causal, moral, and personal ways. That reality, however, is secondary and derivative. It exists only because of a prior reality that exists in the mind of God. What God thinks constitutes the pattern, what He creates (or allows to be done) becomes the copy.
The reality that exists in the mind of God is primary. The reality that exists in the created universe is secondary. A third level—a tertiary reality—also exists, however. This level of reality resides in the perceiving mind as it attempts to grasp facts and to arrange them in their proper order. It is an interior reality that becomes the grid by which human beings conduct their lives. It tells them what to expect in the universe and either enables or disables their ability to navigate through the world.
How do people build up this inner map? More importantly, how can they ensure that it actually matches the external reality of the immanent universe? This is one of the most important questions that we can ever ask.
Since the triumph of nominalism, Baconianism, and modernity, the common assumption has been that the best way of gaining knowledge about the world is to look at the world itself. This theory, this metaphysical dream, has much to commend it. Who can deny that the application of the scientific method has brought significant understanding of the world in which we live?
The problem is that the methods of modernity in general, and the scientific method in particular, must assume a great deal in order to work. None of those assumptions rest upon the method per se, nor are they demonstrable through that method. Science works, but only within a grid of presuppositions. Change the presuppositions and the conclusions change as a matter of course.
The connection between pre-understandings and conclusions was part of the impulse that drove the development of phenomenology (as pursued, e.g., by Edmund Husserl along with Moritz Geiger, Alexander Pfänder, and others). They wanted to know how the mind filters perceptions so as to arrive at knowledge, and they wanted to know whether the end result actually counted as knowledge. Then Heidegger effectively made the perceiving subject (Dasein) into part of what was being interpreted.
What came after Heidegger was a radicalization of perspective that is known as postmodernism. The postmodern has noticed the flimsiness of the props that supported modernity. Instead of seeking knowledge from structures located in an external reality, the postmodernist supposes that (to some degree) the structures are provided from within the perceiving subject (or culture, tradition, language, metanarrative, or whatever).
In postmodernism, each way of construing the facts, each grid, becomes a Weltanschauung, a world-view. The problem lies in the difficulty of mediating world-views that diverge widely and even contradict each other. Is anything left except the will to power? Postmodernism has yet to provide any clear detour away from nihilism.
Against postmoderns, Christians affirm that the universe has an order or structure that exists outside of the individual mind, culture, or metanarrative. Against modernism, Christians insist that the best way of knowing the universe is not to begin with the universe itself. Rather, the best recourse is to gain knowledge of primary reality, i.e., reality as it is held within the mind of God.
Of course, if they had to figure out the mind of God "from beneath," reasoning their way to God on the basis of perceivable phenomena, Christians would find themselves in a vicious cycle. One cannot know secondary reality (the universe) without knowing primary reality (the mind of God). What is the use of trying to reason one's way to the mind of God on the basis of a secondary reality (the universe) that one cannot know until one already has His mind?
No, if we humans are to have the mind of God, then God must reveal it to us. Until we have such a revelation, we literally cannot know anything. Until we have some structure as a starting point, we have no way to interpret any of the sensations that come to us. Unless God speaks, then we are perpetually agnostic.
Consequently, the Christian must begin with two truths: God is and God has spoken. These truths can be challenged. They can even be rejected. Every challenge or rejection, however, comes with its own epistemic price tag.
To suggest that God has spoken is not to say that everything we know must be contained in direct revelation. What it does mean is that God must provide us with at least the general framework that determines our interpretation and understanding of the universe. Revelation does not communicate all knowledge, but what it does communicate is what makes knowledge possible. What God reveals become the primary "given" upon which all knowledge is built.
Where, then, has God spoken? What is His revelation? How is it to be appropriated? These questions merit further consideration at a later time.
At the Name of Jesus
Caroline M. Noel (1817-1877)
At the Name of Jesus every knee shall bow,
Every tongue confess him King of glory now;
'Tis the Father's pleasure we should call him Lord,
Who from the beginning was the mighty Word.
At his voice creation sprang at once to sight,
All the angel faces, all the hosts of light,
Thrones and Dominations, stars upon their way,
All the heavenly orders, in their great array.
Humbled for a season, to receive a Name
From the lips of sinners, unto whom he came,
Faithfully he bore it spotless to the last,
Brought it back victorious, when from death he passed;
Bore it up triumphant, with its human light,
Through all ranks of creatures, to the central height,
To the throne of Godhead, to the Father's breast;
Filled it with the glory of that perfect rest.
Name him, brothers, name him, with love as strong as death,
But with awe and wonder and with bated breath;
He is God the Savior, he is Christ the Lord,
Ever to be worshiped, trusted, and adored.
In your hearts enthrone him; there let him subdue
All that is not holy, all that is not true;
Crown him as your Captain in temptation's hour;
Let his will enfold you in its light and power.
Brothers, this Lord Jesus shall return again,
With his Father's glory with his angel train;
For all wreaths of empire meet upon his brow,
And our hearts confess him King of glory now.
[node:bio/kevin-t-bauder body]
3045 reads