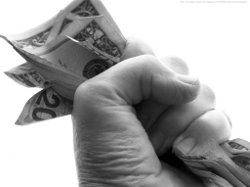 The Edmonton Oilers traded star left winger, Ryan Smyth, to the New York Islanders in February of 2007. Every sports trade has its multifaceted reasons. This one was about money—yet about so much more.
Ryan Smyth ranked among the National Hockey League's elite skaters. He was adored by the hockey-crazed Edmonton fans for his work ethic, courageous heart, and fundamental hockey skills. Smyth was also among Edmonton's most respected citizens. Exemplary in behavior, winsome in demeanor, and revered for his charitable contributions to the community, Ryan Smyth and the Edmonton Oilers seemed to be a match made in hockey heaven.
A native Albertan, Smith had been drafted by the Oilers in 1994—the team he idolized as a child. By 2007, his wife and two daughters were happily settled in Edmonton and the 31-year-old's career was winding down. In reach was the rare opportunity to finish with the team that drafted him. The Oilers management wanted nothing less for "Captain Canada." Then new contract negotiations started.
Smyth's agent, Don Meehan, insisted the Oilers pay their star $27.5 million over 5 years. He reasoned this was a mere $250,000 more per year than the contracts two similarly gifted players, Alex Tanguay (Calgary) and Simon Gagne (Philadelphia) had recently inked with their clubs. Whether to feed Smyth's ego or to line Meehan's pockets, making a pittance more per year than Tanguay and Gagne became paramount.
After lengthy negotiations, the Oilers offered Smyth $27 million and a no-trade clause—a magnanimous provision intended to acknowledge Edmonton's indebtedness to Smyth for his contributions to the community by assuring he would not suffer the indignity of being cast off by the team as the gap between his declining skills and lucrative salary widened. This contract would make Smyth a rich man. His family would retain their roots in Edmonton. His number 94 jersey would eventually hang from the rafters at Rexall Place for generations to come.
Meehan refused to budge. He wanted $27.5 million for his client, not $27 million. When the trade deadline passed on February 27, a stunned Mr. Smyth was packing his bags for New York. Smyth called a news conference at the airport on his way out of town the next day. He wept before live cameras, tearfully assuring his fans his heart was in Edmonton. He pleaded for them to understand that this was not how things were supposed to end, which could only mean Oiler management was supposed to give him the money he wanted.
Ryan Smyth's sad ordeal bears interesting parallels with the local saga of St. Paul Saints' pitcher, Matt Harrington. Drafted as a 19-year-old in 2000, Harrington was offered a nearly $4 million contract from the Colorado Rockies. Harrington's agent, Tommy Tanzer, battled for more money. Harrington never signed. In 2001 he was drafted by the San Diego Padres. New agent Scott Boras believed his client was being undervalued. Harrington refused the Padres $1.2 million offer. As Matt's stock continued its precipitous fall, the window to develop his skills closed. Harrington never signed a major league contract. He never will. At the time this story hit the press, Matt was a husband and father earning $1,500 per month pitching for the Saints.
It is hard not to scoff at these torturous accounts of high stakes gambling. How could anyone with so much to lose quibble over $100,000 per year when he's making $5 million? How can a teenager with nothing to lose reject a $4 million salary as insufficient? Unimaginable! Or, is it?
The unchallenged assumption that seems to naturally lodge in all our hearts is that more money is inherently better than less money. This assumption, in turn, is rooted in the subsoil of discontentment. Were we wholly content with what we now have, rather than driven by the desire for more—a desire often fueled by comparisons with others—the ground would be removed from under the "more is always better" mindset.
There is no intrinsic evil in gaining more money. The mischief comes when this underlying discontentment clouds our ability to esteem less tangible values as too costly to sacrifice on the altar of financial gain. We can venture our own high-stakes gambles, sacrificing family ties, generational roots, child nurture, emotional stability, community betterment, and even ethical integrity, all for the chance to gain more money or purchase greater earthly pleasures.
Against this destructive orientation, Jesus counseled his followers to recognize that our lives do not consist in the abundance of our possessions but in how rich we are toward God (Luke 12:13-21). People rich toward God are people whose contentment is rooted in him as the all-sufficient source of joy (Phil. 4:11-13). Such rootedness immunizes the soul against the love of money by feeding it on a superior love. This love is never blinded by dollar signs because its gaze is fixed on the pleasures of an eternal city—a city whose joys are breaking into this world and capturing hearts as we speak (Heb. 11:8-10).
[node:bio/pastor-dan-miller body]
3567 reads