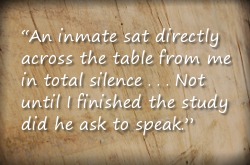 My pastoral colleague, Paul, and I have ministered for a number of years to inmates at the Shakopee Jail. The weekly Bible studies we lead there did not originate from a strategic vision developed in the sterile confines of a board room. They sprang from the messy reality that a new attendee of our church had taken up residence at the jail for a season. Although we did not know him well, he had sent word that he would appreciate a visit. The look on his haggard face and the tears of appreciation that welled up in his tough-guy eyes were all it took for me to keep going back long after he was released and living in another state.
Jesus' prophecy concerning God's final commendation of those who ministered in life to vulnerable people took on new meaning: "I was in prison and you visited to me" (Matt. 25:36). In Jesus' vignette those receiving this divine accreditation are incredulous: "When did we see you sick or in prison?" they ask God (Matt. 25:39). "And the King will answer them, 'Truly I say to you, as you did it to one of the least of these my brothers, you did it to me' " (Matt. 25:40). God takes special interest in prisoners.
Yet our ministry to these marginalized members of society is far from a one-way extension of mercy. As is standard in Christ's kingdom, those who give much receive more. Any aid we render to inmates is paid back many times over in lessons learned and skin-tingling evidences that God stalks the darkest recesses of our world.
One such evidence stood out recently. Over the last two years I have spent less time at the jail, passing this responsibility largely into Paul's capable hands. Earlier this spring he took a vacation and asked me to lead the jail study in his absence. I readily agreed.
As the day approached, I found myself overwhelmed with an atypical docket of responsibilities. I decided it was wisest to skip the Bible study for a week. It seemed best for Paul to simply pick up where he had left off upon his return. No one would miss one study.
Working feverishly in my office, I grew increasingly uneasy as the hour of the study approached. I sensed a strong compulsion to set my duties aside and go to the jail. Normally I would have picked up the curriculum where Paul left off the week before, but I had failed to ask him where that was, and he was unreachable. Further, I left in such a hurry I forgot to bring the curriculum with me, losing the opportunity to ask the inmates where Paul had left off. If you are counting, that is three providential roadblocks to the topic that would have been taught on that day under normal circumstances.
Chiding myself for forgetting the study materials back at the church office, I now had only the drive time to the jail to construct a Bible study in my mind. Having led many studies multiple times, and having never taught the current crop of students, this was not an insurmountable challenge. The hardest part was determining which passage of the Bible to teach. It's a big book.
On that short drive I landed on Genesis 4—the account of Cain's deficient worship and eventual murder of Abel. A sizable group of men joined the study that day. For an entire hour I unpacked Genesis 4: Cain's attempt to worship God on his own terms; God's patient rebuke and call to repentance; Cain's downward spiral of rejecting God's counsel, eventuating in the murder of his righteous brother, Abel. I explained at length that we must all worship God on His terms, trusting in the sacrificial death of the ultimate Lamb of God, Jesus Christ (John 1:29, 1 Pet. 2:24-25). We must turn from our sins, run to God for forgiveness, and seek reconciliation with Him and identity with His persecuted people (Colos. 1:21-22).
An inmate sat directly across the table from me in total silence for the entire hour. Not until I finished the study did he ask to speak. He confessed that he knew almost nothing about God or the Bible. But landing in jail, he concluded it was high time to seek the Lord and so had recently begun to read the Bible on his own. Earlier that very day his readings brought him to Genesis 4, but he could make no sense of what he was reading. In his confusion he sought out a fellow inmate and asked him if he understood the meaning and significance of Genesis 4. The inmate informed him that a Bible study would be held in the jail later that day and suggested he attend it. At the moment the man now sitting across from me learned that a Bible study would be held—the study I had determined to skip and for which another topic was scheduled—no one in the universe knew the passage of study would be Genesis 4. No one, that is, but the King—the King who stalks jails and rejoices to free prisoners everywhere from the chains of sin and death that bind them.
[node:bio/pastor-dan-miller body]
2523 reads